After few weeks,
mere dholna sun mere pyaar ki dhun, mere dholna sun
mere dholna sun mere pyaar ki dhun, mere dholna sun
As soon as Maan step inside his mansion, he could hear the music beating up whole mansion with her sweet voice, small smile tug on his lips, knowing who it could be. 
He ran upstairs to thier room, not wanting to missed the heavenly sight, which he will witness in thier room.

And as he stood on the doorstep, everything as if frozen around him, the sight was bewitching one, Geet was beautifully adorn in white sari, jewels , jasmine flowers in her long hairs,which was bound up in a bun.
meri chaahatein toh fiza mein bahengi, zinda rahengi hoke fanaa
Geet lost in her own tune, and was staring at her baby who sat their across her on the bed,
Dadi had already retired to her room, having watched the starting of her dance.
Now baby sat alone, enjoying her little performance, he was really happy to see his mamma dancing with glory, he was to jumping on the bed, in seating position only, with eyes and mouth wide, adoring his mamma.
Geet was having beautiful smile on her face, seeing her baby so happy, she takes circles around in happiness..her hairs losen up, flowing on her back.

ta na na na tum….
And she lost her balance, baby made an offer shape mouth, seeing it , when Maan dash inside and caught her in a right moment,
mere dholna sun mere pyaar ki dhun, 

Both stood lost in a moment, just staring into each other eyes, with so much love and admiration, time stood still, Maan was lost in her ravishing beauty, her open hairs flowing freely now,
(saathi re saathi re marke bhi tujhko chaahega dil
tujhe hi bechainiyon mein aayega dil) – 2
[o my partner, my heart will love you even after my death
my heart will love you only in the restless times]
Geet raised her one hand, and cupped his cheek, caressing it with utmost love and care, Maan sighed with pleasure, closing his eyes, he put his face more into her warm and soft palm feeling her love.
Their romantic moment broken with ammys clapping sound, small baby squeal out in happiness seeing his parents together, and specially seeing his dad after long day, both couldn't make it to KC today,
Da…da… he called Maan in his babyish language,  which brings beautiful smile on both Maneet faces, both broke apart and walked up to ammy who was trying to stand up,
Maan hold his little body, helping in standing, ammy tried to hug him leaving Maan overwhelmed with the love of his son for him, he took him in his arms, planting kiss on his cheek, amm return the kiss to his dada on his stubble cheek, leaving his wet saliva..
Geet giggled and tried to go for change, when Maan held her wrist, making her turning back, and she faced him,

Where are you going,?? Maan asked with his teasing gaze while ammy was lost in his play with his dad's beard, and cloths, slapping him here and there..
to change my cloths, she softly said, avoiding his teasing gaze.
Maan jerked her in his arms from other side, and whispered huskily in her ear, I will help you, wait for me..
Geet shivered turning red with his gaze then his fingers teasing her earlobe, he pushed back her strands of hairs, going down on her neck, she moaned with close eyes, Maan..
Maan's eyes turned dark as his hand reached her cleavage, her breath quicken, showing her heaving up and down chest, behind that shall blouse of hers, he removed his hand from there making Geet relived as she opened her eyes but next moment her breath hitch in her throat, feeling his fingers teasing her soft skin of her bare waist, Maan smirked seeing her red face, he softly pinch her belly button, making her moan again, Maan..and she tried to jerk out his arms, but he wasn't ready to leave her now, giving her teasing smirk, Geet glared at him, Maan, leave me..
Not soon, Jaan..
But next moment both of their eyes widen in shock, seeing ammy, who was hitting on his chest to leave him mamma, he just saw her struggling and Maan not leaving her,
Although it was only soft touch for Maan, but his little act left him baffled, Geet broke into sweet laughter, taking ammy from his arms, while Maan just stood dumbfounded,
That's like my son, ..love you baby..mammas boy.. Geet blabber showering kisses to her son who in return giggled, feeling his mother's pampering.
Maan gives his famous glare to the duo who in return pouted their faces, giving him puppy looks, but he just ignore it and rushed to washroom.
Ammy,dada is angry.. she made him to face her, baby pouted his lips as if trying to understand her gesture, what she was trying to said,
You shouldn't have done that baby, we should be sorry, for our act..ha?? She nodded seeing at little face, which was going down and down, and he hide his face in her chest,

Geet smiled seeing her baby's antics, and hugged him back,
Maan walked out, and saw the beautiful sight, he couldn't help but smile, and when Geet looked at him, he winks at her, making her blushed, she walked up to him, towards cupboard from where Maan was trying to fecth out shirt to wear..
As he got one in his hand, Geet stopped him, wo nahi.. she made an face
Maan sighed and gives her space to choose herself, knowing he had to wear her choice only at the end like everyday, just like he loved to choose cloths for her everyday, she too does the same.
This, she pulled out one purple colour shirt, with pants, and give him happily, Maan smiled getting it and wore it.
….
After making ammy sleep, Geet went inside dressing room to change, but as soon as she put her hands on the knot of blouse,

she felt him hovering on her, his palms touches her, making her withdraw her hands, she gasp and waited for his move,

Maan untied her knot , revealing her bare back to him, Geet gasp next feeling his palm touching her, he caressed her back, his hands went inside her blouse, pushing it down on her arms,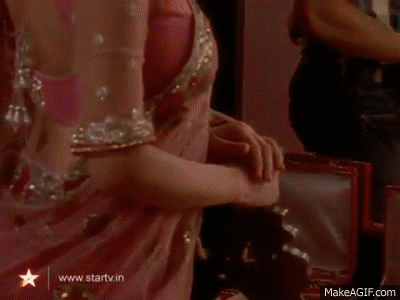 Geet slowly losen her body, helping him to remove the material from her body, he made her turned around and the sight before his eyes was inchantining,
There she stood with her close eyes, red adorable face, lips Shivering, breathing high, her chest heave up and down, making him hard just with the view, he grasp her closer, his rough palms pressed her delicate waist possessively, making her moaned,
Maan unhooked her bra from behind, all the while his eyes stay on her beautiful face, and she closed her eyes more tightly,
Maan remove that cloth from her body, throwing it on the floor, open your eyes and look at me, he demanded making her flushed, and she slowly raised her eye lashes to looked into his passionate gaze, his eyes filled with desire turning dark as they flicker from her face to down on her chest, Maan..she called out, pressing his shoulder, making him go mad with desires, as he saw her silky hairs resting on her bossom, hindering his favourite view, he pushed them back roughly, and cupping her  bossom, he took one in his mouth to cherishe on..
He continued to latch on her bossom, going down on his knees, he planted wet and hungry kisses on her flat tummy, bitting her belly button, Geet shivered in his touch, she hold onto him tightly for support, as her body felt jelly in his hands,
As if Maan understood her plight, he raised on his feet, removing her sari completely from her body, Geet was just letting him to take the lead, she stood in his arms like a doll,  when she felt his mouth hovering on to her, and in no time, he claimed her shivering lips hungrily and passionately, lifting her in his arms, Geet holds his nape responding more feverishly, while Maan took her to their bed, putting her down, he hovered her, still continuing their raw kiss,
Both broke apart after a long while, breathing heavily, Geet got no time to think, as in next moment Maan remove her remaining cloths from her body leaving her nude.
Geet slowly raised up , taking him be surprised as he sat beside her watching his golden mermaid, and waiting for her move, he had already switch off the light, just leaving side lamp just to watch her beautiful body while making love, Geet didn't stopped him either, she had never done before also.
Maan was bewitched by his lovely wife, when she sat on his lap, on his main point, making him groaned, she slide her hands inside his pants, pushing it down, he raised up helping her..
Geet slowly cupped his face lovingly, admiring him for a while , Maan looked at her beautiful face, soon he close his eyes, finding her lips on them, she kissed both his eyes one by one, then his forehead making him sighed and he opened his eyes to see her face, love povering out from her brown eyes, her lips hovered on to his, he looked at her pink petals, urging to kiss him, small smirk adore his lips making her breath hitch in her throat with their gorgeous view, she softly slam her lips on his, kissing him softly with love and passion, as she hold his jaw, Maan groaned in her mouth feeling her soft bite and he opened his mouth for her, pressing her body to his, Geet grinded herself on him, making him wild, and his hands feasted upon her breast soon…molding them as per his wish, Geet give out a throaty moan, feeling his fingers pinching her hard nipples.
Maan left her mouth, and started planting passionate kisses on her jaw..cheeks,

he went down on her neck, kissing her throat, going down, he kissed her cleavage,
Oh Maan…she moaned,  pulling his face more closed, he teased her hard nipples by his tounge, before taking one in his mouth,while other one in his big palm, crushing it, Geet lay back taking him on her, after relishing her bossom completely he left it dried and aching..

Maan buried his face in her beautiful hairs, taking in her fragrances while leaving her breathless, as his hands still roamed on her bossom,
mere kesuyon ke saayein mein, teri rahaton ki khushboo hai
tere bagair kya jeena hai, mere rom rom mein tu hai
[in the shades of my hairs, there is your fragrance
there is no life without you, you are in every part of me]
His hands started roaming on her body, touching her every part , seducing her to no end, now she was breathing high with his torture , he reached her bangles, his fingers teased her, chimming her bangles.
meri chudiyon ki khankhan se, teri sadaayein aati hain
yeh duriyaan hamesha hi najdik humko laati hai o piya
[in the jingle of my bangles there is your echo
theses distances are always driving us closer]
He started removing it slowly all the while breathing in her scent, his lips were brushing her jaw, he bite her parted lips, licking them off, his hands soon went down on her knees, he parted it and Geet crushed his lips with hers, feeling his hands on her core, he teased her V with his fingers, making her dripping wet.
I love you..she muttered in his lips kissing him passionately,
I love you more, he whispered back like always,  and both kissed passionately..
(saanson mein saanson mein teri saragamein hain, abb raat din
zindagi meri toh kuchh na abb tere bin) – 2
[in my beathes there is melody of you, in day and nights
my life is nothing without you]
After a while, he entered inside her, making her gasp, he left her mouth softly, making her adjust, his fingers went down, roaming on her inner thighs,making her writhle under him.
Soon both were lost in a thier own paradise, after like ages, he pulled out, laying beside her, she shake her body on him, teasing his senes yet again, he pulled her in his arms as she slowly put her head on his chest, hearing his heartbeats which seem taking her name only,
teri dhadkano ki sarghoshi meri dhadkano mein bajati hai
meri jaagati nigaahon mein khwaaish teri hi jagati hai
[the beats of ur heart are beating in my heart
in my awaken eyes there is only your's desire]
She looked to see his calm face, there was peace and happiness on his otherwise hard face, which she loved the most, she felt happist person in the world for being the reason of his happiness.
Maan open his eyes and looked at her sensing her eyes on him, he drwoned in her beautiful hazels soon, pulled her face to face him,
You know, how much I love you, Jaan.. he whispered lost looking at her pure face,
Hm..she nodded blushing half seeing his passionate gaze.
mere dholna sun mere pyaar ki dhun, mere dholna
[o my beloved listen the tune of love, o my beloved]
Aur hum bhi aapse Beintehaa pyar karte hai.. her she palmed his jaw dearly, just watching him for a while, her body rubbed on him, raising the devil inside him again.
I want you, now..he murmured, burying his face in the crook of her neck.
I am always here,for you.. she added craddling his face, her fingers brushed through his thick hairs, as she lay back completely, making him hovered on her,
Not soon, he was loving her again more passionately, leaving her breathless.
…..
Geet opened her eyes slowly, to face only darkness, she scared for a while got up instantly, looking all around her, four walls as if hovering on her from around,
Soon she heard some whispers, let me take the baby..
What are you doing?? You will awake her..
She was shocked hearing them, and she snapped open her eyes, her sleep vanished from her eyes completely..
to be continued..
Precap :- ????
So here I am with next chappy, and as I had warned you before, twist is ahead.. so get ready for it..
I am sorry to not update Mehbooba FF, begining parts also, I will updated them now whenever time permits me, as you see now I am busy in updating this one along with TCND
But you guys asked me to update and then forget to like and comment..