CLOSED TO MY HEART
On the first night of the marriage, Geet was waiting for Maan like a true bride.to say the truth when he came to see her its only his  first and last visit. She did not even see him well …. But everyone said, she is lucky …. so big house like some palace ..the are big name in the city ….. just one boy ….. Handsome … tall …. like a prawn prince… you are very fortunate … her friends were teasing her. Geet remembered everything and small smile adores her lips
Just then the door got opened and Maan entered inside locking the door behind. Geet got startle with the sound and came back to senses, As Maan walked near the bed, her pulse increased with his each step forward.
He took the chair and sat before her . Geet was mesmerize, she has seen lots of dreams about her future life with her Husband.
Maan started talking .Look , Geet, my marriage is against my wish. I love a girl I was going to talked about this at home but Dadima had a heart attack …. when she came home from the hospital They decided to settle everything … At that time I did not have the courage to tell them against their wishes … and so I agreed to get married . I would never accept you .She only have her place in my heart . so you do not expect anything from me . you are free to go your way .
After finishing his speech, he spread his mat on the floor and went to sleep. Geet sat for a long time. She did not know what happened.
She took out her own jewelries and looked at the ceiling. Why did he Married me … "You are free", I can go back to my Place, 'My Home ', God had already snatched her parents from her in the childhood itself. Her relatives had brought her up , they got her Married, with what face she could go there, with her marriage they left a sigh of relief. That they got away from this burden.tears roll down from her corner of eyes.
They done all the preparations of marriage just in fifteen days. There was no fault of anyone's in this but her cruel Fate.
From childhood , she didn't got the chance to be pampered or even show her rights on others. Don't know what have her destiny store for her in future. Babaji..kya hoga aage. Lost in her thoughts she went to sleep.
In the early morning , Geet woke up with the sound of prayers .
Geet got ready and without glancing at him once she went downstairs towards kitchen and started helping.
Annie , Maan's sister was teasing her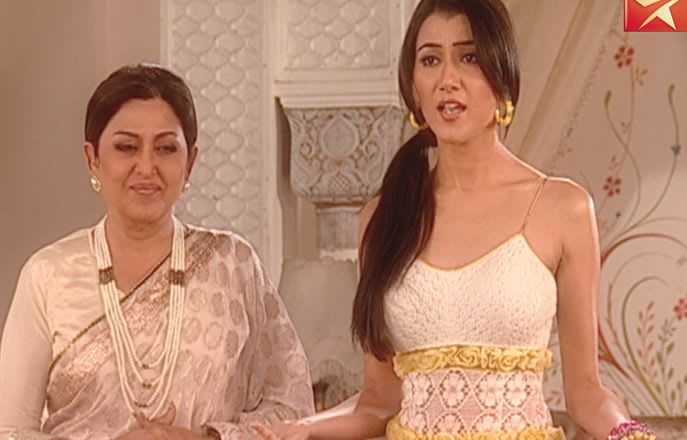 'Did the bride not go to bed at night? Look at the eyes how red they look. Geet did not answer anything. Dadima told her to take a black coffee for Maan. She went into the room with a his cup of coffee and came back after placing a cup on the table. She felt suffocated in that room … Maan went to office …..
In the afternoon, Geet was seating inside her room after her work done. While she was thinking something when Maan's Dadima came inside.
Geet beta, What happened ? She called her
And what is this , your cloths , baggage are still here down , keep it in the cupboard dear.
No, Dadima, let it be here itself. In the cupboard there are Maan's things.
What are you saying. It's your house now , Geet. You have the right  on his cupboard, on this house, even on the people of the house .
Something was going inside Geet's mind.
Look , your wedding happened only in fifteen days and have to do it in a very simple way ….because of my health issues.there was no guest also..only the people inside house.
So both of you did not got the time to get to know each other . but you have fulfilled all your rituals .. this evening ladies are coming for muhdikhai .so you should take rest now.
Now it was all unbearable to Geet… her patients broke and she started crying in the arms of Dadima
What happened? Did Maan say something to you? He might be angry man but he is soft from heart.
You have got married him against his wish. Geet cried.her heart pinch with the thought.
Yes I know. dadima spoke and Geet was more than shock now.
She worked in his office. Her name is Samiksha. She is not a girl but a woman who is 5 years elder than Maan.she was married , her husband died in an ancient .she is such a witch , with her sweet words gets sympathy from people .Maan is too soft. He helped her lot at starting days. Few times she had even came to Mansion.
Don't know what magic she had done ,only God knows, he started to behave as per she says. infact he pains her rent of flat.
From outside , we got to know that he was planning to married her,  , I found you fit for him , so hurriedly I got you both married , my heart attack was just drama, so that he could silently married you.
That lady is very clever , so many people like Maan, got trap in her beauty , and behave as per she says.
But Dadima,he really do loves her . Geet responded immediately.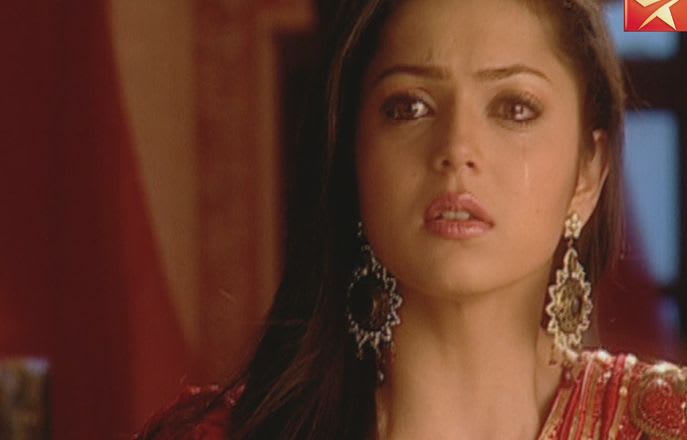 Yes I know, but her love is not on him but on his estate.
Look, Geet beta, I am with you , just follow my words.
Now Geet felt the little life coming back to her.she left a sigh of breath hearing Dadima.
the next day Dadima told Maan ,  that Geet  want to join  college , she wants to finish her degree …. So when you go to the office, leave Geet to College and bring her back home along with you …. Maan had avoided but he did not have anything to do against his grandma's order..
Geet got ready , and Maan took out the Car, Geet was very hesitant.
As soon as Maan entered his cabin , samiksha barge inside .
So you got married? Is she very beautiful ? Then what about the promise you have given me ?
Look, Samiksha , I have said her everything at our first night itself.because of Dadima's health I have to said yes for this Marriage.
If I had told about you to them then her condition may have got more worse. Keep patients for some more days.
To get a divorce , we have to be stay together for six months, as per the Law.
I am yours.
………..
After Office , He went towards Geet's collage. She came and sat inside the car as soon she saw it.
Both were silent the whole drive. Nor she spoke anything nor he.
Maan was finding the reasons everyday to fight with Geet, but Geet listen to everything silently.
He always thought , Geet would argue and leave the house in anger.but Geet used to listen to his all scolding as if all fault is hers.
As usual,  both of them were  driving back to home from her collage.
When Geet felt sleepy .. her eyes turn heavy and soon she drifted to sleep on his shoulder.
Maan was going to pushed her away but seeing her innocent face , his heart denied, it was first time ever he was watching her beautiful face so closed.
What is her fault , how rude I behaved with her but Geet never ever back answered him.why she is suffering this all silently. Just the Geet woke up suddenly and seeing how she was sleeping , she instantly got up and slip away from him. He didn't liked it.
At night after the work done, Geet went in the Room and fell on the bed ….
"Geet, I want to talk to you , hearing maan's voice , Geet got up immediately …
Look, you are very wise ..in just fifteen days you make this house as yours, even the people in the home. You are very nice
Listening to him , Geet thought that he would said that now I don't want any divorce.
But Maan immediately said that as long as you are here in this house, we should remain as good friends.
Small  smile was just about to come on her lips but listening to him it got disappeared.
But now Maan was not like previous day's with her. The journey of them from collage to home and home to college was pleasurable for Geet now.
Days went by, weeks after months passed. Now it was five months of there marriage.
It was day of Geet's birthday. Dadima gave her birthday gift in the morning itself. It was beautiful blue sari.
Annie prepared her lovely bhabhi with doing her beautiful make up. Geet used to bound her hairs everyday .today annie asked her to let it free. Her hairs fell freely on her back , long brown silky curls has been left open today.
Geet looked at her reflection in the mirror and she blushed furiously.
Dadima asked Maan to take Geet to the movie today . Take her for shopping and let have everything she wished. Today is her days . Dadima literally order him.
Both went to the movie……Maan saw that
Samiksha was coming in. The main thing was that she was not alone, a man was with her .
he immediately called her ,
Hello Samiksha, where are you now? She replied, "I am at mom's place. She is not well.
Maan was thinking , did he really saw her or she was someone else. he went inside and looked at Geet who was waiting for him.
After the movie both maneet came outside, when Samiksha with that Man came face to face with them directly.
Samiksha was completely frightened  seeing Maan. Maan placed his hand on the shoulder of Geet
"Samiksha , meet her, she is Geet my wife.and Geet, she is Samiksha worked in my Office.just after introduction , Maan left from there taking Geet with him.
The way Maan has shown his right on her by introducing her. His hold on her shoulder , that thing was making Geet Happy.
On the other Hand , Maan was not his senses though.why did she lies to humans who was that man with her, just those thoughts were making him mad .
Spending all day outside , at night both of them return back to home.
Just then Maan's phone rang, Samiksha started just as he pick up the call,
Maan you are not misunderstanding. I was going to my mom's place , but Manish my friend met me on the way, he gave me the party for he got promotion.
He just cut the call furiously throwing that in the room.
…………………………………………………………….
Here Geet was over the moon today,she told Dadima and Annie about the fun she had all day with Maan.. for the first time she was so laughing ..
Geet came to the room … Maan was lost in some thoughts. Geet.. she was Samiksha .Maan said her again
Yes, You told me this. very innocently  replied Geet. Samiksha, about whom I told you at the first night of marriage . Geet just then realized all things.
I saw her with other man.his fist was clinch hard in anger.
She loves you , Maan , do believe on her.there might be nothing as you feel.
You leave me at my home tomorrow, I will think further what I have to do.
What have you decided ?
I mean I will not come between both of you.she replied meekly.
What are you going do ?
I can't able to say this now, you leave me tomorrow at my maternal house.
……..
Geet prepared for the next day … for the first time after her marriage, she was going to her home, so Dadima  gave her the bag full of gifts for her relatives.
Both of them sat in the Car.
Geet spoke suddenly , I will not come back, if someone asks, I will  said that i do not want to stay in that house. She was shaking,  her voice was cracking while speaking .she really loved Maan .
She hoped one day , she would able to make place in his heart for herself and he would confessed that I love you. Just with that one hope she stay all this moths , but now she didn't succeed in making that place in his heart, so she decided to leave now.
After leaving Geet at her Home Maan return back to Khurana Mansion. At night unknowingly he called Her, Geet give me water. But immediate he realized that Geet is not here.he couldn't sleep. He never felt it before when she was here, but when today I am visualizing her, why I am missing her, he thought miserably.
When he got up in the mornings , Nakul gave him his black coffee. Annie came from behind to check on her bro and she looked at his face , just seeing his face she guess it all.
Bro, just yesterday bhabhi went to her home , and see your face in mirror. You loves her so much.
Maan didn't answer anything, standing before the mirror , he started to talk to himself. you fell in love with Geet. I don't know how , but then what is us with Samiksha. What I thought about her .
Is it sympathy , that's why I was going to marry her ? His eyes widen in realization.
So impatient … so restless . I have never been so thirsty for anyone . But what will she say? God !! Why did I gave her permission to go… why did he let her go
……..
Here, Geet was not happy without him, his anger, his voice, his frustration, that all she loved.
Maan could not control his heart now … he  straight  went to Geet's place.  It's been only two days that Geet was here, and Maan said to her relatives that Dadima had called geet.
Geet didn't get what has really happened.
Once both sat in his car, restless Geet asked him , Dadima has told me to come later on, then why did you hurriedly came , is everything alright at Mansion. She asked worried.
No Geet, nothing is fine.he busted.
Geet got scared a bit , when she heard his outburst next, you are my wife , right ? You have show your rights on me at least.
Why did you left all of sudden like that.
Geet was smiling in mind  , what he has to say actually, why he is not speaking clearly. She thought and asked him directly.
For you to get your love , I was having only this solution.
Are you mad ? Do you know what was my state after you went. I was turning insane just in two days.when you were closed to me , I didn't realized it but when you went away, your lackness gives me pain in my heart.he pointed towards his heart.
Geet was overwhelmed with his confession, she rest her head on his shoulder today truly feeling as his Wife.
Once Maan came to Khurana Mansion with Geet , Dadima and Annie started to laugh.
Both went inside the room , wanted to talk a lot today. Maan lock the door and we to towards Geet .he sat beside her on the bed. The moonlight was coming  from the window , Geet's curls were floating across his face soothing his senses.
He took her hand in his own ,her heartbeats raise quickly..
Geet, now I know that I can't live a moment even without you. It took time to realized Love but now you are mine.
Geet was having faith that one day she will win Maan's heart and today he himself was confessing it to her.
Drowning in her Hazel eyes he Tell her those three magical words of Love and she blushed furiously. Geet got up and went near the window.
Maan came from behind , taking her in his arms , he whispered huskily in her ear, don't go away from me now, stay like this forever close to my heart.
Hey guys..
this is second OS from Geet Anniversary.. do leave your reviews..