Chapter 16
Ek roz main tadapkar is dil ko thaam lunga
Ek roz main tadapkar is dil ko thaam lunga
Mere haseen qatil main tera naam lunga
Haan tera naam lunga
Main tera naam lunga


Tell me, your boyfriend didn't satisfied you that you are always seducing me…? 
Geet was stunned hearing his accusation, she thought he was over scolding her yesterday but few more came her way today. Although she doesn't understand his last sentence.
Kya Paisa hi sabkuch hota hai…? Meri koi keemat nahi aapki najro mein. She took his words completely in different way.
You are just servant to me, and about your price, tum apne ashiqo se kyon nahi puchti ..better ask your boyfriend.
Mein kitni baar aapse kaholu Mera koi boyfriend nahi hai, why don't you understand. She blasted frustrated hearing same rant from his mouth.
He grabbed her hair, pulling her closer, don't shout on my face , sachchayi tum badal nahi sakti. He hissed jerking her away.
Please believe me once I am saying truth. 
Bas!! He showed her his palm and moved to change his cloths. 
She rushed behind him, hugging his bare back, Maan I love you only, believe me, no one is there in my life apart from you, aap ki Kasam Maan, mein sach kah rahi hu.
Her wet lips rubbing on his back, making him insane, hearing her words he got again mad.

Haasil na hogi tujhko aise meri mohabbat
Chahat ki yaar tujhko deni padegi keemat
Haasil na hogi tujhko aise meri mohabbat
Chahat ki yaar tujhko deni padegi keemat
Sauda na muft hoga, main dil ke daam lunga 
Mere haseen qatil main tera naam lunga
Haan tera naam lunga


[ You won't attain my love just like that
You'll have to pay the price for my love
It won't be a free deal, I'll charge for my heart
My beautiful killer, I'll chant your name
I'll chant your name ]
He turned briskly pushing her apart, shut the hell up now, I don't want to hear anything from your mouth today. 
But..
He showed her his furious eyes shutting her thereby. She sobbed and rushed inside washroom , turning the shower on she sat below it , trying to drowned herself completely in it.
She felt dizzy now with so much torture from him. Why can't he believe me? 
Maan hurriedly got ready in fury only to heard the knock on the door, he opened it to find nakul standing in the door. Ji dadima ne niche bulaya hai, aap ko aur Geet mam ko, he only informed this and moved away not really interested to face him after night fiasco.
Maan darted angry glare at his back and slammed the door shut.
Geet jerked back to reality hearing the noise, she hurriedly got up taking shower , just then she remembered, she forgot to take her cloths not even towel was in washroom. 
Now what!?? He will again accuse her. Kya karu..she peek from the door, let him go out first then I will quickly go and get my cloths. 
Geet..just then she heard him shout and she slammed the door shut without much noise.
Come fast, did you slept there in bathroom? He asked angrily. 
Geet made a face but answered him, I need few minutes more please.
Maan sighed frustrated thinking for a while he thought to just walk out. He was mad with rage already, didn't want to lose his mood further because of her. 
Do whatever you want, I am going. Keep in mind to make it fast because dadima has been calling you. He warned her before rushing out closing the door shut with loud noise as always making her jump on her place.
Oh God!! She sighed loudly. she once gave a look to her wet sari on the floor. she couldn't even wrapped that around now. 
Making a face she peek out making sure way is clear she stepped out and quickly rushed to her cupboard to take her towel first.
What the..!!! 
Geet had just pulled out her towel to wrapped around her wet body when she heard his voice.
No..this can't be God!! She made an crying face and quickly turned around to wrap the towel.
Maan had forgotten his phone, so to take it he walked back in the room.
But he has never thought he would get to see the heavenly sight of his wife again.
And when she turned his eyes gleamed more to see her treasure before she hide it under towel.
Geet was shunned, she again made herself embarrassed before him, and gave him the reason to accuse him. Now she was just waiting for his more harsh words with close eyes.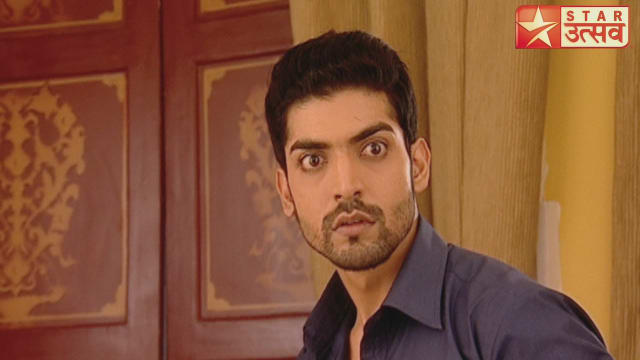 Maan stood dumb stuck just gaping her half bare form. He slowly walked to her as if in trance. 
Geet open her eyes hearing no rash words from his mouth, only to gasped in shock  seeing his face so close. 
He had reach her, and was just admiring her beauty. She looked at the way his gaze was stick and turned red pressing the towel on her half open breast, but it was her wrong move, it bulged out more making his thirst dry.
After a while he smirked, eyeing her in disgust, manna padega tumhe, ek mauka nahi chodti tum mujhe apne jaal mein fasane ka 
Hu?? It too her a while to understand his mean words , now her anger was intensifying. 
You can't always blame me.. why the hell you walked back again in room.she blasted in pain and frustration, he couldn't understand her then don't have any right to accuse her always.
This is my room, and you don't dare to tell me what to do or not! He grabbed her wrist pinning her harshly to the cupboard, her eyes widen realizing her towel was losing from her body but Maan pressed his hard body on her soft wet body preventing it's fall.
Leave me!! Dekho meine Jan buz ke nahi kiya… I dont know why it happens with me when you are around, and it give reasons to you to accuse me further but I  really don't do anything intentionally to hurt you or… She was blabbering when Maan hissed in anger, shut up!! 
His gaze darkened in passion and hunger seeing her shivering pink petals. He bend further to lick her lips, she shuddered unknowingly her body reacts to his touch, her nipples poked into his shirt making him hard instantly. 
Tune mujhe jagaya sone na dunga tujhko 
Hasne na dunga tujhko, rone na dunga tujhko
Tune mujhe jagaya sone na dunga tujhko
Hasne na dunga tujhko, rone na dunga tujhko
Koi payaam dunga, koi payaam lunga
Mere haseen qatil main tera naam lunga
Haan tera naam lunga
Main tera naam lunga
[ You woke me up, now I won't let you sleep
I won't let you laugh, I won't let you cry
I'll give you a message and I'll take one from you
My beautiful killer, I'll chant your name
I'll chant your name ]
Suno…she became restless, as she tried to pull apart, something..poking me down…
She whispered breathless, it took a while for Maan to realize what she just spoke and his eyes widen in shock.
What!? 
Kya kaha tumne? He thought he heard something weird. 
Something poking me down! Here!! And she grabbed it without her knowledge.
Geet…he gritted his teeth, groaning wildly.
Yeh….ye…h…what…the….her eyes widen in terror, what is she holding in her hand. She instantly left him.
God! Forgive me…she muttered in her breath, almost crying.
Maan glared her furiously, pinning her against the wall, what were you doing? He muttered angrily blanching her in fear.
I…don't… know….I am….sorry…
You know even what the hell you are doing ..or you have even any sense, he hissed, jerking her back, or you are just insane. He really wasn't able to believe her innocence and her behavior only making him frustrated or throwing him in pit of confusion.
I really don't know. Mujhe sach mein nahi pata tha that it was your….
SHUT UP!!  He shouted hearing her ranting.
You are disgusting…he muttered before leaving her to shed tears in humiliation.
I am not…she shouted behind him, not ready to hear his harsh words without her fault.
You are the one…always shouting on me. She cried kneeling on the floor.
Maan stopped on the door and turned back furiously to give her his piece of mind but seeing her like that something inside him stopped him.
But that what he wanted, didn't he? He thought ruefully before walking out of the room banging the door shut with loud noise which again made her flinch.
He deliberately does it! She cried cursing him. Somewhere now loving him began to hurt her.
Precap –
I don't know what are you talking about.Kunal aur mein ..aapne Aisa soch bhi kaise liya.
Thank you so much for likes and comments, friends.
 But I am so upset seeing the likes to previous chapter, it's only 21 while i sent pwds to max 34 readers. 
 with this rate of response how am i to update new stories. also i am planning to continue my on hold stories. but for that i need the support of my readers. 
my fav song from childhood, i just remembered it today and thought it goes appropriate with this ff.
https://www.youtube.com/watch?v=AmQHiMk_Qxw

<
p style="background-color:white;box-sizing:border-box;color:#333333;font-family:arial, sans-serif;font-size:15px;line-height:20px;margin:0 0 15px;overflow-wrap:break-word;padding:3px 0;">