CHAPTER 17
Few days went by, his behavior didn't change nor his hurtful words. Not even before his mother in law. 
On Geet's insist , dadi ma forcefully made her live in outhouse for few more days. 
Madhu wasn't agree but before daughters stubbornness she couldn't do anything.
You can't leave me that soon mom…I won't let you go! Geet had cried furiously holding her mother's hand making whole khurana mansion sad with her. No one could see her sad apart from son and father Khurana.
They had to agreed with dadima who stopped madhu.
But maa ji yeh toh bachchi hai, aap bhi uski baton mein aa rahi ho ..madhu tried to make her understand.
Wahi toh ..she had some black magic, Maan muttered under his breath glaring at his crying wifey.
I cant stay at your sasural beta, Aisa nahi hota, madhu tried to make her daughter understand once again.
Mujhe kuch nahi pata, why all rules for girls. Maan bhi toh humare ghar aa sakta hai na phir bhi mein yaha rah Rahi hu…aur aapka akele waha kaun khayal rakhega, aap kaise akele rahoge. She innocently blabbered making everyone shut with her innocence.
Maan had his eyes wide in shock, what the hell did you say, mein tumhare ghar, I am not girl.
Kyon nahi… Phir mein bhi kyon yaha rahu, we both are married, mein akeli kyon Ghar chodke yaha rahu…she counter back innocently.
God, save me from this devil! He held his head.
Dadima had hearty laugh while madhu scolding Geet silently. Rajveer rolled his eyes hearing his daughter in law. She was sure one of piece. God let her stay away from her. He silently pray to god and left for his room letting his mother to handle this storm alone.
Geet bilkul sahi kah rahi hai aur hum humari beti ko ghar se kahi jane nahi denge. So madhu bhi yahi rahegi. 
But dadi ma, it's wrong.
I don't understand mumma, ismein kya gakat hai. Phir Maan ka apni family ke sath rahne bhi galat hai. She pouted.
You!…Maan pointed his finger at her.
Maan dadima stopped the fight.
Madhu aapke liye hum outhouse mein room ready kar denge. You can stay there for time being.
Why time being…? Geet caught her words.
Dadi ma you think of me as baby, she made crying face. I want my mother with me forever.
Geet!! Now madhu glare at her daughter.
Madhu, woh bachchi hai, don't be angry on her. Woh masum hai madhu, dadi cuddled her, she was really getting addicted and caring for her. 
Geet beta, aap jaisa chahti hai wahi hoga , now stop crying. 
Geet had bright smile on her face, sachchi dadi ma.. 
Yes beta ..
Khao humari Kasam, Geet held her hand to her neck.
Aap ki Kasam bete, your mother can stay in outhouse near you. Now happy.
Very happy dadi ma, you are the best dadi in the world.
That I know dadi ma hugged her back when making at fuming Maan , she knew her grandson is jealous at the moment that could be seen by his face. He fumed more and just stormed away from there .
…..
Madhu thought he must be frustrated with his some work that's why he is taking it out on her daughter. Also her daughter is so foolish , who would bear her tantrums. She somehow console her motherly heart. It was only once happened before her still she couldn't stop the ached her heart felt seeing his anger on her daughter. Usne hi kuch galat kiya hoga. 
You don't know to make coffee even, you know I only wanted your handmade black coffe! He uttered in irritation before his mother in law.
Geet how could you beta, abhi tak tumhe seekh Jana chahiye tha. 
Geet pouted, tears filled her eyes, seeing him scolding her before her mother. 
Dadi ma was also not there to save her from his wrath. He deliberately behaved sweet before his dadima. She by now started to understand his behavior and two faces.
That day madhu taught her to make his black coffee which she took to his room.
Aapki coffe.. 
He pretended to talk on the phone and ignored her completely.
Maan…
But he was nowhere to listen , his back was also turned to her.
She walked inside with the tray making faces at him when eyes widen seeing and hearing his next act, yes, love you too honey…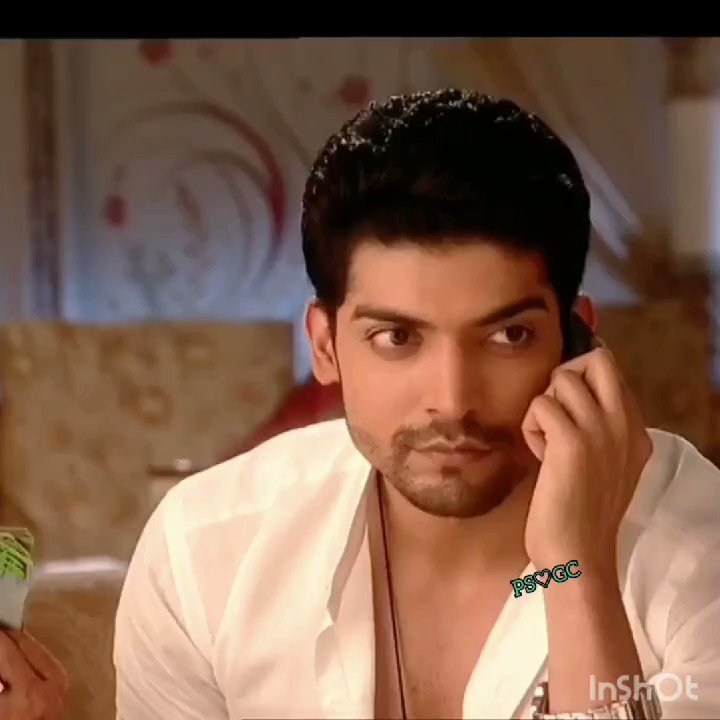 and he kissed umpteen times to his phone.
Geet couldn't bear it, anger hurt jealousy surged through her all together and she banged the tray harshly on the table making loud voice , and coffee spill out with that jerk.
He jerked back to see his angry wifey fuming cutely. He smirked seeing desired reaction. 
But there was no tears instead her eyes filled with pure rage. Although he had confessed, but hearing and seeing the reality before her eye was something else. She felt immensely hurt with what he is doing. At one end he claimed to love other girl and on other end, get closer to her. That's not constracting…? She thought ruefully.
Meri coffe kaha hai? He walked to her locking the door behind her. 
Yaha…she showed him tray making him furious, what the hell is it.
Aapki coffe, aur aapke wajah se hua hai, if you thought to scold me again. She showed her big angry eyes .
Meri wajah se, coffe tum leke aayi ho andar not me..
Then who told you to ask me, khud kyon nahi laye aur khud kyon nahi banayi 
She knew well to argue with me which angered him.
Don't argue with me, he pinned her wrist behind her pulling her closer.
Ahhh..she yelped making him lose his hold.
Who gave you right to manhandle me. ? Aapne mukhe samaz kya rakha hai? She asked furiously with teary eyes as she pushed him rubbing her wrist. 
Biwi ho tum m meri aur usi had mein raho ..he pointed finger on her face 
Had..? Kaisi had? Biwi hu toh uska yeh metlab nahi keh aap mujhe yu takleef de. She winced touching wrist which turned bluish now.
Her painful eyes bore into him and he turned his face not able to take the intensity in her eyes.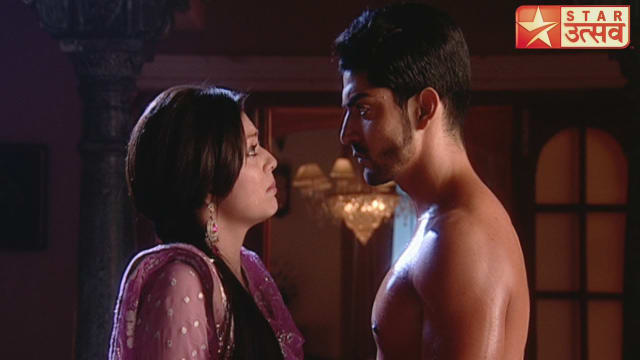 Pahle hi Jo takleef mujhe Hui hai yeh jankar aap kisi aur se pyar karte hai, woh kafi nahi hai? She was on the verge of tears now. I suffer everyday with the same thought but you don't care. She accused him. You now started talking to your girlfriend before me even. 
You know how much it hurts me, here..bahot dard hota hai, she showed to her chest where heart reside.
Maan was melting with her words but he tried to hold himself.
Now you know how it hurts, aur jab mein tumhe Kunal ke sath dekha tha… 
It took her a while to realized what just he said and Kunal…!? She asked confused. 
Don't tried to show innocent… I know what you both are doing behind my back. 
Meine …meine Aisa kuch nahi kiya hai. She again confessed innocently. 
Don't..!! He hissed angrily making her blanch in fear seeing his burning eyes. 
Don't ever dare to lie again..
Mein jhut nahi kah rahi hu.
I don't know what are you talking about. Kunal aur mein ..aapne Aisa soch bhi kaise liya. She never thought in her wildest dream that he think about both that way. 
Bas, ek aur shabd nahi, he was burning in jealousy hearing his name from her mouth continuously.
Geet shut her mouth instantly hearing him, she didn't want to make him angry and bear it on her.
She simply turned to move still thinking on how r make him understand because now she became more determined to prove her innocence before him.
But next moment he jerked her back in his arms, meine tumhe Jane ke liye kaha nahi hai abhitak. 
She wriggled in his arms, turning her face away.
Look at me, he pinned her chin harshly. 
Now tumhare aashiq  ke bare mein kuch kaha toh bura laga, 
She closed her eyes in pain, feeling his fingers pressing in her soft waist, but his words gave her more pain. 
No…she snapped sudden, because I don't have anyone like that.
I told you umpteenth time Maan, I just know the one man in my life after my father and that is you. 
Aap ki Kasam Maan, I am saying truth. I just love you only. She cupped his nape, trying to make him understand. Her nose touching his.
He became lost in a moment and decrease the distance between both. His lips touching hers.
Please believe me once. She whispered trying to prove her innocence.
Maan was now in dilemma…whom to believe. Even Kunal said the same…if not his wife then he must trust once his friend…but then what Rahul said…he is also his friend.
I won't betray you nor I did…she whispered gazing into his eyes which showing turmoil.
His hands slowly wrapped around her back, as she hide her face in the crook of his neck, sniffing there.
Kispe yakeen Karu…his heart felt calm at the moment holding her. The way she held him gave him peace at heart. His mind was not ready to believe anyone yet his heart betrayed him. It wanted only her and her closeness which soothed his burning heart.
Her fingers crushed his shirt while lips smooches his throat making him groan in pleasure.
Geet …he moaned burying his face in the cloud of her hair. 
She realized what she is doing and became shy, she tried to pull apart but he pulled her back.
to be continued….
Precap – Will Maan know the truth now ...
Few more updates to go… I guess truth will be out then and story will take new turn…
Thank you so much for all the support of my lovely readers. I am blessed to have you beside me on the story… 
<
p style="background-color:white;box-sizing:border-box;color:#333333;font-family:arial, sans-serif;font-size:15px;line-height:20px;margin:0 0 15px;overflow-wrap:break-word;padding:3px 0;">