Geet stared after him as if she could hardly believe what just happened. Her heart was beating, her lips felt dry. Still she couldn't stop wailing her eyes out, mamma…she called for her mother again crying bitterly for hearing those rude words from her husband on the first night itself…she has not bother him this time then why he need to lash out his anger on her always.
After a long time, her cries subsided but she did not sleep. She only stared wide-eyed into the darkness until it was almost dawn.
….
Maan squeezed his eyes shut, fighting the emotional tug of war going on within her. Geet's innocently beautiful face rose before his mind's eye. He could almost feel her soft palms roaming against his hard chest.
She had ignited a spark as ancient as time itself and had left him with a gnawing craving that wouldn't go away.
Thinking about her he didn't know when sleep invaded his space.
He opened his eyes to the burning sun. He stretches his arms, when reality dawn upon him where he was sleeping. He instantly got out of the car.
Enough of this! Maan told himself. Then he bolted through the hall and leaped up the stairs two at a time in his haste to escape the phantom who tormented him.
"Maan, is that you?" Rajveer called from his study, though he didn't come to the door.
"Yeah Dad," maan replied and then continued on His way.
"From where you coming from?" came his father's inquiry.
"Umm, I…" he was about to lie but seeing his father's eyes he realised his father knew, 
I was frustrated you know, so slept in car." He muttered bitterly.
You got something troubling you at night, Boy?" His father pried, his piercing gaze probing into maan's as if he meant to read her mind and pluck out the disturbing thought.
You can share with me if you want, anytime…" Rajveer patted his shoulder giving him space he walked inside.
Heaving an exasperated sigh, maan trudged up the remainder of the steps.
….
Geet wakened by sun rays falling over her through the glass window.
Opening her eyes, she yawns, stretching her arms. 
Through the panes she could see the sun. It was a round yellow ball hanging in a sky streaked with blue fluffy clouds behind the dark brown tracery of a tree's leafless branches.
Her eyes closed again and she turned over, stretching lazily snuggling her head into a soft down pillow. She felt drowsy yet…her body aching with the effect of last night adventure. That reminded her about his brutal words.
Enough is enough! He can't handle me like that…
But his eyes…there was something unusual about them. He was definitely in some kind of trouble…
But he has no right to behave rudely like that with me.
Haq tujhpe nahi toh aur kis pe jatayenge, Geet..
She blushed with the thought, and then memories of his sensuous touches and kisses brought more colour to her cheeks.
Now I should get up fast, already it's too much late…she pouted watching the clock ticking @ 9.am.
…
Maan was too weary and frustrated because of lack of sleep as well.
Maan groaned miserably, thinking about her as stood in the shower. He was glad she was not in the room, when he walked or else he didn't know what he would have done with her.
His heart was obviously as wild as his spirit, he realized.
Why else would he have kissed geet with reckless abandon and then
Touch her that way. He had always been impulsive, chasing rainbows and whims without forethought. But why did his will power fail him only when he was with that innocent devil?
Maan cursed when no answer came to mind. He couldn't fathom why he was so drawn to that well-carved gorgeous goddess, even when he knew she is the reason of his all troubles from starting from his Nightmares where she is the venomous bitch of his life.
….
Geet greeted dadi ma downstairs, whereas Rajveer was already out to office. 
Bahot sundar lag rahi hain aap, kisi ki najar na Lage, dadi put kala tika behind her ear making geet blushed. 
She had worn pink lehenga choli in hurry to reach downstairs for her cloths need to arrange yet in the cupboard.
Geet was damn hungry as she was habitual of having breakfast at time. But dadis demand to make sweet as per ritual left her fumbling because she doesn't know cooking.
Dadi ma…Hume khana banana nahi aata…she confessed innocently and lower her eyes in fear of the outcome.
Dadi kept gapping at the young girl for a while, couldn't believe what she heard, having assume about her upbringing in the conservative family she had thought Geet must have known at least basic of cooking. 
But then she realised, she was no apart from Maan…having born with golden spoon in mouth.
Koi baat nahi beta…' she caressed her cheek making geet look up.
Kisne kaha , you need to do it…we have servants to handle all work including cooking….aur phir hum kis liye hai..
Geet smiled brightly making dadi relived as well. 
Hum aapko sikhayenge, will you learn…
Yes dadi ma, offcourse…Maine mama se kaha bhi tha, but she was scare that after two three incidents when I burned my hand. Geet innocently shows her hand to which dadi giggle making geet bite her tongue in embarrassment.
Just then both heard Maan shouting for his coffee from upstairs.
Geet jumped with his voice, and glass slipped from her hand spilling the water on the floor and some on her clothes.
I am sorry dadima…
Koi baat nahi beta..yeh humare pote ki aadat hai chillana…he won't listen. You must go and change your clothes first as weather is not good outside, you will catch cold.
Ji Dadi, main abhi aayi…' saying so she rushed upstairs.
Geet entered looking down and collide straight to his hard chest which was wet due to shower.
Sorry … She murmured and stepped back.
Maan fumed but seeing her in traditional wear he couldn't stop admiring her. 
His direct openly admiring gaze was having the most devastating effect on her. All her bones seemed to be melting and she had the most absurd desire to lean towards him, to reach out a hand to him and feel his hand close around it. She wanted to kiss him and have him kiss her—
Her breath rasped in her throat and she walked away with a soft whispered, I need to change…'
He arched his brows having not hear her properly and turned to look at her shuffling through her suitcase.  Her hair came ahead falling on her one shoulder when Maan noticed her whole bare back. He gulped hardly before realizing she had not tie the knot.
His insides fumed thinking everyone must have feast upon his wife's beauty which belong to him only.
He marched towards her grabbing her arm he turned her around. She collides to his chest, and looked at him bewildered. 
Yeh kya hai….? His palms spread on her back, making her shuddered with the contact of his cold hand against her warm skin.
Maan….she moaned and wriggle in his arms softly half blushing and half scared from his red eyes.
Main tumse kuch puch raha hoon…' he hissed on her face, locking her scared kitten eyes with his angry one.
What are …you talking about…? She asked clueless.
Yeh…' he grabbed her blouse at one end while other end the knot of her blouse, making it tears apart. She gasped looking down, then her eyes widen in realization, she looked at him horrified, I forgot to tie the knot…' she mumbled with horrified eyes.
That's what I am asking? You forgot or you deliberately do it seeking attention of people? 
Geet made disgusting face at his comment…I said, I forgot…galti ho gayi mujhse, why do you always use so rude words while talking to me…' she asked further with tears clotting her eyes.
Kyon ki tum usi layak ho…He jerked her away angrily, somewhere her tears again affecting him.
He turned around when geet walked before him, kya kiya hai maine…Jo aap aisa rudely behave kar rahe ho…You did not want to marry me? She mustered the courage to ask him, for his behavior suffocating her however she tried to ignore.
Maan was frozen hearing her, his eyes widen but he composed himself soon and turned his face away, I don't want to answer your any questions, just don't bother me. He turned to fetch his shirt from the cupboard and walked out hastily.
Geet stood with the support of the wall for a while, just absorbing what happened. 
It's all my fault, how could I forgot to tie the knot…itni jaruri baat…yeh toh accha hua, koi nahi tha niche sivaye dadi ma ke…unka kehna sahi toh hai…and he must be getting possessive about me, she blushed with the thought.
Kya aisa ho sakta hai, he liked me that's why cared about me and would not bear if anyone see me with bad eyes, she remembers night incident as well. 
Mai hi buddhu hoon, she hit her forehead, woh toh mere liye mujh pe gussa ho rahe the. Shayad unka baat karne ka andaj galat ho..Geet manofy  herself with her innocent heart which only knew to ignore bad things. She quickly changed into fresh pair of cloth and ran downstairs.
Precap:- 
Geet don't know to wear saree. 
Now who will help….
Please like and comment
Thanks again for awesome response to this story…
Chapter 10
Geet looked at the food longingly, her stomach was grumbling with hunger but no one to ask her like her mother. She stared at the dishes while her mouth watering with the delicious smell. 
Just how Maan found her, he let out a small chuckle before walking towards his dadi who was making everything ready.
What's happening…what's this sweet smell? 
He peek over dadis shoulder, Geet looked amusingly at Dadi grandson interaction. Last she had only witness his anger…that too on her. 
She pouted yet again, and moved out behind dadi to help her.
Dadi ma, Hume bahot bhook lagi hai, said Geet finally seeing her ordering around to servants as they got the table ready.
Both Maan and dadi looked on astonished making geet to standing her spot, did she say something wrong? Probably, she did….that's why both giving her that weird look.
Dadi ma, mujhe sach mein bahot bhook lagi hai, kal bhi meine thik se nahi khaya….aur phir Maan…she was going on blabbering about his misbehavior last night but soon stopped seeing his angry glare upon her.
Dadi let out a small chuckle, her granddaughter in law is sure one of piece, she thought walking to her, and she grabbed her arm pulling her to the chair.
Take a seat, Aaj hum apne hathon se aapko khilayenge…said dadi adoring her daughter in law already. 
Maan couldn't bear the scene, his insides burning…he got up just when Dadi walked inside kitchen again.
Geet was lost in new found happiness, sitting like a small kid who just got his mother back.
But her smile vanished the moment she felt herself jerking up from the chair all of a sudden breaking her dream castle.
Maan…she raised her voice in shock only to be shut by his glaring eyes, shhh…he put his finger on his lips gesturing her to keep quite. 
He jerked her closer, meeting her terrified confused gaze,tumhe sharam nahi aati…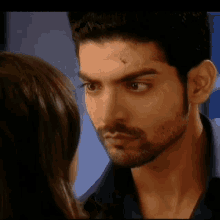 She became more confuse, it's dadi's affection for her,why couldn't she cherish it, what is there to be ashamed.
Is Umar mein tum dadi se kaam karva Rahi ho…he hissed angrily making her guilty, her all hunger died,
 "just behave yourself, he jerked her back, just at that moment dadi walked out, arey Geet beta, why are you standing still…come beta, have a breakfast.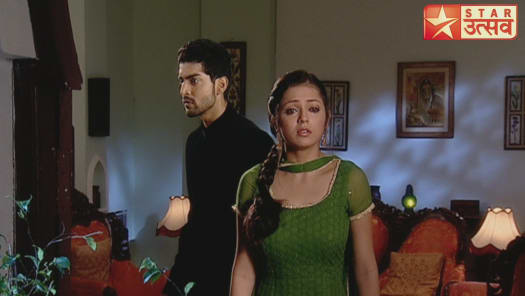 Geet turned her back, trying hard to control her tears,she somehow managed to uttered, woh dadi ma, mujhe yaad aa gaya, I need to call my mom, ap nashta kar lijiye…saying so she rushed upstairs to her room.
But Geet …dadi tried to call her but she was fast in moving to their room.
Dadi ma, use jaane dijiye, she don't have any senses to behave…
Yeh aap keh rahe hai, dadi raised her brow, as she sat at the table. 
Mujhe bhook lagi hai Dadi ma, can we talk later.
Dadi shook her head still unsure to start without her grand daughter in law.
Dadima, don't worry about her, now she must be busy talking with her mom.
Dadi ma nodded before adding, but you make sure that she must have her breakfast.
Ji …he gritted his teeth looking down at his plate with the way, his devil wife was taking place in the heart of his kind grandmother.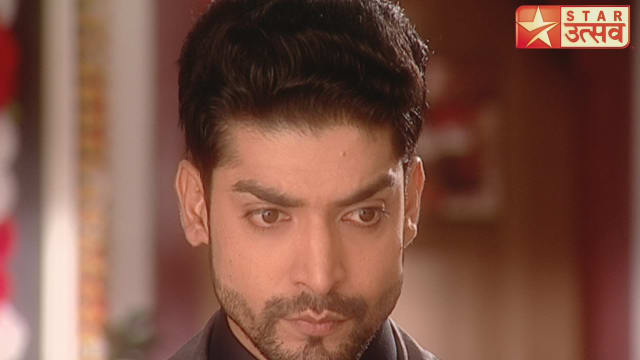 …..
Geet wept silently thinking on to call her mother or not. She couldn't make her mom worried with her ill health now. Surely her mother will be scare hearing her cries. 
After few minutes she composed herself and washed her face then she called her mom, the ring kept going on until she thought on what and how to talk to her mother.
Geet beta, how are you? Everything fine there!? Her mum's longing gentle voice pierced through her. Her heart felt heavy, she called out softly, mamma…
Geet bachcha… 
Her eyes filled up hearing her call so lovingly, she gulped hard before speaking out, I am fine, everything is so good here…
she lied instead referring to dadis love and care for her, "you know dadi ma is so lovely, she loved me so much just like you…but I am missing you, when will you come.. aapne kaha tha you will come to pick me up for that some ritual…she pouted wiping her nose.
Maan stood at the door with his arms crossed over his chest, listening her sweet complaints to her mother, she didn't tell anything to her mother. He squeezed his brows thinking something.
But you said, you will come…aise kaise ho sakta hai, toh kya mein aau aapke paas? She asked like a lost child.
Yes dear, Maan ke sath aa jana, he will drop you here. 
Itni dur…!? Aur woh bhi bas ek din ke liye…she widen her eyes , Maan chuckled behind narofying her each gesture.
Yes dear, or you don't want to come to me now after going to your po an home. Her mother teased .
Yeh Mera ghar nahi hai, woh mera ghar hai na??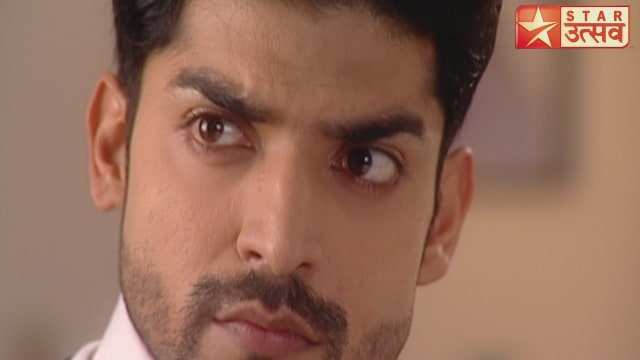 Maan frowned getting angry hearing her nonsense.
Don't talk like this dear, now maan's home is your home, shadi ke baad aisa hi hota hai.
I don't know anything of that sort, she got up angrily, "yeh mera ghar nahi hai, she was furious and hurt remembering maan's rude behavior and words last night.
Geet, kya baat hai, why are speaking like this dear.
Mujhe kuch nahi pata, I just want to come to you, ek hi din ke liye sahi. 
Fine dear, you don't come, I will come to meet you for one day.
Yippee, yes!! She jumped in excitement on the bed 
His eyes widen as he walked towards her angrily seeing her childish behavior.
You sure come , don't back out on words now! She threatened her mother pointing finger at the phone in hand as if her mother is standing before her. 
She cut the call jumping in joy, threw her cell on the bed, next moment she lost her balance and going to fall but just in moment Maan reached her and caught her in his arms.
She buried her face in the crook of his neck out of fear,he grabbed her close, taking seat on the bed, and she landed on his lap and pulled apart to look into his intense eyes.
Both became lost in each other eyes, she cupped his nape with longing and love shinning in her hazel eyes. Her lips shivered inviting him seducing. Maan looked at her flushed beautiful face and lost his senses.His fingers rolled down on her forehead then behind her ear, he tucked her few tendrils behind her soft ear, making her shudder, she closed her eyes in sensation… 
And arched more to him, his hand moved down pulling down her kurti…her other days nude form flashed before his eyes making him insane to devour her.
Geet pushed herself more into him; her whole was on fire with new sensation, her core throbbing with sweet pain as she rubbed herself on him.
He groaned, cupping her breast harshly making her moaned,he dipped his face in her cleavage nibbling her soft skin, 
Ohh…she gasped clutching his hair thereby making him bite her there 
Ahhh…she tilted her neck giving him more access, at the end she was lying on the bed with him hovering her. Few thoughts were roaming behind their blur mind but both ignored it and concentrate on the beautiful sensation their closeness was creating. 
He just want to devour her , his revenge will be taken care later on, right now, the beautiful devil was his…his wife…he have whole right on her now…to devour her or to make her suffer for her deeds…those were his thoughts,
On the other side, Geet was little aware of what happening, but at the end she knew she loved this man crazily and upon that he have whole right on her, he is her husband…only hers with that thought she pulled his face near, their lips touching each other like petals. He breathed into her mouth before capturing her soft petals in his mouth.
She moaned and squirmed under him, feeling his hand going inside her kurti… he opened the chain, pulling it out, Geet helped getting up a little he pushed her again, claiming her mouth.
Both kissed each other madly, or it was Maan while geet just followed his steps. 
Leaving her breathless, he came down on her jaw, cheeks biting them making her pout.
He smirked; coming down to her neck, inhaling her sweet aroma…her heaving up and down breast took his attention, his eyes darkened as he proceeds to reveal the treasure hidden behind it.
Geet instantly crossed her arms over chest feeling shy. He clutched her wrist trying to pull apart….but she was stubborn not to given… Suddenly one thought crossed her mind.
Geet…he gritted his teeth, already he was high and she is denying him now.
No…She pouted, first tell me, you love me.
He stopped hearing her and glared her…she turned her face away, taking the chance he pulled down the cups, her womanly assets pop out.
She gasped, glaring him cutely…he smirked and before she move, he was latching on her nipples like baby giving her new sensation altogether.
Oh….Maan….she closed her eyes feeling ecstatic.
He left her hands, while his one hand cupped her other breast,his mouth devouring on breast. 
She clutched his nape, feeling his teeth nibbling her nipple giving her sweet pain. She began dripping down as it was too much for her. First time ever someone was touching her so sensuously so close…she was nude before some man…it made her whole red as how he was devouring her breast. 
This passion….this love making, she was so unaware…
Her thoughts halted when both heard the knock on the door. 
Argh…he groaned in frustration, still sucking on her breast, like he won't get enough of her. She taste sweet, smells sweet…he wonders, how a devil could taste so pure… 
Maan…she called him holding his shoulder, she was whole red seeing their position, please get up…someone on the door…she called out in small voice.
He left her unwillingly, she instantly wrapped sheet around her…hiding herself completely in the blanket. 
He buttoned up his shirt, combing back his hair and opened the door to face nakul who stood with trolley of breakfast item.
Dadima ne Geet mam ko breakfast karne ke liye kaha hai, Maan darted angry glare to him before pulling the trolley inside. You go…
Ji… nakul nodded and walked away.
When he walked back closing the door, she pouted and turned her face still upset at what he did downstairs.
Have it, he pushed the trolley beside her.
I don't want to…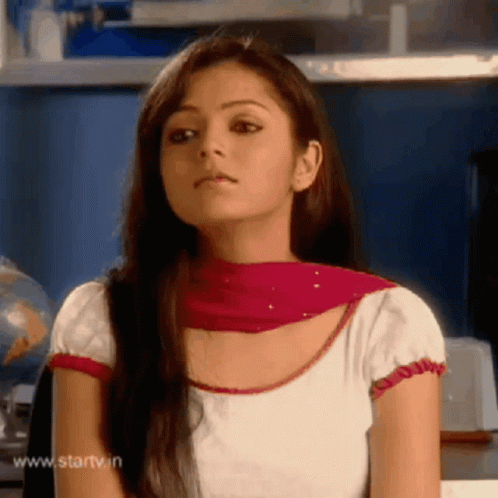 I did not ask you, but saying, yeh dadi ma ne bheja hai,chupchap khalo…
Geet became angry hearing his tone and the way he was ordering her, "I don't want to…suna nahi aapne? She shouted on him making him lost his cool.
He marched to her pushing her back on bed as he hover her,"I told you never raise your voice on me…he gritted his teeth.
Her strength was leaving her out of fear, however she retorted, then you also speak gently with me…humesha mujh pe chillana jaruri hai kya..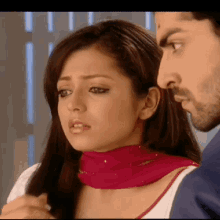 Because you deserve it…he spitted…
She closed her eyes in pain hearing same rant from him…
Precap –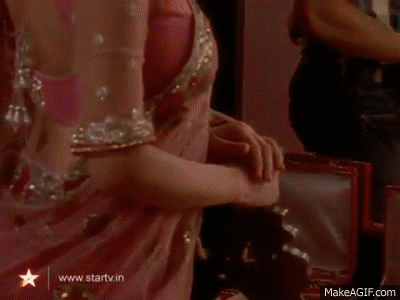 Thank you so much for your awesome response friends
… do like and comment please..it motivates me to type next for you…