Dream or Broken Reality
What!? 
Tumne mujhe teddy bear samaz rakha hai?
Yeh aap khud keh rahe hai, she giggled…mein teri Barbie girl tu mera teddy bear..she sang hugging him,while he laid fuming.
Move!! He blasted suddenly making her startle.
Dekhiye khurana Saab, meine kaha na mujhe yahi sona hai…
I also told you, mein tumhara koi teddy bear nahi hu….na hi tum yaha so rahi ho ..if you want to sleep girl, then kindly occupy that couch. He pointed again towards the little thing in the room.
Geet twisted her lips, alright, khadus would be Jijaji…she muttered last words under her breath and silently got up.
Maan left a sigh of breath but that was short live as suddenly she stopped getting up.
How would I sleep on that small thing, khurana ji, mein bahot lambi hu us choti si cheez ke liye….she explained pouting her lips.
Maan was losing his patience now, he was already tired after long hectic day of work and then visiting Handas. His marriage has been just fixed and he got an awesome gift of this little bomb in the name of his sali (sister in law)
Dekho Geet, if you don't want to sleep then dint, but atleast mujhe toh sone do. He told in tired voice.
Geet really felt bad now, wahi toh mein kah rahi hu, you sleep at one side, mein yaha side mein ek corner mein so jaungi. Please…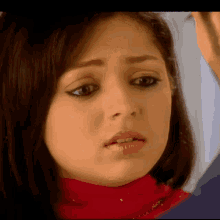 she made an puppy face which he couldn't resist now.
Alright, let's just sleep now. He said having enough of this late night argument. Beside, she was just little girl for him who would be his sister in law soon. 
She had already brought one blanket from her room which she happily covered on her body before giving him toothy smile, good night, khurana ji.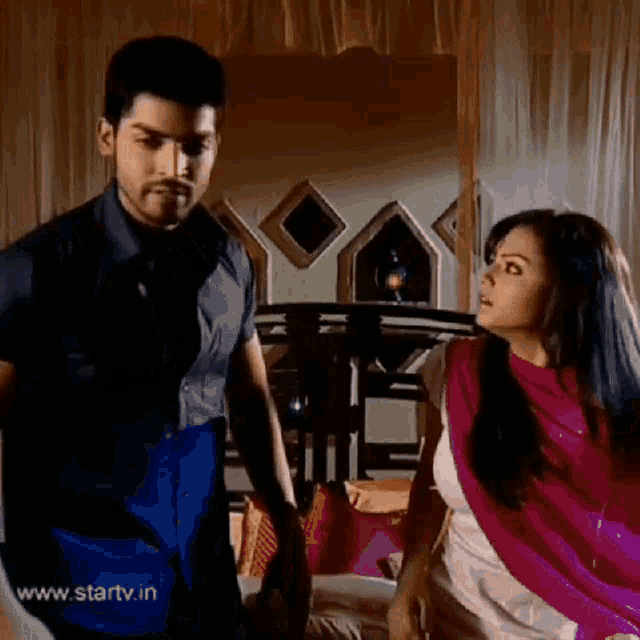 Hu…he groaned inwardly turning away from her, he slept in no time being hell tired.
Geet kept watching his back for a while admiring his biceps, soon her eyes turned droopy too.
….
Geet felt herself being badly crushed below huge weight of someone. She felt something pricking her soft cheek, then soft lips of someone trailing down the path of her jawline… the her ear.
Geet…
She snapped opened her eyes feeling his hot breath in her ear. Her eyes widen seeing his face close to her, he was hovering her…pinning her hands down. His one hand slowly moving upon her small body, he removed her shirt in one go.
No Mr.khurana…you can't do this. Geet got some voice after realizing what's happening. 
she shivered under his gaze as it moved on her revealing cleavage.
Why can't I baby and yes call me Maan…he whispered sexily licking her cleavage.
What happened to you? She held his face, trying to shove him away for now she was damn scare.
Leave me, khurana ..she gritted her teeth trying to control her own hormones as his lips creating havoc with her senses.
Why….i liked you so much, when first time I saw you, …he mumbled looking into her eyes, his eyes showcased deep passion hidden in them.
Geet gasped…I thought you are gentleman…that's why I was so attracted to you.
He smirked before cupping her breast, you break my sleep now bear the punishment doll, and he nibble her nipples hungrily devouring her chest.
Stop ….plz, She moaned, losing her senses with the burning Passion in her.
Your b**** are so big doll..you are really attractive…
Her eyes popped out hearing him…never ever she had imagined him saying something like this.
But her thoughts halted feeling him removing her short and he slipped down her nicker as well.
No…Maan stop but he only smirked pulling his pants down, before adjusting on her.
He was going to **** her, her eyes widen in horror,….leave me…she begun struggling now horribly.
Stay still….or else it will hurt badly.
No…get off you ***** get off me..she shouted and next moment hit her knee on his *******.
Geettt….
Maan groaned in great pain feeling something hitting him badly on his main point, his sleep was broken ruthlessly by her wild hit.
Get off me….leave me….
He looked at his side painfully to see her throwing her legs and hands in air still in her sleep.
What the…she is really little patakha (cracker)…she hit my ******* so badly. He cried inwardly giving her murderous glares.
Geettt…he slapped her butt angrily waking her up.
You ***** she cursed getting up rubbing her butt.
Mind your language, Geet. He hissed angrily, first of all you break my sleep so rudely. 
Geet kept staring him for a while before reality dawn upon her. She was dreaming…yes, it was dream not reality…
How happy she was…!? She smiled foolishly for she was so relieved now.
Maan kept gawking her weirdly…when his gaze moved down to her disheveled cloths, her small chest was half bare. He instantly turned his gaze away.
Geet caught his act, and looked down at her cloths only to gasped in horror.
God!! You really…!? She was loud and was about to blurt out when she first check her cloths again and bed. Now she was standing on the bed.
What the hell you doing jumping on my bed? He blasted on her childish behavior now. She was getting on his nerve now.
Oh hello…yeh kya kab se mera bed…Mera room lagake rakha hai….
she turned frustrated now, as she stood keeping her hands on her hip glaring him down with same intensity as his.
Be a kind hearten…keep big heart, you are khurana…aren't you!? I really doubt…itna ghamand achcha nahi hai…okay? She gave big lecture from her small mouth finishing with a sigh.
Get down first…he gritted his teeth…why the hell he is tolerating her on the first place, he didn't have any idea. 
Alright…I am getting down….don't be angry. Mujhe sach mein dar lagta hai, aapke gussewale face se…you look like a raavan you know..!?
His eyes widen in rage now, he grabbed her wrist, what did you call me? He had jerked her down, she came crashing to his chest again.
Raavan…she mumbled meekly. 
You say that again and I…he tried to intimate her.
Kya kar loge…she was scared still want to know.
You will know…
What… Raavan…she wanted to know really what he will do or just threatening her.
And next moment he grabbed her wrist painfully pinning it behind her, jerking her closer their lips so close, almost both could feel each other breath.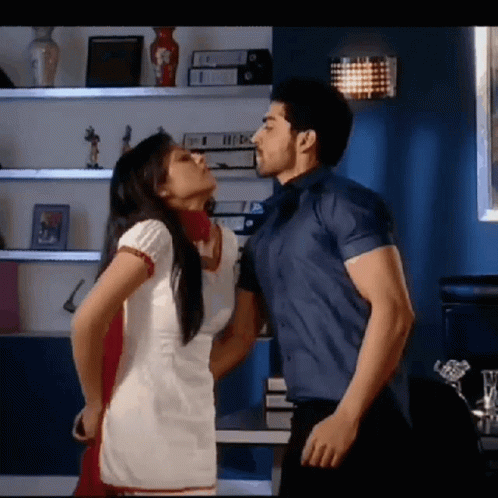 Yeh aap ..kya…kar rahe…hai, she feared her dream might come true, sorry….sorry…next moment she blabbered out of fear, plz leave me…you are hurting me….her eyes became teary.
Maan instantly left her as if broken by some magic cast, he combed his hair back in frustration, couldn't believe he would do something like this, that too with the little girl.
She is child Maan, and what did you do. He actually forgot who is he and who is she…he forgot his all senses…
Geet was rubbing her small wrist painfully, it turned red and sting badly. 
Dikhao mujhe…he demanded.
Nahi .she instantly back down, totally scared now, first her dream and then his anger.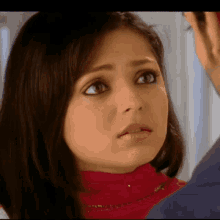 I am sorry, but I want to go home.
Saying so she climbed down the bed hurriedly.
But geet listen to me.
Nahi…plz, aur ab subah bhi ho chuki hai, i will manage. She tried to make him understand so that no one will stop her now.
And she ran out shutting the door behind her.
Maan looked at the door blankly…thinking about her reaction . He made her scare…poor girl, she was just child and what I did in my anger, shit…he hit the bed angrily, reminding about the red blue marks on her wrist.
Kal raat bhi meine use hurt kiya car mein aur ab bhi….
….
Bete breakfast kar ke toh jao… Sumitra forcefully pulled her down on the chair at dinning table.
Geet couldn't deny now…she really respected her like her mother. Her motherly warmth and love filled her small heart.
I will have just little mummy ji…she was still upset with the dream more than his harsh behavior.
Arey thoda sa kyon…pet bhar ke khana…nashta Hume humesha pet bhar ke khana chahiye… sumitra patted her head affectionately to which Geet smiled, aur yeh ji hatao aur call me just mother…okay? 
Okay mummy….Geets face brighten hearing her, she was so happy to get this new family. 
It was true saying, after marriage girl doesn't lose their family but get one more addition.
Her smile vanished instantly with the thought, what the hell am I thinking, meri shadi thodi ho rahi hai, it is Sam who is going to marry in this house. 
How lucky she is….god humesha bure loge ko itna achcha luck kyo dete ho…? She pouted with the thought.
Kya hua beta…tum kuch kha kyi nahi rahi…She was pulled out of her thoughts hearing dadima.
Kuch bhi toh nahi Dadi, her words halted once she saw his sight before her, lost in her thoughts she failed to realized his presence. When did he come?
I liked this pasta very much…meine kabhi itna tasty pasta nahi khaya mummy!! She said lost licking her lips all the while eyeing Her jijaji who sat just across her.
He looked so dashing in his office attire. My god, save him from my evil sight. She smirked at the end.
Thanks beta yeh meine hi banaya hai, Maan ko bhi pasta bahot pasand hai…
What!?? She began coughing suddenly being startled hearing maans mother.
Maan instantly got up, already guilty for his behavior, he ran to her, began rubbing her back, Geet aaram se…
Dadi handed him the glass of water, which he snatched from her hand before pushing that to Geet's lips.
She took few sips, thanks, muttering quickly she steals her gaze from his face.
The way his big palms rubbing on her, stirred her whole system. She was still minor, growing up both physically and mentally….having more than enough knowledge for her little brain of these things. 
Her hormones shoot up, nipples tightened. She felt small hair on her body stood up to his attention. She was shivering literally.
Are you alright now? His worried husky voice left her in puddle.
However managing herself, she just nodded her head, I am fine. She said softly still looking down.
That was so not her, Maan knew…He had got to know her little bite in last 14 hours. 
his guilt only increase, unknown about her internal storm he blamed himself for her meek behavior.
After breakfast, she bide everyone bye in her own style, that was pecking everyone cheeks.
When it was maans turn, she happily rushed to him and stopped just mm away from his beard cheek.
He smirked seeing her widen eyes, he could feel her soft warm breath which tickle his senses.
Everyone's giggle brought her back to reality. Dariye mat Geet beta…he won't eat you…aap unki honewali sali jo hai.
Those words pricked her heart silently, she didn't know why…
Dadima, mujhe der ho raha hai, mein chalti hu …saying so she pulled away leaving her task in mid.
Maan looked at the her running away from him…he didn't like that, she was the little girl…whim he came to admire after ages…. someone was so different and childish. 
He liked her innocence…admired her brave self.
Now seeing her ignoring him after that much attention she gave him test….he couldn't bear it.
Geet was just about to cross the door of khurana mansion when Rajveer stopped her.
Geet beta rukiye, hum bhi aapke sath chalte hai.
She became confused turning towards him. Everyone looked at him when he disclosed, abhi abhi mr. Handa ka phone aaya tha…today priest had came to handa mansion to fix the date of marriage.
Geet just nodded silently unaware about the seed of feelings which were growing in her heart. 
She felt suddenly  upset that she just walked out without waiting for anyone.
Maan too heard that and felt nothing…he was blank like before , only thing bother him at the moment was seeing her small face.
…
Geet…he called her who was walking back and forth in the courtyard.
Ji…she turned around to face him nervously.
What happened to you, tum thik ho? He asked concerned seeing her mellow behavior.
I am perfectly fine, what would happen to me? She laughed it off , coming back to herself slowly for she couldn't bear anyone sympathy for her nor could she show her meekness to anyone.
He smiled too seeing her laughing finally.
Khuranas walked out joining both out, they began the journey back again to the Handa mansion.
Geet got few driving tips now from Maan sitting beside him. She observed his each move, how his muscles moved…his biceps… couldn't stop drooling over him innocently and childishly.
In between everyone listen hear blabber anything and everything…
Like this everyone reached HM. 
….
Geet beta, come… Ranbir welcome his daughter warmly taking her in a bear hug as his wife and elder daughter was out of sight.
Aaiye, maa ji…have a seat. He welcomed khuranas as well.
Did you sleep well…!? Asked Ranbir knowing about his daughter's sleeping habit.
Hearing this question from her father Geet became silent as memories from last night flashed through her mind. 
Yes dad, I slept well…ha bas I woke up early there because of some bad dream. 
She replied cheekily then giving quick wink to Maan who raised his brow in return seeing her change of behavior every minute.
This girl never stop amusing him. He thought.
After a while everyone gathered around the priest who checked horoscope of would be bride and groom.
Yeh kya…
kya hua panditji sab sahi toh hai.
sahi…it is more than right…said priest in overexcited tone. aisa pahli baar dekha hai, var aur vadhu ke sare gun mil rahe hai… both are made for each other. aap inka vivah jald se jald kar dijiye…
 marriages like this are made in heaven only. God had sent the guy for your child from heaven only. he couldn't stop praising.
geet's heart skipped a beat…she was unaware what is she feeling at the moment but was sure it was paining inside somewhere. 
She twisted her lips and looked at sam and her mother who had evil glint in their eyes and same smile plastered upon their makeup overloaded faces.
but the same smile from their faces vanishes soon  when Ashok the buddhu(dumb) servant from the mansion walked in with one sheet in his hand.
arey madam ji..yeh lijiye…yeh kisi ka horoscope wahi pada tha…hum kab se aap ko aawaja de rahe hai…you were not listening.
Nikita got up and snatched it our of his hand giving him angry glares and he ran away scared for his life for he knew what is coming next, he had heard everything going on in the living room.
yeh kya…nikita's eyes widen in seeing name on the sheet. yeh toh sam ka horoscope hai.
Everyone listened to her, even the priest, then yeh kiskaa hai…asked Ranbir, taking it from the priest, yeh toh geet ka hai…
what….!??
…..
to be continued….
I just realized, every update of this story is ending on some special word "what" 
what do you guys think?
Like and comment please, it motivates me to continue with my stories…
Thank you so much for your support, whoever like and comment…
Precap :-
Her eyes widen seeing both kissing shamelessly. She felt anger rushing through her veins. 
ps. forgive for errors…updated in hurry…mention in comments plz…also have lack of knowledge of marriage things…