Chori chori dil teraa churaayenge
Apna tujhe ham banaayenge
Dheere dheere paas tere aayenge
Aake door phir naa jaayenge
Maan pulled her harshly in his arms, seeing two pair of eyes following her each moves. His whole burnt in anger and that reflects in his harsh hold upon her waist.
---
Maan..her eyes instantly filled up, she cried seeing his furious eyes.
Why are you so angry on me…? She asked in chocking voice.
Maan smirked bitterly, however composing himself he whispered in low voice, kuch nahi baby, I am just trying to save you from some bad eyes.
Huu…" Geet frowned in confusion, as she looked around.
Whole hall was filled with only their town people and some of relatives. As it's their Sangeet today. So, all youngsters were on the floor for couple dance. maaneet in the center of the stage.
You don't need to look anywhere but me…" he whispered possessively holding her cheek.
Geet blushed furiously regardless of his harshness. She somewhere liked his possessiveness for her.
Main teri baaho mein sajan
Saari umar gujaarungi
Bas tujhako hi chaahungi
She willingly put her head on his chest, hugging him with all the love in her heart for this man.
I love you, she whispered against his beating heart which skipped a beat listening her confession.
He gulped his emotions down which aroused within with her sweet confession. But again reminding about her two face act she did behind his back. He wouldn't forgive her easily. She will pay heavily and he will make sure about that.
…..
After that both were kept apart whole day as per the rituals till the wedding. Both were desperate to see each other for the different reason.
Tu mere maathe ki bindiya
Tu naino kaa kaajal hai
Mai barakha too baadal hai
Geet was surrounded by few girls and women who got her ready beautifully as maan's bride. she blushed furiously seeing her new image in the mirror, upon that girls were teasing her like hell.
she just remembered him and his loving stare upon her. she knew he too harbor some feelings for her if not love still he confessed that he liked her too. that's enough for her to live her life with her love and soon to be husband. she again blushed with her own thoughts.
Tu meri aankhon ki neendiya
Tu hi meraa jivan hai
Main hoon dil too dhadkan hai
Dhadakano se tujhe churaayenge
Apna hum tujhe banaayenge
If not now he will surely start loving her after marriage, she has this belief on her own love.
Chori chori dil teraa churaayenge
Apna tujhe ham banaayenge
Dheere dheere paas tere aayenge
Aake door phir naa jaayenge
Maan was awestruck with her beauty as he filled her partition with sindur. it was love for her although as she closed her eyes to treasure the feeling… her whole shuddered when his fingers tingled her skin making her wear wedding chain.
maan was lost for a while in her but two person were always there to make him remember the motive of this marriage. his two friends.. Maan was although angry on sameer. but he couldn't just break his friendship with him for some other girl. and in his eyes , geet was the one to be blamed for all mishap. that's were his thoughts.
as both took the seven rounds around the fire. geet was blushing with a sweet smile seeing everyone's eyes on them, while maan was having evil smirk on his face with the thought of his revenge.
as priest announced them as husband and wife. both took blessings of the elders. his friends came forward to congratulate the couple.
geet winced inwardly and clutched maans hand seeing rahul's gaze on her.
congratulation bhabhi ji he teased meaningfully first eyeing her and then sameer intentionally infuriating maan as well as sameer.
sameer too was angry but he kept cool before maaneet. He couldn't tell maan anything as of now before talking to geet. he knew its question of her prestige.. she first need to talk to maan. but she was doing nothing of that sort but only being silent.
at the time of parting, geet cried like anything clinging to her mother who was also shedding silent tears.
mamma aap bhi sath mein chalo na.. she demanded innocently making everyone giggle around.
nahi beta.. aisa nahi hota hai..
kyon nahi ho sakta.. sab kuch ho sakta hai.. hai maan, she wiped her nose and looked at maan expectantly like he would listen to her. he was dumbstruck with her demand, he only looked at his grandmother and father, having nothing to say.
dadi was going to say yes, but seeing everyone whispering samarth khurana interval in between.
it's getting late, mrs. khurana.. i think hume jaldi karna chahiye.
and like that both mother daughter parted.
Geet was all the way crying furiously missing her mother already. she was scared for her ill health as well but could share nothing with her new family.
geet beta.. shant ho jaiye.. hume batatiye kya baat hai… dadi guess the reason behind her crying was not just parting from her mother.
geet couldn't speak, just shook her head in denial. her throat chocked , it made dadi worried.
will you just shut up now ! maan shouted getting irritated as well seeing dadi so worried about the girl who doesn't deserve a bit.
maan.. you shut up son.. this is not the way to behave with your bride.
then ask her to keep silence now… its been an hour she is crying.
dadi shook her head, seeing his anger, she knew behind this mask he cared for geet so much.
after that dadi ma and his father change the car and left ahead in different one to mae the arrangements and giving the couple some privacy.
geet dozed off soon on his shoulder. he looked at her, grabbed her softly to his side.. his hands wrapped around her small waist..he rubbed his fingers there more than necessary making her wriggle in the sleep and she snuggled in his neck, her fingers clutching his kurta at back making him groan in pleasure.
Geet why are you pretending this much…ek toh tumne meri raton ki neend churayi hai, na jane kabse… he remember those nights he squirmed in sleep with those nightmares and then your betrayal with my own friend. sameer ko main acchi tarah se janta hoon.. he wouldn't look at any woman…then what did you do.. that made him too betray on my back… his anger was only increasing on both…
with those thoughts swimming in his mind he pressed his fingers harshly in her soft skin.. making her wince in sleep.. she got up rubbing her eyes… again reminding about her mother, few tears spilled out of her eyes. he groaned in frustration not able to believed on her tears.. they too might be false like her pretense of love.
….
Now take your bride in your arms and walk inside.
what! he reacted instantly… which made dadi doubtful but she shrugged it off.
Geet looked at him, with deep frown, he couldn't carry her…why? Her prince charming which she had dream of wouldn't have said or reacted like this then why he is…
she didn't get time to ponder over much as next moment Maan picked her up in his arms making her yelp in surprise.
Main tujhako dulhan banake
Apane sang le jaaunga
Tere naaj uthaaunga
Now don't shout in my ear….he hissed angrily.
Geet pouted and turned her face away making everyone chuckle with her antics.
Few more rituals followed including all couple games. Geet won most of it making her grin like child and let Maan groaned in frustration as whole bunch of people teased him saying Geet will rule the marriage.
Has lo jitna hasna hai, my dear wifey, now tumhare rone ke din shuru ho gay hai . And these bunch of full people doesn't know…who will be ruling this marriage and you…he thought with an evil smirk that appears to be sweet smile to geet who blushed furiously under his hot gaze.
…..
Geet sat like a typical bride on the decorated bed of their bedroom. She blushed with the thought. Yes, now everything of his is hers and hers will be his..her whole shivered with the deep meaning of it. 
Just then the door opened and there entered her Prince charming. Yes, he was not looking less today. He locked the door at his back and her toes curled automatically. Her breathing increased just as she felt him sitting next to her.
He slowly lifted her veil and she closed her eyes.
Chand se bhi jada khubsurat lag rahi ho aaj…
his husky voice made her tremble, small smile tugged at the corner of her lips as he took hod of her henna filled hands admiring her design…
Mehandi pyaar ki rachayenge
Apna tujhe ham banaayenge
he dipped his face in her open palms inhaling the aroma of mehendi. she shuddered when he looked up into her brown eyes before capturing trembling petals in his mouth.
Chori chori dil teraa churaayenge
Apna tujhe ham banaayenge
Dheere dheere paas tere aayenge
Aake door phir naa jaayenge.
Maan…she gasped finding no one in the room apart from her. That's when reality dawn upon her. She was dreaming all this while. It's been an half hour and she went to sleep waiting for him.
But where is he? She frowned and heard some voices coming from adjusted room…she walked slowly there and pushed open the door. The sight before her made her horror stuck. He sat the stool at the bar and was enjoying his drink with the music on without caring about his new bride who was waiting for him and right now stood behind in utter shock watching the scene.
Maan was really frustrated after fighting with his Ming and heart. This marriage only added fuel to his hatred towards Geet. He had been having those nightmares with Geet's face, for God knows why? But after meeting her this images began to fade without his knowledge. Then again, she proved him right by showing her true colors. He had deliberately walked into his bar from other door for now her punishment has begun…and it's only starting.
All girls are same…damn it..!!
He threw his glass on the floor harshly breaking it into pieces.
Geet gasped with the sight as well as the loud voice disturb her senses. She was horrified when he turned around furiously.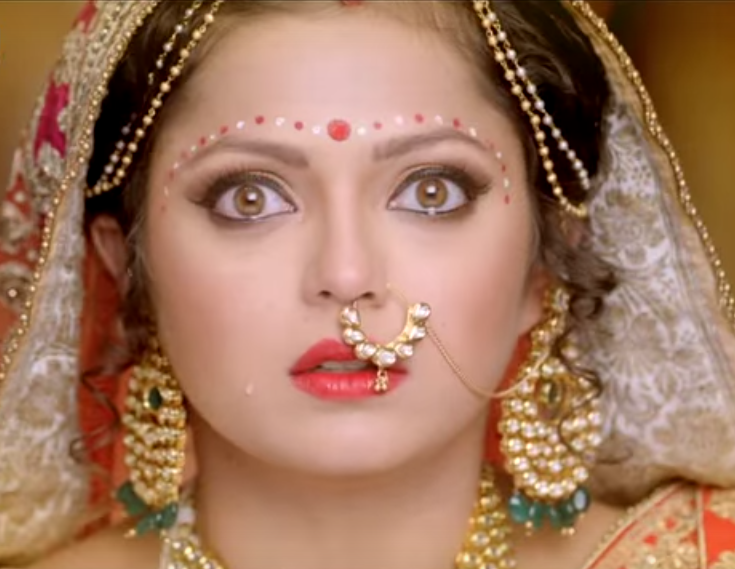 She took steps back automatically seeing his red eyes and jaw tighten.
Her dream was long forgotten, there stood before her the nightmare awaiting to consume her whole.
His anger boiled seeing her terrified face. He marched to her, clutching her arm he grabbed her closer…
Ahhh…she moaned in pain. Chodiye Hume…Geet cried out. Never had she imagine to see his side gain after their marriage. Everything was sort out between them then why again he is angry on her. What did she do now?
He kept looking at her struggling in his arms like fish without water. His eyes filling in her beautiful image. Then her writhing in pain gave his heart satisfaction.
What…are you doing? she stammers by now tears were flowing down her cheeks.
yeh aansu kisi aur ko dikhana , dont show it to me… I am not to make fool of….he harshly wiped her tears making her wince.
yeh aap kaisi baatein kar rahe hai..? she mustered her courage to ask him. his behavior only confused her.
you wont understand nor i want to talk to you anything right now, so better get out from here. and he pushed her away, she stumbled back and her feet got stuck in the bridal dress resulting in her falling on the floor.
ahhh.. she cried out and looked at him accusingly. he just turned his face away,
geet doesn't know what happened to him suddenly but she was so scared from his change of demeanor today. so, she kept mum and got up to leave when she felt the pain in her palm, she looked at her hand in horror stuck finding her hand filled with blood…
She stepped out entering their bedroom, when he rushed behind her with furious steps, get out from my room,
he blasted making her shuddered in fear again.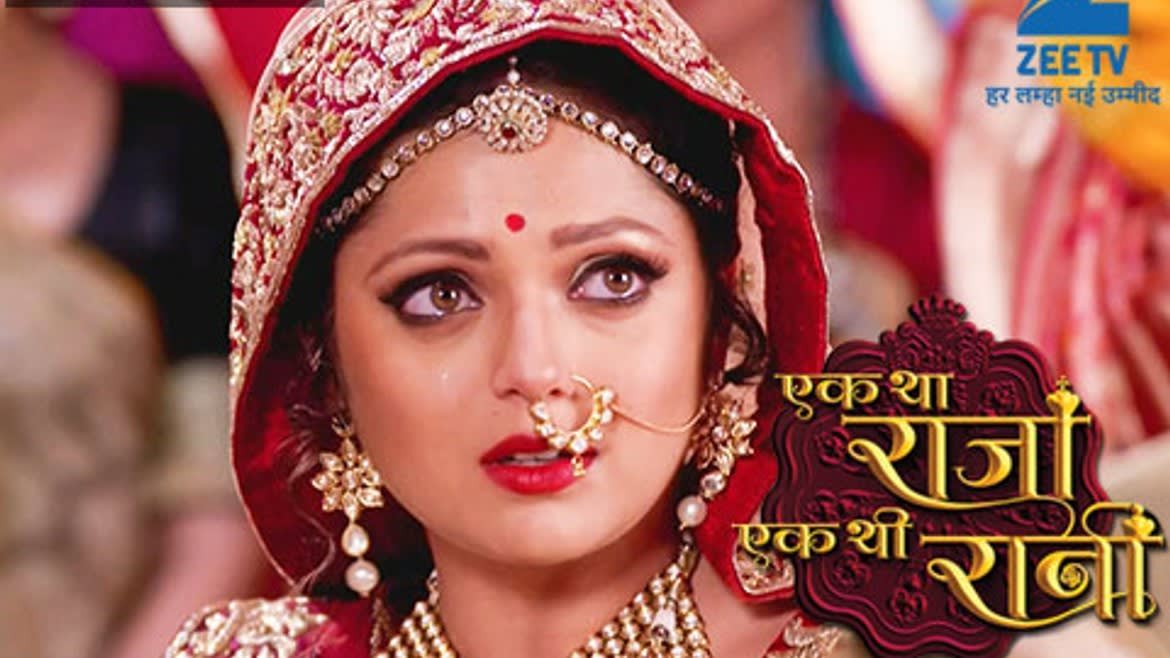 But ..this ..is our room….and why are you doing this,…she hiccups.
No it's not…this is my room..and I tolerate no one in my room. And make the habit of sleeping out in the hall now. He smirked ruefully.
Geet wiped her tears, and frowned…main akele waha , I won't able to… Tum bhi chalo na Maan, hum sath mein soyenge…she innocently demanded grabbing his arm, which he furiously pushed away only to hear her yelped in pain.
Mamma…she cried in pain again holding her hand that's when he looked down at the blood stains on his bare arm.
His confuse gaze followed on her palm and his eyes widen in horror, he looks at her crying in pain holding her palm, the glass pieces has pierced her skin, splitting it….blood was dripping out slowly.
He immediately rushed to fetch the first aid kit and grabbed her hand, he pushed her to the bed, sitting beside her. He began cleaning her wound first with water then savlon.
Don't…don't ..she winced closing her eyes right.
Maan without a flinch out bandaged to her hand with jaw tighten as he watched her henna filled hand filled with blood because of him. However he wanted to see her hurt, her tears only hurting him, he didn't know the reason.
He was mad at her, himself and his nightmare… He just wanted sometime to himself now. So he got up to leave when she grabbed his wrist.
Why? She asked with shivering lips as soon as he turned to look at her.
Dard bhi aap hi dete ho…marham bhi apne hi lagaya…
Her few words shook his insides . His hangover seem to left him. He looks at her lost then turned around.
Just stay away from me…saying so he rushed out leaving her alone to ponder over his words.
To be continued….
hey guys…. I know after a long wait… but i have reasons.. first my laptop had not been working…my whole update was saved in my laptop, and it stopped working suddenly, and i didn't get enough time to type it again. just yesterday i bring it back repairing and my update got deleted, so, i retype it…
I am really thankful to all of you for waiting patiently for update ans still staying by my side.
thanks again guys, as always waiting for your review and likes on this chapter. I ill try to update next one soon now if that will be short also, still i will try to update, hope that will be okay for you guys!
Ignore the errors…