Chapter 12
For a moment he said nothing. he looked down at Geet; She seemed diminutive in his strong arms, very small and fragile. He looked at her for a long time, at her beautiful round brown eyes, so clear, so trusting, why it looked like this…
His gaze moved down at her white velvet neck and her breasts curving out of the low neckline. She colored under bis scrutiny, lowering her eyes. He saw· that her lashes were dark, not auburn, and extremely thick; they shadowed her cheeks with two crescents.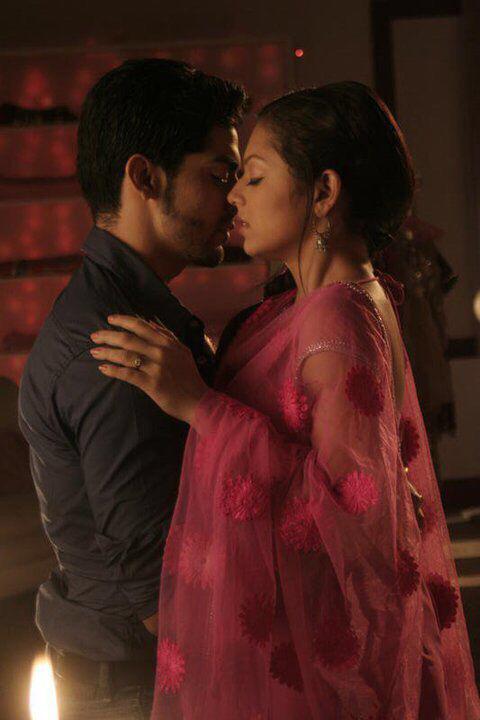 All other things were forgotten in that moment as he crushed her to him. she went willingly, eagerly, silently begging for his kisses and caresses. When his big palms pressed her tummy, all she wanted, all she desired, was to be held against this man whom she adored. And all she wanted was for him to love her back, passionately, tenderly, wildly.
Geet barely breathed as he caress her lightly, to place his hands on her shoulders, and she began to glow deep inside, the glow spreading right through her until she was bathed in warmth. Then she was his,entirely his, for him to do with as he wished; she had no more resistance than a rose against the bee seeking pollen. With a sigh she curved against him, her arms rising around his neck and pulling him down to her."maan," she sighed, then said no more, for he was covering her mouth with his kisses, gentle yet sure·, bearing. down on her, harder, and harder still,until she could not wait. "Love me, Love me," she whispered, and he kissed ·her brow and face, her neck,her breasts, keeping her waiting until her mind cried out for the deepest intimacy. He just kissed her, over and over, with feather-light kisses, stopping occasionally to look down at her and smile, noting her reactions. He did care for her, oh, he did, she knew it! How could he be so gentle, so considerate,
He was rousing her to a peak she had not known existed, a peak that was enthralling, blissful ecstasy. 

Oh Maan…she moaned, still unaware about real union of two souls and what was she craving for more…
He suddenly stopped as her small nail pieces his skin pulling him back to reality.
What the hell he is doing? With whom? He looked at her and then bite her lip little in anger.
Ouch…mamma…she cried opening her eyes with a snap.
He let out a small laughter, you still are mama's tail. 
Geet pouted in anger and suddenly cupped his nape pulling his face closed, she bites his nose.
Tit for tat!! Her chin raised high in attitude. 
You!!! How dare you!? He jerked her close, in intention to take his revenge but she began wriggling in his arms.
No…chodo mujhe…
Maan buried his face in her neck and bite her there.
Ahhh….leave me…you devil…she banged on his back, tried hard to pull apart," you dinosaur"
What the…!? He held his cheek next moment as Geet Khurana had just hit him right on his face to saved herself from her monstrous patidev.
I… didn't…mean to..Maan, she stammers seeing his red eyes.
You are gone now!! 
He warned and next moment she was running for her life.
Dadima!! She screamed on the top of her voice making his eyes widen, as he saw his devil wife running to open the door. 
Are you mad or what?? He grabbed her from behind, no….chod do mujhe…you biting  ghost..nikal ja mere pati ke sharir se ..she turned around briskly slamming her wrists on his chest 
GEEET!!  Stop it! He blasted making her shut.
You crazy woman, tum dekh bhi rahi ho, what are you doing? You were about to open the door with this half cloths on…he showed her finger.
Geet calmed down and gasped realizing the truthfulness of his words.
She gasped in horror, instantly hiding herself against his broad chest as if she is really standing out in between people.
Maan watched her with amusement, " kya hua abhi toh Sherni ban rahi thi…but now you turned to bheegi billi.. he taunted.
Geet glared at him and just storms inside to wear her cloths ignoring him completely there by, for she was so tired to indulge in fight with her devil hubby.
Geet …Geet beta…
Suddenly there was knock followed by dadis worried voice. 
Maan opened the door only to surprised dadi further, aap yaha?? Geet beti tayyar Hui?
Ji Dadi ma, she is getting ready! He tried to cover up.
I just heard her scream while I was coming up..
Um…" Maan was now tongue tied, he cursed Geet in mind.
Dadi ma, I am absolutely alright! Geet peeked from dressing room.
Dadi smiled, kya baat hai bete, you aren't ready yet.
Dadi woh…she was going to confessed her that she don't know how to wear sari but Maan instantly stopped her.
She will be ready dadi ma in few minutes, why do you trouble yourself walking around unnecessarily, there are servants to follow your order. 
You are right son, It's me who want everything perfect just like my son's choice.! She caressed his cheek winking at him.
Geet first didn't get the meaning of her words but  when she realized, dadi was gone out closing the door, giving the privacy to the couple.
Geet was blushing like anything…woh mujhe pasand karte hai, I know that…just he don't realize how much he care for me and loved me.
She jolted out her lost state, feeling his cold hands on her bare waist.
Maan…she moaned looking at him wide eyes.
Shhh…not a word now..he put his forefinger on her soft lips. 

She winced for her lips hurt from the bite he gave her.
He slowly decreased the distance between them and locked her swollen lips before beginning the soft kiss. He sucked her soft lips gently, making her shudder…she hold him responding him equally. 
He slowly pulled apart after a while, there is balm in the left drawer beside you, woh laga lena…dard kam ho jayega..he whispered softly, kneeling before her to hooked the plates of saree in her peticoat at waistline.
Geet just nodded, with a sweet blush covering her whole.
She admired him as he very diligently wrapped sari around her, lastly standing up beside her, he pinned the pallu on her shoulder…blowing on her neck, she arched herself giving him more access.
How much he tried to stay away, she always managed to pull him close to her. 
Maybe that's the black magic she must have caste upon Kunal.
With this thought he harshly pulled apart leaving her dazzled, he walked out of the room angrily.
Geet open her eyes to loud banging of the door, why has to be so loud always. She thought with a pout.
….
Maan was walking downstairs, ready to walk to gym to cool down his anger when dadi stopped him, where are you going again , son?
Dadima! He sighed..
She realized he was disturbed.
Kya hua..
Nothing, you say why did you stop me, he shrugged his thoughts off concentrating on dadi.
You must get ready now, guests will be arriving soon 
For what, he frowned.
For bahus muhdikhai rasam.
What…muh..dikhai…woh kya hai ab?
Now if I began telling you, it will take lot of time.. bas yeh samaz lijiye, yeh bas ek rasam hai, Geet ko introduce karne ki humare ladies group se., Geet will meet with everyone also.
Whatever!! From your talks it seems,it's ladies function…then what is need for me?
Shame on you, son! You are her husband, you should be present at her side.
Maan rolled his eyes on her over dramatic words, alright, you don't need to be over dramatic.
I am not being dramatic, son…Hume toh lagta hai, aap nakhre dikha rahe hai aapki shadi hone ke baad…
Aisa nahi hai, dadima
Aisa hi hai, Maan…
Kya aisa hi hai, maa..rajveer walked inside only to witness his mother and son again arguing. They are really picture of "kal Aaj aur kal" he thought seeing them again arguing definitely on some stupid topic.
Your son, rajveer. He had changed after marriage.
He raises his brow hearing her, giving Maan look as he made himself comfortable on the couch.
Dad…Maan started only to be interpreted by sweet voice of Geet as she walked downstairs calling fir Dadi.
Dadi ma…dekhiye hum kaise lag rahe hai…
All heads turned to the sound and only gasp could be heard from everyone.
Maan forget to breath just gaping at the radiating beauty of his newly weded wife. Same was the case with rajveer, he couldn't blink his eyes, admiring his daughter in law who seems like pari to him today.
Dadi maa smirked seeing her sons reaction, Geet approached her, bataiye na Dadi ma. 
Bilkul pari…
Sach dadi ma…
Geet's face brighten up.
Sach beta… Dadi put kajal tika behind her ear, kisi ki najar na Lage humari beti ko. 
Both shared lovely hug.
Nakul …bring me a coffee, rajveer shouted.
Geet instantly rushed to kitchen to bring him water first while Maan rushed to his room to change his cloths.
Rajveer has just closed his eyes in relaxation when he heard the same sweet voice, Pani lijiye.
He opened his eyes to see her looking at him then she instantly looked down, I asked for coffee. He said however taking the glass from her. 
You are tired now, so first drink water, coffee nakul kaka bana rahe hai…
He just nodded taking sip from his glass.
He handed her the glass back, all the while looking at her intently as if judging her behavior.
After while, Geet walked out with the coffe cup, Ghar mein naukar nahi hai, Jo tum yeh sab kaam kar rahi ho…he asked straight…
Geet was startled hearing his hard voice, she took step back only to be halted by Dadi, who walked in, it's not necessary that servants only do the work of home. Apno ka khayal rkhne ke liye apne hi hote hai, Raj beta.
He just nodded his head, still looking weirdly at geet. Excusing herself she walked into kitchen feeling low with her father in law's behavior.
You made her upset..! Dadi glared at him.
Maine kya Kiya..? He defended.
Yeh Ghar hai, aur yaha family rahti hai, not your business…so keep away your suspicious behavior from my home.
Now what I did wrong…you know…
You need to judge the people and their behavior before you trust them. Dadi completed knowing her son and his business mind too well.
Geet is Ghar ki Beti hai, yeh mat bhuliye, you don't need to judge her before trusting her. Geet ne is Ghar ki beti ki kami puri ki hai. So I won't allow your this attitude with Geet anymore, keep that in mind, son. She pointed her forefinger at him.
Pata nahi kya jadu Kiya hai usne aap par, but don't expect same thing from me. I know world and won't trust this new member in our family untill I feel so.
Saying so he got up angrily to rush upstairs.
Dad…aap ki coffee. Geet who had just walked out of kitchen stopped him that angered him further.
He turned to give her his peace of mind but immediately stopped seeing dadis flare on him. He sighed and left without speaking anything but not before he give her his famous Khurana glare.
Geet was taken a back, she stood mortified when Dadi walked to her, maybe, he is very tired, beta. You gave this coffee to nakul, woh de aayenge. Aur phir unhe apne ghar ki beti ka kaam karna pasand nahi. Dadi tried to console her, patting her cheek.
Geet was somehow convince hearing her, although she asked, kya hum unhe sorry kahkar aaye..
Why? There is no fault of yours then why will you ask sorry.
Geet though for a while, yeh baat bhi hai dadi ma, but then if he will feel happy with my sorry, I don't have any issue.
Dadi couldn't help but admired her innocent daughter in law, " aap sach mein bahot achchi aur masoom hai, Geet. Humesha aisi hi rahna. She blessed her seeing her pure heart.
Dadi ma, aap bhi….Geet blushed and hugged her.
Hey guys..I know after a long time again…but I am again on job hunting spree right now that not able to concentrate on typing the update and i apologized for the delay…to compensate it I have posted update here again as I had told , i will post it as pwd protected… but me also haven't get my quota of 40 likes full…
Please like and comment and motivate me to post further story for you… next gonna pwd protected, to get the pwds press like to this chapter after you read.
Thanks and so appreciate your response to this story, thank you friends…
<
p style="background-color:white;box-sizing:border-box;color:#333333;font-family:arial, sans-serif;font-size:15px;line-height:20px;margin:0 0 15px;overflow-wrap:break-word;padding:3px 0;">