Geet excused herself seeing the name flashing on the screen of her phone. Her heart was beating faster, she was anxious as she received the call.
Hello…
So now you got the proof? He laughed manically.
You did the accident?? That truck…?
Yes, that was planned by me and today he got saved in time, tomorrow you never know….he left the words lingering.
Geet shuddered, her palms became sweaty with fear, you can't…she stammered badly, "don't hurt him please…she cried helplessly, "I will do whatever you said,"
That's like my obedient wifey, I want the same from you…
She sniffed, cutting the call when she heard her name being called from behind,
Geet…
She panicked, and wiped her face, before turning to face the person.
Kisse baat kar rahi thi tum? Asked adi in stern voice.
Geet was numb, "did he hear my talks?"
Geet, where are you lost?
No..nothing…sir,..I was just. It's kunal's call by the way.
He nodded without much arguments,
Geet looked at his face, "kya hua adi sir?, She asked softly, koi kaam tha?
Not like that, I saw you hurrying out suddenly, that's why…
Geet gulped her saliva, looking here and there…when she saw him approaching her, Geet,
She looked up..
Agar tumhe koi pareshani ho or you feel anytime, you can get help from me, muzse share kar sakti ho apni problem,..think of me as your brother.
Bhai…!?" Geet had forlorn look on her face hearing him, her eyes moistened, "I have lost faith on relations now…" She whispered to herself.
Just only relation she believed now, it was Maan…and her love for him…nothing else matters.
Tumne kuch kaha…? Asked adi.
Nahi..adi sir, everything is fine, Geet gave him fake smile and walked inside Maan's chamber leaving adi to stare at her back.
…….
It was the day, Geet thought to do the work assigned by her devil husband. Maan was at the hospital, so it was easy for her to get the tender file for *** govt. project.
She remembers the places in his cabin, where she had arranged his each important documents and files.
I am really sorry, Maan…" tears well down on her cheeks, which dropped straight on the document in her hand. "Humare is gunah ki koi bhi saza Kam hogi…but I can't risk your life for these mere papers.
"Agar unhone humari Jaan mangi hoti toh hum haske de dete…par unhone toh humse humare Jaan ki Jaan mang li..how could I let this happen., She cuddled the papers to her cheeks, like feeling him. "Humari jeete ji hum aap par anch bhi nahi aane denge.." muttering to herself she turned to walk out, only stumbled upon adi..
Geet, be careful,…he held her shoulder making her steady, papers fell from her hands, she quickly bend down to collect it.
Where are you going in this much hurry, asked curious adi, making her gulp her saliva. "Aur yeh tumhare hath mein kya hai…dekhao muze, kaise papers hai yeh..?
Geet was dumbstruck, she clutched the papers to her chest, like her whole life depends upon it, woh..adi sir, I have to make some reports…she gave him fake smile, then asked," Maan kaise hai ab and what are you doing here?
Yahi sawal toh muze tumse puchna chahiye hai Geet, itni raat gayi tum yaha Maan sir ke cabin kya kar rahi ho…aur ab tak ghar nahi gayi..?
Geet became restless, I told you, an Maan sir ke absent mein, thoda bahot toh kaam sambhalna hoga na!?
But Geet.
Woh sab chodiye na Sir, I need this *** project file…do you know where it is? She asked desperately.
Woh file toh Maan sir ke paas hai, it is confidential, so sir only knows where it is kept safely.
Maan sir ke paas….?
….
kaam ho gaya…? He asked impatiently.
She just nodded still restless for doing such a crime…
Where are the documents..? He forwarded his hand like a hungry beggar.
She made a disgusting face seeing his eagerness, "phir se soch lijiye Kunal…yeh kisi aur ki mehnat hai…you can't do something like that,"
He almost snatched the papers out of her hand, tum apni jaban jada mat chalao, warna anjam janti ho..?
I know, that's why I did this cheap thing ever in my life, killing my soul just to save my family and love. She spotted with moisten eyes.
He was careless, "aur *** project ke papers kaha hai? Instead he asked.
She looked away, woh hum Abhi nahi la sake, woh papers Maan ke paas hai, Hume thoda waqt dijiye.
You can't take more than two days, I need those documents as soon as possible…seduce him or do whatever you want.
Geet jerked up to look at him in anger, she couldn't believe he would talk like this,
As if reading her thoughts, he replied in mocking tone, "kyon…kya hua, kuch galat kaha maine.? Tumhe sharam nahi aayi karne main, then why I can't talk.."
I can't do this, or anymore of your cheap works..she blasted, please, keep me away from this.
She joined her hands.
Alright, tumhe Maine chod diya..
She couldn't believe how easily he accepted but his next set of words made her whole shudder in terror.
But before that watch this, saying so he took out his phone, playing one video,
Her eyes widen in terror, seeing the well built guy stood with gun in his hand, the guy was in Maan's bodyguards uniform.
Yeh…
He is not Maan's guard, but my hired goon to kill MK on the spot if you wouldn't listen to me.
Maan…Geet muttered totally shaken seeing it.
The great MSK, doesn't know about this..he laughed out hilariously.
Itna hi nahi, one more hired shooter is present there always behind him. And he shows her another klip of the man.
Geet was numb, the doors to escape from every side seems to be closed for her now.. because her world revolves around only Maan.
……
She shuffled through his cupboard again trying to find the file, when his booming voice made her halt on the spot.
Kya dhoond rahi ho Geet?
She turned around, drenching own sweat…I was looking for the file…reports banane hai," she explained in low voice, looking down.
He walked up to her, pulling out the keys from his pocket,
Kausi file?? he walked around his desk,
*** Project file, woh…uski meeting scheduled hai.
He continued to stare at her, opening the drawer, and pulled out the document.
Here , take it…he handed her, she gasped and looked up to see his stern face…then her eyes went to small bandage on his head, " why did you come back from hospital?
So, you never expected me this early, you did not want me to be back soon..?
Why are you saying so..? I am just worried about you..she was on the verge of tears, " doctor said about two days rest but you are just walking inside office next day itself…she blabbered out. Her eyes frantically moving around…Maan could clearly notice the fear in her.
He cupped her face tenderly making her jump on her place, seeing him, she tried to compose herself,
"Kya baat hai Geet, what's bothering you, tell me," kal se main notice kar raha hoon" he wiped her forehead, looking deep into her eyes.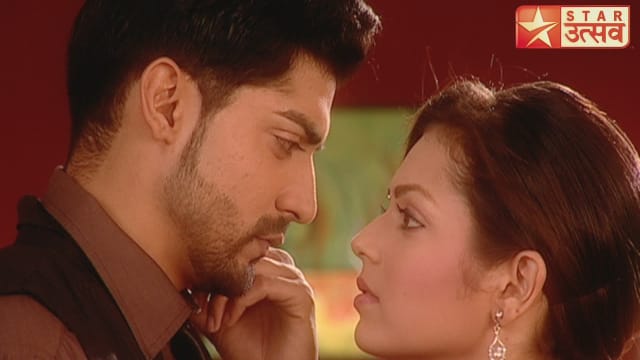 I… nothing…I am fine…Hume kya hona hai…she gave him fake smile.
Hume ab nikalna chahiye…bahot kaam hai..she turned to move.
Are you sure…? He asked from behind.
More than I am….she said giving him small smile and again moved to walk out.
Maan stood looking at her retreating figure with his arms crossed over his chest, thinking something deeply.
….
How could this happen? How could it slip from our hand…use kaise mil gaya…blasted Kunal in total fury, our tender was perfect, to fetch the project, then how this happen.
Pata nahi sir, but he is MK afterall, his assistant spoke unknown about deeds of his boss.
Kunal somehow controlled his rage, trying to come to conclusion, how did this happen, when suddenly something struck him, and his eyes became blood shed of red.
Geet…he muttered angrily.
….
Congratulations Sir, we did it again…adi beamed in happiness, for KC just bagged this new govt project.
Maan just shook his head, having proud smile on his face.
Once everyone left the hall, adi approaches Maan, "sir, yeh sab credit sirf ek hi ko jaata hai,
Maan twitched his brow listening him.
Geet…adi answered his silent question.
Maan nodded in agreement knowing how she had worked day and night to make this project successful.
Don't you think, you should personally congrats and appreciate her?! Said over enthusiastic Adi only to receive glare from Maan, "you don't need to tell me what I shall do or not..!? He snapped back in anger making him run away from there.
Maan smirked thinking something and went to her cabin.
….
Congrats Sweetheart, he put the bucket of red roses on her desk, making her stood up.
She looked at him then again at the beautiful roses in wonder, the caressed those soft flowers.
I really wondered, how did you managed to make the tender, just in few days without much knowledge?
His question took her back to the day, she did the crime…had stolen his hard work, will he ever forgive her, the question had bother beyond…her own soul wasn't in a peace after doing the crime. She knew, she had done a crime and she couldn't forgive herself if not others.
To rectify her mistake, she got this idea to check the copy of tender, she had given to Kunal. She checked it and studied the things needs to make the tender and found out few mistakes in document as well.
The day to submit it was a few days away, so she decided to make new one in the meantime…and just taking few tips from adi , she worked on it alone those days, just to make compensation for her deed. She clearly declined all helps from her colleagues who offered to help her.
All the while Maan was there keeping his eyes on her silently, he didn't interfere nor stop her, just watching her work harder and harder without having meal or water even. As if she is punishing herself for something.
Kaha kho gayi tum? He shook her out of her thoughts,
She nodded then muttered small thank to him, with a small smile.
Yeh aap se kisne kaha ki humne akele yeh kaam Kiya hai.
Yeh mera office hai Geet, and I am the boss, he bend to her level, resting his palms on the desk, with intimidating look he added, "do you think , I won't know anything going on in my own office."
Now that scared her to an extent, she was dumbstruck with his words and just gapped at him with no words coming out her mouth.
To be continued…
Precap : –  What do you think guys? I wanna know your reviews about upcoming twist..
sorry for mistakes, typed it in between so hustle bustle in my home.
and yes, next gonna pwd protected if i don't receive 35 on forum and 30 on blog..