Few days passed, it was the day before her discharge. Geet was really happy to have her father at her side after like ages, she had long for his care and pampering…and now in the hospital she was getting both. She laughed at her own fate, for the situation she was stuck in now.
Even Maan could not leave her side in those days, he was always there besides her, most of the time…only important meetings he would attend unlike Kunal, who just visits her morning and at night he would stay in her ward..but she could careless about him…what matters her the most was her both favorite men was there besides her at this time when she needs them the most.
The fact which surprised her the most from last few days, that seeing the comfort both her father and Maan shared…they chat and spends time together beside her like long lost friends. Most of the time discussing business. She was happy seeing her father back to normal without those drinks.
She was lost in her thoughts, when her uncle barge in…
Geet beta, hope you are healing well now…
Ji uncle, I am feeling better now… I am getting discharge tomorrow. She said with soft smile as Ranjeet patted her head affectionately…the gesture she loved the most from her father and uncle.
It's really good news dear, see, who has come to meet you today…
And her smile vanished seeing Rajeev and Riya entering inside behind their father.
Hey sis…glad to see you fine now, Rajeev said with a hidden smirk watching her frighten face.
She at instant clutched the hand of the next person stood beside her bed, out of fear and disgust feeling for her own brother.
Maan looked at her to see her uneasy suddenly, she was shivering now…he could feel it…he held her palm, making her look at him, she stare into his warm eyes, he assured her with his gaze unknown about the reason behind her discomfort.
But he thought it's because of their daily abusing to her, she was scared, he turned and gave Rajeev deathly glare.
Rajeev was startled seeing that coming from his friend, he was unknown of the reason although, he managed to keep his composure.
Riya was all the while just drooling on Maan, she asked Geet about her health just for the formality and again she was trying to fetch Maan's attention…who was lost in Geet.
As everyone left the ward, giving privacy to the siblings…Riya made a quick exit not really interested, already hospitals environment was making her irritated.
You scared the hell out of dad? Rajeev began, itni fikar jo karte hai tumhari…
Geet could feel the mock in his voice, with anger building in him. She kept mum, not answering him at all while Maan couldn't tolerate his presence anymore , after knowing everything from Aarav.
Aur tum…? Tumhe bhi toh fikar hogi na apni behan ki…Maan gritted his teeth, but put on his signature smile on face.
Offcourse, I really cared for my sweet sis…he ran his palm over her arm, making her flinched back, she pushed herself more to Maan, really glad to him besides her at the moment.
You scared me also Geet…
Maan looked at Geet then, her discomfort…his brows arched, thinking something.
After sometime Rajeev left having small talk with Maan as well…
Are you alright, tumhe kya hua? Asked Maan wiping off the sweat beads from her forehead, he offered her the glass of water while waiting for her to calm down.
Hum thik hai ab….she smiled sweetly at him, cleverly hiding her fears and pain.
Aapko pata chala, who attacked you on the party evening. She distracted him.
That was for you, na jaane kya ho jata, if I wouldn't have seen it. She was panicked instantly.
Maan cupped her face, " chot toh tumhe lagi, mere wajah se , you put your life in danger for me, to save me…kyon Geet..?
He urged her to open her mouth staring into her deep hazel eyes.
Geet faught to control her tears, her heart was thudding badly, because of her resistance to open her mouth and confess him everything.
She bites her lips to stop that urge…and looked down, blinking her eyelashes as her mother's warning words rang into her head.
You don't have to do it…he freed her lips from the clutch of her teeth, don't hurt yourself for this small thing…tell me when you really want me to know, why did you save me without caring for your own life?
Again Geet was bowled over by this man, she had never thought him to be this much general and understanding with her. She had just loved him without knowing his any shades. But as the time passed with their closeness increasing, she couldn't help but falls in love again with this magnificent man.
Maan pecked her forehead, today his gesture was so gentle and lovely, she felt so mushy inside. Sweet blush adorn her cheeks, making Maan's heart beat raised, he caressed her warm cheeks, rubbing her lower lips, she breathed high.
He smirked in appreciation, and pecked her lovely lips…will you miss me?
His sudden question had her startle, ji…? She was pulled back from the magical cast he had out her into…
Ha…you are taking leave of one more week now,
What?? No…I don't want any further leave…I am totally fine now…she pouted.
Offcourse Mrs. Khurana, you are perfectly fine now, doctor barged into the ward follow by smiling Aarav.
Geet smiled big hearing the doctor, dekha…now I can join back the office.
But I am the Boss, and you are not going to leave house for few days atleast.
Geet pouted angrily, turning her face away. While doctor checked her , "I will go through reports again, you can take her home tomorrow."
Geet wasn't happy at all, isse achcha hum yahi rah jaye.. atleast I could see my baba here, and Maan…how could he think , I would love away from him for few days, yaha toh ek din ka bhi guzara unke bina mushkil hai…
Geet was taken back to home with Kunal and her parents accompanied her. She glanced at him one last time as their car zoomed pass him.
He gave her his charming smile, taking her heart away, she couldn't help but smile back, and rested her head on her Baba's shoulder drifting into sleep soon.
….
Take care!! Kunal pecked her head cupping her cheek, and pulled back hurriedly.
I will be back as soon as this meeting finishes, okay?
Geet nodded with her pouting lips and saw him running out.
She walked into washroom all the while thinking about Maan and his words, what does he mean..
Kahi unhe humare feelings ke bare main bata toh nahi chal Gaya…? Her heart stopped beating ….
She couldn't fathom the thought , her eyes filled up instantly with the sadness of her own heart, for she knew, she couldn't have him now…not after what her mother warned her about. She couldn't go against her mom nor see her hurt because of her.
She dismissed the thought immediately and walked out of washroom wrapped in bathrobe, she shuffled through her cupboard and pulled out the silky nighty for she still had the fear of stitches on her back. Although it was dried, it would take few days for the scares to go.
She went to garden, spent some time there, guiding Yashoda in gardening…after the were done both got back to the kitchen, with Maan in her heart and mind, she cooked whole Italian cuisine. Yashoda looked bewilder but she silently helped her , scared of her anger.
….
It was almost lunch time, but she doesn't have any appetite, she asked Yashoda to leave for the day, since there was no work remained.
She pulled out her painting stuff and looked at the blank Canvas ahead… thinking for a while, she took the brush , dipped in Colors and started painting his face on the Canvas.
Mera dil tere liye dhadkata hai ho
Ho dhadkata hai
….
Maan on the other hand remained occupy with meetings and then phone calls, he couldn't be in peace till the time he find the shooter…and the main culprit behind it.
Strangely, after realizing his feelings for geet he was at peace, the restlessness and frustration he felt most of the time was gone. He knew she too harbor the same feelings as his, even her love was deeper than his, and now he would wait for her to trust him enough to give him that one chance to cherish her forever.
He was lost in her thoughts, with small smile on his face, when something strike him… he jerked up and pulled out his cell to dial someone.
……
Geet has almost finished the painting when suddenly her eyes went on the doorway from where he stepped inside… She chuckled at her own imaginations, she is seeing things in daylight, she closed her eyes for a moment and opened them again to see him standing there just behind his own painting…she looked at the canvas first then again him.
Maan was not able to resist coming here to meet her, he was little free after lunch hours, so he decided to visit her, and have some moments with his Jaan.
But seeing her standing like that, made him angry, what are you doing? He rushed towards her furiously, passing by the Canvas like storm that it resulted in to falling straight on the floor.
He grabbed her arm, " I have given leave to rest, not for standing and doing anything…."
Maan…she shouted pushing him back as she rushed towards the painting, and took it in her hands, crying holding it with lots of care.
You would have spoil my painting, she sobbed…her tear drops fell on the face painted on the Canvas.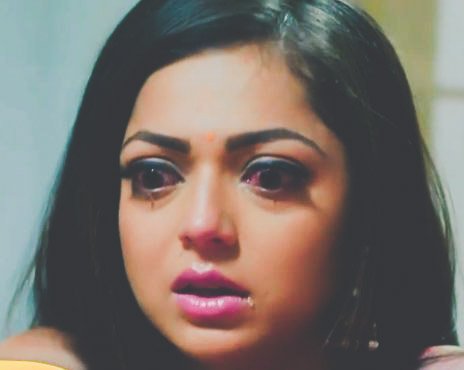 Maan was startled with her reaction, he slowly approaches her, " I am sorry Jaan…" His words halted as he got the view of his own face in her painting.
He stood dumbstruck, just watching his own face carved beautifully on the Canvas. He was at loss of words, felt overwhelmed, his heart jumped in joy.
Mera dil tere liye dhadkata hai ho
Ho dhadkata hai
But seeing her crying he thought to distract her, " look at me, she pouted angrily looking away, just staring her hard work…she slowly caressed his face in the canvas.
Maan felt sudden sensation ran through him…he clutched her palm, "here I am standing before you in my body and soul, Jaan " but your whole concentration is in that soulless painting of mine.
He teased and she looked him with her mouth hanging open, " it's my Jaan…" She held the canvas closed to her heart, so don't talk anything about it..
Maan kept watching her intently hearing her confession, he was yet again bowled by her innocent love.
Geet realizing seeing his gaze, what just she blurted in the flow of emotions, she corrected instantly, " I mean…it's my hard work…sirf hum hi jante hai…humne ise kaise paint Kiya hai…" Her nose raised up, making him adore her silently.
Achcha…but tell me one thing, " why did you draw my face? " He asked with straight face waiting for her answer.
Geet stood dumbstruck now, not knowing what to answer him…
To be continued….
Precap :- ????