Maan looked on shock,…having nothing to say at the moment, he kept mum…silence lingered around for a while before Aarav was the one who break it, "I wanted to thank you for the all hospital treatment and arrangements you did for my daughter." He gulped the lump in his throat, "if not, I don't know what would have…."
Mr.handa…it's okay…" Aap plz muze sharminda may kijiye. Infact Geet is the one who saved my life."
Aarav was about to say, because she loves you…till now, no one can understand his princess better than him, her father. But he kept mum… although his emotions gives away through his painful eyes. He just shook his head, and was about to move when Maan stops him, Mr. Handa,
If you don't mind, shall we talk for a while, I need to know something..
Aarav was not sure but Maan said, "Please… Just few minutes…"
Now he couldn't deny him, seeing big personality like him pleading to him to have his time.
Both checked upon Geet, to find her sleeping soundly, because of medicines effects, Aarav kissed her forehead lovingly patting her head, his eyes couldn't leave the wetness at all…while Maan just kept starring at both, it all looked so complicated to him, he was already feeling so terrible seeing both father daughter duo crying.
He knew he would get answers atleast to some of his questions now.
…..
Both sat in silence for a while, Aarav was waiting while Maan was contemplating on how to ask…
What do you want to know?" Aarav asked finally.
Don't mind, Mr. Handa but I want to know about Geet. Maan asked directly.
Aarav was taken back with his question, he suddenly felt angry, what you mean…his sudden interest to know about his daughter left him suspicious although he knew about his daughter's crush for him…he was unaware about both their feelings for each other.
I somewhere feel, she is not happy at all…he stopped and looked at Aarav before continuing further, something is troubling her, she couldn't share anything with me" he said in flow then looked at aarav's confused face.
Why does she need to tell you her problems?
Maan was tongue-tied now, now not sure how to proceed further, with piercing gaze of Geet's father.
Don't mind, Mr.handa, I just could have helped her if I would have known what's troubling her so much that she need to take those depression pills .
Now hearing this Aarav's shoot up from his seat, glaring at Maan in disbelief.
What??
Maan got up too, facing him now shocked himself, " aap apne beti ke bare mein itni important baat nahi jante, yeh kaise ho sakta hai??
Aarav was teary now, " kya hua hai meri beti ko…tell me now.
Yahi toh mein janna chahta hoon, mr.handa, what had happened to her? Now Maan was getting highly confused.
Muze kaise nahi pata?? Aarav became restless, as he sat defeated on the chair, Maan got water from staff, and he offered the glass to Aarav, taking chair beside him again.
Aarav look at the man sitting beside him, "why are you so interested to know about my daughter?" Suddenly his protective instincts for his princess were awaken.
Maan could feel it in his gesture, and the frown appeared on his forehead, before he could open his mouth, one more question fired from Aarav's mouth, "and how do you know this about her?"
Um…I just saw that once with her, she was taking them.
Aisa kaise ho sakta hai, my daughter was the happiest girl before, how could this have happened, she didn't even tell me any of this sort.. no..it's not her fault but mine, I wasn't there when she needed me the most, his fatherly heart cried, wetting his eyes.
Kya hua hai uski zindagi mein aisa, I could feel it but don't know, that's why I can't able to help her.
Aarav looked at him getting restless, "why do you want to help her…?"
Maan knew, if he wanted to know about Geet, what he desired to know then he had to open his heart to her father, seeing him so helpless, his curiously increased , somehow he felt bad for Aarav…seeing his condition.
I loved you daughter, Mr. Handa.
What?? Aarav has never expected this coming…
Yes, I loved her, Janta hoon woh shadishuda hai, aur yeh bhi janta hoon ke woh is shadi se khush nahi hai…
How are you so sure?? Aarav interrogated.
I am sure about everything related to her, Maan said confidently.
I won't force you, I just want to see her happy that I know you too want the same for your daughter,
Maan looked at him to see him lost in thoughts, " woh bhi muzse pyar Karti hai shayad, par Jah nahi pa rahi…
Aarav jerked up to look at him wide eyed, and heard him further,
That night she confessed me, but I ignored it that day, he was speaking looking ahead, "but not anymore, Mr. handa, he turned back to him, mein use khush dekhna chahta hoon..I will do anything for that … anything, if you couldn't tell me now also, I will somehow find out what's troubling her so much…that her health is affecting in this all.
Aarav broke into tears, "sach kaha tumne, woh pyar Karti hai tumse… Even I felt it today, when she couldn't stop talking about you…
Maan's face broke into proud smile hearing it but soon that smile vanished from his face hearing his next set of words.
Her eyes shined the way they used to before as well, just with the mention of your name.
He looks at Maan's confused face and reveal the shocking truth of Geet's life to him which was related to him somehow, "she loves you, yeh sach hai…but not today or from yesterday.. her love is so long…she has been loving you from past years…from the age of fifteen. Aarav revealed, seeing his eyes showing true affection for his daughter, he could see his determination to make his daughter happy and this thought provokes him to reveal this forbidden secret of his princess.
Maan couldn't able to believe for a while, he sat rooted on the spot, he looked at Aarav wide eye with mouth slightly open, trying to digest the truth, Aarav nodded seeing his shock state.
How…when….Maan could only uttered this, still in the state of shock.
Batata hoon…I will tell you everything, I just want my daughter's happiness…bahot kuch saha hai usne Maan…
Maan looked at him painfully, his heart already thudding badly knowing this truth, don't know what more has to come…
…..
We were living very content and happy life, I started the business with my friend, but it was just an illusion before the upcoming storm.
My partner betrayed me, as I blindly trusted him because he was my friend…not only with this, but they lured me with the woman, coming into those illusions, I began spend my time with her, spending my hard earned money on her. Not knowing it was their trap only.
In between, my brother has already taken divorce from his wife, who was nothing but the pure bitch. Ranjeet brought his both kids to my house as to look after them. He became busy soon in his own business.
Here, my business, money… property everything was gone, I almost became a beggar..
In all this, my innocent daughter suffered a lot…
His voice chocked, controlling himself he continued…
Ranjeet supported me financially, but my wife and daughter had to pay heavy for this.
Rajeev and Riya both kids were spoil brat, just replica of their mother, they spoiled my daughter's happiness.
He went on telling him their every little deeds, only boiling Maan's anger.
I was lost in my own pain, had lost the capability even to get any job…getting rejection & failure with every attempt, he began drinking….there by disconnecting totally from outer world, even from his family.
He had tried to stop Madhu from listening their every order, but she would instead blamed him for all this mishap, she would said, "they can't have his brothers hard earn money for free, instead they are paying like this.
They couldn't leave a chance to even treat my daughter like a servant…"
Geet was getting irritated, cranky, with less care and love from her own mother, she sometimes shout on her, " I am not your daughter, but they are your own kid, you pampered them more than me…har roz is ghar mein, unke psand ka khana hota hai….
Only to receive slap from her mother, that shut her completely, it was first time even Madhu had raised her hand on her innocent daughter.
From that day, she became silent…she couldn't digest the thought, that her own mother hit her ever first time. On that the silent torture she had to hear from her own siblings.
She became doom, in between I saw her happy only when she talks about you or seeing you on TV..or magazines.
Maan became alert hearing him, he looked at him blinking his eyelashes,
Aarav smiled reminding his daughter's only happiness.
She couldn't hide anything from us, we are her parents, and we were always having taps on her.
She was only fourteen, when Madhu told me about our daughter's new crush, he chuckled.
She was having frequent crushes, with some celebrity or her school mate…at one time it was her teacher.
Maan's eyes pop out, his look made Aarav chuckled, yes she was my daughter, so vibrant and cheeky… She shared everything with her mother, if she couldn't also, Madhu would take out everything from her mouth, and I would get to know everything of my daughter from Madhu. But didn't let her know any time to make her uncomfortable and least she stop sharing with Madhu as well.
We thought it's her age, its normal…and like any other her crushes, she will forget you soon,
But we were so wrong, she never did forget you, even now also…he sighed painfully.
It became her last crush, as she fallen in love with you…as a year passed and more, I was torn away from my own family to realised my daughter's feelings. How I regretted it now.
Maan don't know how to react and how to sooth his pain, he just pressed his shoulder in comforting manner.
…..
Maan watched her sleeping peacefully, a he sat beside her on the bed, her father's words playing around his mind.
Itna bada sach tumne muzse chupa ke rakha? How could you Jaan, ? He held her hand, pecking it lovingly as his heart overwhelmed as the truth of her feelings disclosed before him.
Meri Jaan toh bahot pahle se hi muze Dil baithi hai…and you know, now this heart has stolen by herself…he put her palm on his chest where heart lies, it beats in rhythm, which woke up her up.
Maan…she looked startled seeing him there so close to her.
His gaze filled with so much love and passion like never before, she felt herself melting in his gaze, it was so warm and soft today…
Kya hua…? She asked in husky voice.
He just nodded still gazing her like never before, he caressed her face softly making her shiver, and she cuddled into his palm.
He bend down to fetch kiss from her dry lips, she stopped him, Maan, koi aa jayega…
No one will come…nor can anyone stop me now… he said fiercely against her lips and took her lips for a gentle and loving kiss.
Now I know Jaan, you are only mine, koi bhi tumhe muzse juda nahi karte sakta ab, tumhara shadi bhi nahi…he thought kissing her so tenderly.
He then gathered her to his side afterward, and placed kiss on her forehead.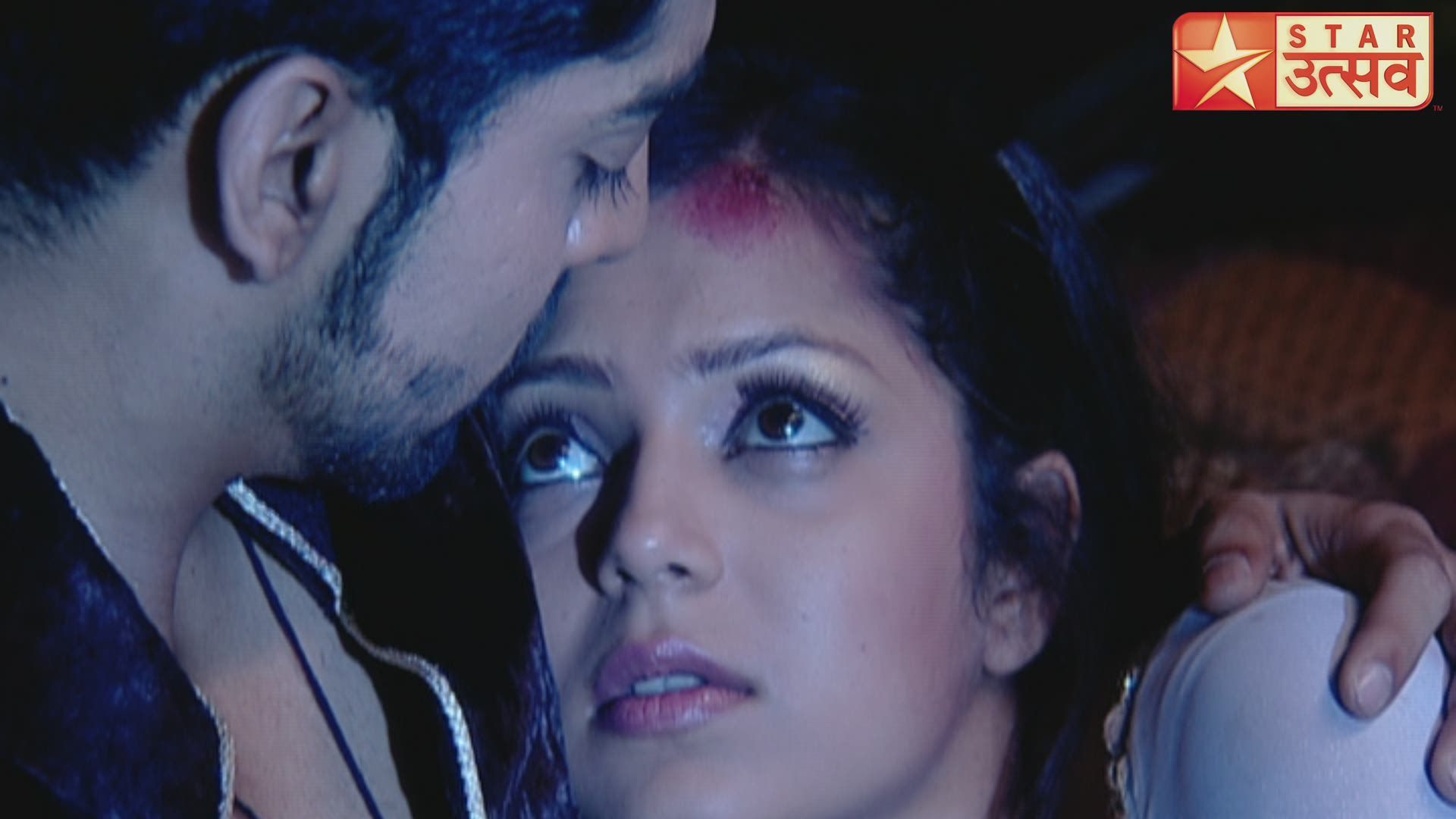 Precap :
Aise Hasti Thee Woh Aise Chalti Thee – (2)
Chand Ke Jaise Chhuptee Aur Nikaltee Thee) – (2)
I know still major part of the past is remaining… it will reveal in few more updates. 🙂