Geet was hell tired changing from one cloth to another as per dadima's advise . She pouted, made faces but dadima did not budge .she had brought almost every type of dresses for her lotus to wear for her as geet had decided to help her sahib in his work. In his office.but that was not the only thing behind all this. Dadima was over the moon hearing it.
She had almost brought all boutique for her dear child. Geet has thought to wear her sarees only but how could dadima let her to wear that old fashioned cloth according to her. Bete. .its old fashioned own.  You have to wear this skirt and tops .Geet was shock hearing her. Her eyes widen and mouth turn in big o. Chii chii .. Dadima. Yeh aap kya kah rahe ho.  She pouted. Hum sahi toh kah rahe hai.  Saying so she pushed her again in dressing area to change in new dress which was one of short skirt and shirt.  Geet was reluctant almost on the verge of tears but for her dadima's sake she went into change in. 
Coming out her breath hitch in her throat as she was damn uncomfortable in this. She tried to pulled down her skirt while her one hand clutch the shirt tight.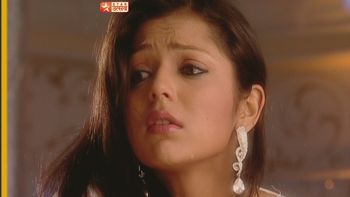 Dadima could only admire her beautiful lotus. You are looking awesome. Maan toh flat hi how jaeyenge.

She smile full ear to ear while listening his name made her blush crimson red. Dadima. . She whine running inside . Dadima laugh from behind. His breath caught in his throat catching her beautiful sight. He had just stop on the doorstep admiring his beautiful lotus . And seeing her blush hearing him name , it made his heart flutter in pride.

He was happy beyond limits hearing her that she wanted to help him in his office. He could teach her through that way. How could he missed the golden opportunity to be closed with his Jaan. While he was happy for her that she decided to finally come out of her wall of insecurities. At least she take her first step. Now he will not let her to step back .he will pushed her forward.
…
He return back to office unknown to two ladies while geet finally cry out asking dadima to stop now. Ah. OK. Darling. As you wished. I have one special suit for my darling geet . Dadima sat beside her being herself tire. She could not force her more when she is taking first step for her own life.
Geet was too tired, she didn't heard what dadima just said . She just place her head on her shoulder and slept off.
…
Next day maan went to office early at his time asked geet to reach there at sharp 9.00. Strictly. Geet pouted first that he was not taking her with him but maan was still not ready for that. As he wanted her to take her first step independently . Not with anyone's support nor him as well. Once he will be by her side. She will habitual of it. And knowing her nature he was sure of it.
Dadima was damn angry on the fact.
You can't just pushed her in the water when you can help her to swim.
What .. ?? What are you saying.
I am saying that you can't just let her do it by her own self. You know her. How much she is innocent and scare . She fear for new place and people.
Yes. But it's her office only and she had visited it twice. I guess.
But her experiences were not right or pleasant one at both times.
Oh dadima. You are now making her weak holding her wings. Let her fly now . She will stumble few times but not more than that.
But you are here husband son. You can support her.
Yes I am. And I can support. So she will be there with me all.hours of the office time. It's just that I asked her to come by her own to office. What is the big deal in that.
But she is your wife now.
But she will be just a trainee there for now.
You are being rude now, son.
Not rude. But professional. And you know that dadima, I can't mix my professional and PERSONAL life together.
It's not the matter here.
Is it ?? He arched his browse, she has to come with driver, that's it. It's my final words. Saying so he turn to go when again he stop and said.
Beware , no one will come with her to drop her , she is not going to her school but Office. And he went from there leaving his dadima fuming.
You forgot son , from what circumstances and bitter past she had to went through. Still my child is ready to take her first step for new life just for you.
Geet cried silently listening his rude words as she heard him all or there heated arguments standing on the stairs case.
Hum..kab school gaye the ..?? She murmur pouting on his rudeness.
…
She stand in front of the mirror could not able to recognize her own reflection in the mirror. While dadima and sumitra smile from behind feeling satisfied to see he reaction.
Dadima Hum toh..
Bilkul pari lag rahi ho. Dadima completed her sentence while geet blush turning from the mirror she rushed in her arms.
Geet taking both of there blessings rushed out to go to her new destination. There was little fear , anxious, little excitement in her. For meeting him with a change of clothes and new look of hers. She wanted to see his eyes admiring her.

Small smile never left her brighten face thinking of his reaction. As she step inside the lift she could only able to see his face that she forgot about her own fear .
Geet was all lost in her own world stepping out of the lift she couldn't get when flower petals touch her , her face light up as she smile whole heartily catching flowing petals on her palm while his hand touch her palm.

Her eyes widen seeing him there standing near her and there eye lock in a moment. She blush in.pink shed seeing his admiring gaze .

Maan smirk seeing her blush , he couldn't even recognized her in her new look but non the less he love it. He adore his sweet wife who was looking more than young with her beautiful curls flowing down showing there growth and height.

He turn jealous a bit watching his all staff gaping at her. They couldn't either recognized her it was after msk 's acknowledgement they had known her as the same Mrs.MSK.
Welcome to KC, Mrs .Khurana! ! He pronounce proudly making her heart flutter in joy ,through true happiness which she never felt before. Her all anger vanished in thin air seeing his loving gesture.
Part 42
Dadima was astonished as soon as geet told her the news of her grand welcome in the office that was prepared by maan . Geet as soon as she entered her new cabin given by maan , she directly called dadima through intercom placed in the cabin.
He was out for his one of meetings giving responsibility of geet to both pinky and adi on whom he can trust on .
Geet felt her head will burst with just the whole round of kc. Last time it was only cafeteria she visited with pinky but today it was while kc office. It was her first experience that she felt hell tire. adi introduced her with all staff, there addressing her as mam made her uncomfortable, but she did not opened her mouth not knowing how will maan react.
On the other hand she was feeling pity for poor sasha watching her doing that work of servants. But sasha only fume in jealousy seeing here that too the way her welcome was done by MSK himself.
It was after lunch adi thought to just let her know few basic things of work sins she was new here without any experience.
When geet was finding each word in the files horrible almost alien to her.
Adi sir, Hume kuch bhi samaz nahi aa raha hai. She pouted repeating the same line which she had said before hundredths of time. Pinky could only munch on her chips hurriedly scaring for her boss reaction , if he will heard her this line.on the other hand adi was himself tire and he laugh in his own style being too tense. How he has to face his Maan sir now. Geet was not understanding even small basic things also.
Just then geet get a called from intercoms in her cabin where all three were . It was taught by adi and with god's grace she had understated that little thing.
Come to my cabin . She heard his high pinch voice Barking from the other side. Before he could slam the phone down she dare to asked him back being innocent.
Ji.. ? Abhi aana hai ? Abhi toh hum busy hai, adi sir and pinky is teaching me.
Adi and pinky both gap at the mad girl in front of them.while on the other hand maan don't know how to react , already he was hell fire and frustrated with his last meeting and she is making it more worse.
Geet. .nahi abhi nahi come tomorrow OK. He scoff from other side gritting his teeth.
Geet did not get his sarcasm , and replied cheekily back .
Ji. Thik hai and she was about to keep the phone down when he lost his all patience and shouted in the phone.
GEETTT. . COME TO MY CABIN ..NOW. .NOW.he repeated again making the phone almost slip from her hand when adi and pinky both rushed towards seeing her shivering.
What happened geet ? Did Maan sir is calling you ? Asked adi when geet just nodded her head with her lips pouting to control her in shed tears .
Don't worry. Go to his cabin. We will continue it later. Pinky patted her back giving her water to drink.
Geet rushed to his cabin controlling her emotions, she just barge inside without asking any permission from him.
What the hell? He turn furious seeing her stumbling inside his cabin.
Don't you have any manners? He shouted on her coming before her where as geet broke down finally hearing his rude words.
She was about to ran out when he caught hold of her wrist and pulled her on his chest. She wriggle hard in his clutch while the sound of her bangles chum in his ears .
Aap .bahot ..bure. . Hai …chodiye. .Hume. . She started to bang her small fist on his chest still trying to come out of his hold.
Geet. .he forcefully held her chin and made her look at his face. He get the clear view of her beautiful face as fingers trail down on her ears tucking one soft tendril behind her ear.
Geet stop her moments seeing his chocolate brown eyes admiring her. She blush furiously forgetting her all anger .he smirk wiping off her tears from her face.
How many times , I have to tell you , don't cry. When you are going to listen me , geet ?? he asked her gazing her intently carrying her towards the couch. When she pouted again reminding his shouting.
Aap hi humpe gussa karte ho. You scold me always and asking me to stop my tears.
You can't just cry Jaan on every thing and anything.She heard him sincerely while he continue.
It will always happened. Every one or any one will be not soft or like adi and pinky nor like your dadima. He pinch her little nose when she smile cheekily .
You have to be strong , not a cry baby.
I am not cry baby. She pouted getting angry again.
Then prove it. You are not going to shed one tears also in whole day. He asked her while geet without thinking much just nodded at him in approval.
…
Whole day geet tried hard to control her tears as she would be tire , frustrated with new things around her , it's make her to cry .hearing dadima's lovely voice from other side on the phone would make her to rain her arms .go away from this weird place which seems not for her.
Her tears would land on her lashes but she could not allowed them to scroll down. Seeing her each attempts from the blinds which parting there cabins, maan would smell in contentment. He would shook his head seeing her each antics and the frustrated and tired faces of adi and pinky.
…
It was evening when all started to went off leaving only four of them behind. Pinky and adi also went taking maan's permission as both were extremely tire with there new work.
Soon whole office turn silent with the just remain two of them. Geet then went into his cabin silently like before as she forgot about his words to take permission before.
He was lost in his work , but hearing her payal sound he looked up to found her standing before him.
Hume ghar jana hai, now everyone also had went.She said like a little child making him chuckle silently as he saw her worn out state.
It's just one day and her condition is this , don't know how will she manage ? He thought getting up and closing his all work.
She jump in excitement with the thought of going home.her foremost favorite place with dadima and her shona around her.
…
Dadima ..Dadima. .she ran inside like a 5 year old child coming from first day of her school , wanted to tell her everyhting, where dadima was sleeping n her room that she coul not heard her.
Maan only could shook his head and walked further leaving her in the hall.
Geet was calling her when she dashed into Annie who had just come back being tire. The coke in her hand spread across both the girls dress and next maan's steps halted hearing her scream.
GEETTT..
He turn back to see the scene , where geet was back her scare little kitten mode and Annie was fuming like hell. He take further steps ahead to reached her before Annie could harm her but his steps stop hearing the commotion.
Hume maaf kar dijiye .annie di.
You don't dare to called me di or what's that ? Annie pointed her forefinger towards her naming geet almost flinch back as tears gather in her innocent hazel eyes.
Maan tried to control himself , as he stop on his place wanted to see today what she will do. enough is enough , he thought seeing her scare form.
You dare to mess my dress, you bi… annie blasted while geet could no more bear it .her brain got dizzy , numb. She forgot about all things what maan , pinky or dadima had told her. She did not get how to defend her self when her eyes landed on maan who in extreme rage ready to burst any minute.
With his one gaze , all came crashing down on her , she closed her eyes tight letting the tears to soak in her eyelashes only.
Have you thought , how must be I feeling to see you in that condition , getting injure from other person and you didn't even punished that damn woman .

its all your fault. that you let her harm you. its all your fault to let others hurt you , mishandle you. YOU ARE AT FAULT GEET , ONLY YOU !!
Think of me geet , just once .
She opened her eyes determined and looked at the fuming lady in front of her.
You have to pay for it. First of all , you dare to mess my dress. .

Par humari. Koi..galati nahi hai..aap bhi toh..
Geet tried to defend herself when annie turn more furious seeing her audacity. She was astonish first seeing her defending herself first time ever but she could not digest that .

You are now arguing with me ..how dare you ? She raise her hand to slap her when he barge in to the scene and hold her wrist tight before she could slap his Jaan.
Geet who was ready for that with her closed eyes, slowly open her eyes finding sudden silence in the atmosphere .
His eyes were spitting fire that made both the girls shiver in fear.

Bro.. aap. ? Annie was shock as she was clueless before of his presence. He was standing behind her eyeing geet.
Yes . I am. From where are you coming ? And what is this all new drama ?? He asked in his stern voice making her fumble but non the less she replied back to him.
Bro. She just mess my dress. You should scold her.
Yes she did. So what is the big deal in that ?
Bro ?? She was shock. You are not going to scold her ?
Leave that ? You did not answer my first question .His eyes narrow on her face for now he can no more tolerate her behavior . In his own carelessness he knew he spoiled her to no extent.

Oh..me. .ah. .Bro. I am so tired now..will speak to you later . Saying so she started to wriggle in his clutch to let her go.
You can't go anywhere without answering me.
Bro. Please I am hell tire now.
Maan was not ready to budge when her soft hands clutch on to his arm making him left her and annie ran upstairs cursing geet under her breath.
Let's go. He turn towards geet who just nodded back looking totally worn out.
Once they were inside her shona cane running towards her as he was caged all day in one room only in between dadima with the help of servants had taken him out.
aww .my…shona baby. .she take that little creature in her hand , he had turn little big like a little sheep. She cuddle him while he lick her cheeks making her giggle .
He smile to see her back to her original self non the less he glare at there sight later seeing the scene and barge into washroom cursing that puppy.

Part 43
It was next morning when geet was not ready to step outside mansion getting weird experience last day. Maan was on fire beyond furious seeing her tantrums that he just drag her outside and threw her inside her car from which she had came yesterday.
Hume nahi jana. She pouted on the verge of tears but his one furious glare and she gulp her tears and shut her mouth turning her face away from him.
He order the driver to take the car to kc while he furiously started his own to go to office.
Dadima and sumitra could only sigh and watched the scene as they could not help him here to took geet forcefully seeing her sad face on the other hand they knew she need to go.
…
Geet step inside her cabin pouting in sadness when adi and pinky gauge her each expression keenly. They were here present in her cabin as per MSK 's order.
Soon there routin started leaving them again exhausted at the end of a day with her weird queries or lack of knowledge. Pinky had emptied almost 5 packets of chips in tension while adi was having hard time to control geet who was now hell tire or frustrated with new unknown things .
Maan was busy in meetings most of the time .he could not even able to made it for his lunch.
Late evening
Maan sat relaxing on his chair after his last meeting of the day.he loosen up his tie and closed his eyes resting back his head on the chair post.
Geet barge in like always , happy with the thought of going home now.but her smile vanish as soon as she saw his tired face. She felt bad to see him Tiring himself with all work load. She took slow steps to reached him and soon he felt her soft palm touching his forehead .
He left a sigh of relief when found her massaging his head ever so lovingly. He slowly open his eyes and watched her worried face gazing his own. He pulled her on his lap while she gasp but continued to do her work ever so sincerely.
I am fine. Don't worry Jaan . He assured seeing her still worried face.
Why do you tired yourself this much ?? She asked kissing his forehead which left him astonish to thought that his Jaan is growing up.
If not I then who will ?? He asked back gazing her hazel eyes.
She diverted her eyes and keep her head on his chest not knowing what to answer to this or how .
Jaan , one should need to work , whatever that maybe .
It would transferred you in a more successful person. So it happen with studies.
Geet was listening him carefully and got to know little things.
Are you feeling any difference in yourself after you complete your studies. ? He asked her looking at her when she looked back at his face trying to thought on that and getting no answer she only shook her head in negative . Maan could only sigh with her reply.she still needs to understand the things much better. He thought.
…
It was night when geet was seating in front of the huge mirror in there room and trying to comb her curls but it was irritating her to the core as they are giving her hard time. With dadima and her mother in laws advice she had left her curls open the whole day and resulting in it , now they are not getting to combat easily had tangle badly.
She left a little cry while softy came near her shaking his little tail and trying manofy her seeing her sad.
And that's how he watched them after entering inside the room. He was in study completing his few work files .after done he was back to room only to saw her pouting while that small creature of hers was seems all over her. He glared at that going near her.
What happened? He stand behind her watching her irritated face from the mirror.
She threw comb on the table and huff in frustration soon her face light up with bright smile .
Maan was watching her each expressions carefully and he turn amazed to see her smiling suddenly where as before few time she was pouting in sadness.
She stand up suddenly turning towards him she stuck her comb in his hand making him astonish.
What? ?
Comb my hairs . She innocently asked with her dimple smile and sat again on the chair before mirror waiting for him to do it.
I .. before he complete she said him reminding him the first time he had comb her curls making them almost silky.
You remember na , that time you had combed my hairs into making them silky. Please do it fast na. Hum Bahot thak chuke hai.
She pouted on other hand was happy with the thought of making her hairs silky again.this curls irritated her so much but her sahib loved her in her curls only , she knew .she blushed with the thought making maan smile at her each turning expressions.
Finally he started to done his work or duty of his wife gazing her beautiful face now and then making her blush. Geet was blushing like a new bride in his passionate gaze.
Shona on the other hand was long forgotten .he continue to stared at geet and maan who were lost in there own sweet world. He sat on his knees first then sat flat on the floor beside them staring them continuously then went into sleep.
Her curls flew with soft wind giving her amazing feeling with there softness as she caressed it lovingly.
She gave her full dimple smile to maan who was smiling back at her.
Geet silently tip toe and kissed his cheek lovingly leaving him in sweet shock never the less he pulled her in his arms from her bare waist since she was wearing saree after back from office.
Maan pointed towards his lips for a kiss when geet without thinking anything peck it but soon he pulled her into a passionate kiss.
She moan with the effect he have on her while her hands went on his nape caging him in her small arms. Maan took her in his arms and made her lay down on the bed with kiss still continue.
After finding her breathless he left her swollen lips and came down on her neck showering wet kisses on her open skin. He threw her saree aside and pulled out her blouse to assault on her gorgeous body.
Geet was all the while moaning in his arms making him go further. He shower her with wet kisses biting her in a mid. She would pout with his bits making him chuckle.
Soon he found her eyelashes heavy and left her to sleep as he knew it's only her 2 days. She still have to get used of it . She got tire early since its her first time to go to office.
Geet snore silently snuggling in his arms while he continue to caressed her head adoring his innocent wifey.
Part 44
A week went like that , geet was trying her level best since the time she saw him that night all tire with his work load. She now wanted to do it for him. Her Saheb who work so hard for all. For his family and his all employees. With adi and pinky's words and lectures she was improving. She got to know , how much he have to work hard all day and night being the Boss to survive his employees and there families .her love and gratitude for him increase ten fold. She adored her Saheb much more. Now she could really understand him and his intentions to bring her here in office.
Henceforth she will work hard like him to improve herself if that will what make him happy. As well she will able to help him and lessen his work load.
Geet thought happily almost jumping in joy that's how he saw her as he step inside her cabin since he was free at lunch hours , so he decided to met his wife for little time.
He lock the door behind entering inside when she saw him and excitedly rushed towards him finding him first time in her cabin.
When did you come ??
When you were jumping in joy. He answered her closing all blinds of the cabin and then took her in his arms.
She blush holding him closer when he sat on her chair taking her on his lap.
Tell me , what happened that you were so excited.
Humne soch Liya hai. I will help you in your work now onwards. So that your work load will be decrease and you will not be tire .she chirpily reply making him astonish hearing her. Needless to say he was happy , happy for not with the help she was offering but for she was understanding things and improving well. He adore his innocent Jaan taking her lips softly in his own. Both kiss each other softly , sucking each other lips enjoying every bite of it. The kiss was passionate one. He nip her lips softly entering inside her mouth and cherish her sweetness.
after a while His lips travel down on her slender neck and lick the area pulling out her duppatta. She hold his hairs tight bending back her face giving him more access.
He nipped her skin softly not to hurt her , going down on her half opened breast he lick that area making her moan . She was enjoying every bite of it.
His hands went inside her kurta , he rub his palm sensuously on her soft skin , going upward his hands cup her bre*** making her almost shout out when he kisses her hard muffling her moans.
…
He decided to enroll her in one of course related business i.e. MBA or architecture etc. That will help his wife to improve in the work in office.
Geet agree this time at instant keeping only one goal in her brain that to help her Saheb who was everything to her. She can now do anything for him. The thought itself gave her courage to move further with his decisions that he was taking for her own benefit only.
It was another day when geet was returning from her car that she saw annie coming out of one of restaurant hanging with the support of one guy. She looks like drunken, yeah she knew this knowledge from her Saheb. He was like this that time at night when he used to came drunk to home.
She scrunch her little nose in disappointment and asked the driver to stop the car. She thought to took her to home since she is family and she needed to helped annie .it's her duty.
Annie di , aap chaliye humare sath Ghar, aapne sharab kyon pi ? ? She hold her free hand coming before them ,while the boy who was holding annie was big flirt and spoil brat .
He looked at the beautiful girl in front of his eyes with his lustful eyes. Annie was not in her conscious properly totally drunk ,she just started her silly fight with geet there on road side , pushing her. Driver who was behind them watch that boy's eyes on Geet and he tried to interval.
Bitiya chaliye yaha se. We are getting late to go office. Annie Bitiya aap bhi chaliye humare sath,
Annie was furious on finding geet there , she just pushed the man behind while he tried to stable himself when he saw that boy was trying to misbehave with geet.
Geet was busy with manofying Annie when she felt his hands touching her waist . She was shock beyond her wits as this is first time ever she felt this behaviour of someone other than her Saheb.
She quickly pushed his hand away from her body looking at him with her moisten eyes.
When that boy got furious and clutch her wrist tight trying to pull her to him but that was not possible since he was holding annie in his arms.
Geet wriggle hard with the help of driver , and that boy too left her instantly not wanted to create more scene on the road.
Annie di please chaliye yaha se. Yeh aapke dost bhi achche nahi hai . Geet tug at her hand when anni pushed her again.
How dared you ? Don't talk anything against my friend. She blasted on her when the boy with her only smirk at her way and both started to go from there.
Geet ran behind as she could not leave annie like that but driver stop her taking dadima and Maan's names.
She watched there car zoomed off far and she turn to go.
Instead of going for office she went directly towards mansion as she was really frighten with annie's friend's advanced.
Dadima was astonish on finding her home at early , she asked from her.
Oh Dadima. .hum aaj bahot thak gaye hai..Hume thik nahi. .lag raha hai. .
Her lips quiver while her hazel eyes well up finally after meeting with Dadima.
What happened dear ? Dadima asked softly cupping her one cheek and geet melted crying out in her arms. She could no more take it. His touch or his dirty act still linger in her innocent mind. She was frighten and shock beyond limits as till now she was all lost in her Saheb that when coming face to face with this bad incident today her all shook hard making her to face the reality of the cruel world yet again .she could able to get faces of her step brother now.
Calm down dear , you are burning now. Dadima turn worried seeing her cries and her temperature had shoot up .she could not take it .
Dadi took her towards there room and made her lay down on the bed giving her water to drink.
Soon geet slept off in her warmth .Dadi at once called the doctor .
…
Maan was restless not finding her in her cabin after he came back from his meeting . He check the watch again and found it is an hour late from her usual coming. On asking from adi he got to know that she didn't came to office but has been at home taking rest since she had caught fever.now that thing made him worried. He quickly called Dadima.
Is geet fine. How did she got fever now , all of a sudden. ?
Don't know son , when she came back here from her classes directly , I guess , she was looking pale and in worse condition. Even she cried , that's when we found out that she was burning in fever. Doctor had check her and she is resting now.
Maan put the phone down sighing in frustration. Just now everything was going smoothly then she has to be sick.
How ?? All of a sudden. His curious mind started to think on possibilities , since dasima told that she was crying. Till yesterday everything was fine , even in the morning as well.??

PART 45
Maan bang his cell hard on the wall not caring that it broke down in two pieces. He was burning in hell hearing what just he heard now.
The driver of Geet's car dial his number as he couldn't stop himself. He wanted to inform maan sir just quick as possible. He couldn't bear that what just happened.
Maan was confused with the number , he took his own time to answer it.
He left surprise hearing it's her driver , he let him speak knowing he must wanted to inform him about the reason behind her illness.
As driver narrated all what happened word by word , line by line , his anger was increasing minute by minute and finally he slam his cell hard on the wall burning like a volcano. He storm out of his cabin furious beyond limits.
…
Get that boy here in front of me just in 5 minutes. His furious voice buzz the whole place where he was now waiting for his pray far away from city in deserted area.
…
Dadima was not surprised on finding him early from his usual times. She knew the reason well. She shook her head smiling at her totally change son.
She is sleeping , son . She answered his restlessness and he rushed to there room.
Geet was till now in deep slumber because of medicines when he came closer to her and sat on the bed beside her. He check her forehead that was still burning , he got up and went freshen up first .
It was late night when Geet woke up moaning in her half sleep. He was just beside her had cocooned her in his arms.
Maan..she moan in happiness finding him there , she totally forgot about the incident.
Yes , I am here now . You sleep. He whisper in her ears patting her head . She went into sleep again. He could only sigh but there was no sleep on his eyes. He wanted to asked from her , he wanted to scold her , why the hell she went behind his spoil sister when he had warned her before only. He couldn't even be angry on her for her foolishness when seeing her adoring nature and worry for his family. She is pure angel always care for others before herself.
He wanted to confront annie today itself, that spoil brat had still not return from her so call trip. He don't know how to rectify her and her spoil nature. He had to talk with his mom maybe she could looked into this matter and get successful as well. He was sure only she can handle her now.
…
It's been three days , she was at home as if hiding in four walls of her secure place . It's her fever didn't let her to step out . Maan was furious though he didn't show it knowing hos fragile she is. It's natural for her but being MSK it didn't go well with him.he was frustrated because her classes skip for whole three days. He knowing her nature knew it will affect now. She will again throw tantrums to join her previous routine.
Forth Day, Geet was terrified with the thought of going out as that incident crash down on her making her scare again. Her whole shiver in fear making her eyes well again.
Jaan ..
She was startle, hearing his voice just behind . She turn drastically thereby banging on his chest.he was quick to hold her. She hug him at instant in fear.
Kya hua ??
He asked patting her back though knowing the reason well but he wanted to know it from her mouth. He wanted her to speak out her fear to him. He wanted to tell her that he was beside her always protecting her from all that damn world . She don't have to fear . But at this point he knew she will not understand that instant .first she had to take initiative at least to tell him herself.
Jaan tell me what happened? He asked again keeping his anger in control. His hold tighten on her seeing her state just because if that boy.he wanted to go and beat him again till his heart could cool down but he knew that will keep burning till she herself not come out of her fears.
Oh. .hum..unhone. .
Few words left from her mouth somehow making him stood silently waiting for her to continue.
Geet don't know how to tell him and what will be his reaction. Will he be angry on her for all fiasco. But she wanted to tell him all as it's making her die bite by bite in her own fear. She wanted to sooth it finding her solace through him. She knew only her sahib could help her out in this like always. Most important was , she never wanted to hide anything from him. She couldn't stay in peace hiding something from her sahib.
Finally keeping her own embarrassment aside , she spoke out slowly.
He touch me here , he .. and she broke down placing his hands on her waist telling him how that felt so horrible. She sob shedding her all fears and insecurities in his arms .
Maan never thought that will burn his heart to this extent.hearing it from her mouth was all together different thing.
Let's go.
He pulled out her harshly and drag her directly out of empty mansion as all had already left for there respective work. All servants only could gap at the scene. His one glare and all went for there respective works.
Aap Hume kaha ..Le. .ja rahe ho. ( where are you taking me )
She was shock , scare from his anger , she thought he was angry on her.
He threw her inside his car and started the car furiously. His eyes burning red in anger .
I am..sorry.. but..it's not..my..fault. she pleaded him to stop as he drove too fast on the road.
It's not your fault ..he blasted
Hume..Dar. .lag raha hai.. slow down the speed. .please.. she hold his hand which was on the stirring wheel.
He left a big sigh lessening the speed little.
Within minutes they were before huge building. She looked at him confused still with her wet eyes.he drag her inside toward one of flats. And rang the bell few times furiously.
Geet was frighten with his demeanor today. She totally forgot about that boy. But as soon as the door open she came face to face with the same boy . But he was looking badly injured as if someone had beat him badly. It never came into her innocent mind that her sahib must have beaten him. She quickly hide behind maan in fear.
The boy looked shock and scare himself on finding him again that too with the same girl. He till now had known her being Mrs. MSK. And he curse himself to even put his eyes on her.
I am sorry. I am again asking forgiveness. Please don't beat me again. The boy almost kneel down in front of Maan fearing that he might have come to beat him again. Already he had beaten him so much .he had just came from hospital. Even MSK had warned him that not to tell anyone about this.
Maan glare at him furiously. He so wanted to beat him again but not soon have first thing to accomplish.
He looked at geet who was looking back at him only. Her tears had stop long back. She was actually shocked to knew this thing. Her sahib already had beaten him and he knew everything. Her face brighten up just with the knowledge. She need no more to fear now. She actually smile ear to ear seeing that boy's condition .
Maan wanted to smile back at her but he stop himself though he was happy to see her back to herself . He stood like a rock still crossing his hands on his chest glaring the boy and spoke further shocking both of them.
Geet, Slap him !! now !!
Her eyes widen so as that boy's , he couldn't bear that insult.