He kept his lips lingering on her for a while but didn't kissed her instead pulled back to her disappointment. 
She pouted angrily trying to get closer but he bend back his body.No jaan. Not this time. . Till the time you will not call me by name i will not kiss you nor will let you. Soch ..look what you want to do ..kiss me or stay with your shyness ..he wink and ran from there as she again get closer to him. Finally it's started Tom and Jerry scene as she ran behind him for her kiss while he dogded her laughing out on her condition. SAHEB.. Aap aisa nahi ..kar sakte humare sath . She huff in between her anger and continous running. Already she was hungry and her Saheb was torturing her for one kiss.Kar sakta hoo jaan..tit for tat.  You have so trouble me and starve me for just to hear my name from your mouth.but he stop in his track seeing her holding her head.Geet felt dizzy with all running and she was going to fall when he ran to hold her like always.JAANN..  he take her to decorated swing there on terrace and hold in his lap. She kept her head on his shoulder trying to be normal. After sometime she realized where she is seating and looked around herself .her eyes widen in surprised and delightfulness to see all lighting and decoration. It's beautiful. She exclaim You like it. He asked  her feeling satisfied to see her happiness. She nodded. Yeh sab aapne kiya humare liye. Ha jaan..for only you..he peck her forehead lovingly. She was so touched with his gesture that he was so doing everything for her from the beginning only bit she can't even give him little happiness . Her eyes filled up before she utter those beautiful words for his satisfaction. I LOVE YOU MAAN.. she cup his face lovingly admiring him and peck his lips making him sweetly shock with her beautiful gesture.His heart danced in joy hearing her . He felt he won the world to feel her each gesture of love for him. Only for him. His hold on her tighten and he pulled her more closer as if that possible.  Said it again jaan.. PLE. .but before he talk more she place her palm on his mouth and again called with little possessiveness in her tone.MAAN..MAAN.. HUMARE MAAN. SIRF HUMARE (ONLY MINE ) maan gave his million dollar smile before taking her lips for a soul searing kiss. He kissed her passionately angering her face to his level. While geet kissed him back hungrily, when she heard him saying between kiss.Ha..jaan..ONLY YOURS MAAN.Soon he broke her fast and both dine together.Aapko Yaad hai pichle saal bhi hum Yahi aapke sath baithenge the usi zoke pe (Do you remember,  Previous year also I have spend time here with you seating on this swing only ) Geet told with her hazels glistening in excitement remembering the previous year on which he had broke her fast unknowingly. Karvachauth pe.she added blushing red reminding there close moments  that time. Maan was amazed hearing her. He too remember it as how can he forget there beautiful moments together. Yes. I remember it and cherished it too jaan. He feed her next bite lovingly where as she feed him back. Once done maan lifted her in his arms and went towards there room. It's late night that party was already over. Geet looked around scared a little to see darkness all around. She clutch him tightly from his neck. He looked at her scare face and peck on her head lovingly.

[WARNING 18+]

Both entered the room and he placed her on the bed slowly hovering on her.Saheb.. Nahi..jaan..take my name or else ..you know he teased her while she blushed before calling out his name.MAAN.. MAAN..He kissed on her lips lovingly and cherished her sweetness while she pulled him more closer holding his nape.  Maan slowly pulled out her sari throwing that aside he take out his shirt aswell baring himself to her widen eyes. Babaji.  She hide her face with her both palms.Jaan.  He chuckle before forcefully pulling her hands apart he caged her between bed and himself. Yeh aap kyaa. .kar..rahe hai..?? She shiver in his hold blushing like hell to watch him bare chested.Loving my Jaan.  He whisper showering wet kisses on her throat , neck. He bite her slowly before licking the area hungrily to sooth her.MAANNN. .. she moaned out feeling vulnerable to new sensations going inside her.That's like my Jaan. . He said between his hungry kisses on her open cleavage. She pulled him more closer if that possible clutching his hairs tightly. While her whole burn in passion wanting to get more and more from him. He pulled out her blouse and opened her bra hooks hurriedly turning on with her response .Umm..Saheb. .. she moan again feeling his wet lips playing with her one of nipple while his other hand cup her other mount.Not. Again. ..jaan..he groan on her chest hearing her but soon got lost in pleasuring her .Coming down on her tummy he kissed there hungrily licking her soft skin.Geet wriggle in different sensations.  While her hands never left him holding him closer.He again come on her face to see her tiresome. His nerves calm down at instant to see her fragile sight. He kissed her closed eyelids slightly to which she opened it slowly adjusting her view.Neend aa rahi hai ? He asked lovingly seeing her dizzy eyes. It must be medicine effect. He thought. Her course was still not complete thought it will end soon but doctor had strictly warned him of not to break it in between. Ji..hum..thik .. hai.. She whispered hugging him tight wanting to know what he will do next. Wanted to cherished his love. The new ways which she was unknown.  He groan with there bare contact and lye down on his back taking her in his arms.Go to sleep.. you look tire . He hug her bare body and closed his eyes trying to control himself but her next words make him snap open his eyes in astonishment. Ji..Aap woh..nahi..karenge. ..She blabbered out innocent not know what else to asked him .Maan was shock but thought to tease her .Kya jaan..Kya Karu ? ? Ji woh. .chaddo ..shd tried to word it but not getting it she turn away from him wrapping herself in a blanket. Soon he entered inside it and pulled her from behind cupping her both br**** with palm . Saheb. . She moaned with her eyelids drooping. Yeh…karna hai… he teased her with his breaths tingling on her skin.Geet was lost in him she didn't reply just moaned in his touch. 

…

Next morning, Dadima take her to there orphanage where she every month go and spend her quality time there checking on all authorities and work there with spending time with the childrens .Geet was all excited and happy to go with her to visit orphanage as she thought she will get to meet with kids.And that what happened as she mingle with little kids quickly , playing laughing with them enjoyed her day .
Aap khush toh hain na bete , dadima asked affectionately patting her head. Ji dadima hum bahot khush hai. Geet chirp up showing her all teeth to dadima to which she laugh out feeling her happiness. Dadima aapne dawaiya li ? (Did you take your medicine ) Hum toh khud bhul gaye aapko medicine dena. Hume maaf kar dijiye,  dadima.  Hum Abhi aapko dete hai. Geet turn hyper thinking it's her duty and she fail in it.It's alright dear. I will take it at home. Dadima tried to console her but geet was restless.Nahi nahi.hume abhi chalna chahiye. .we forgot medicines at home. After all the confrontation finally both come back hurriedly only to give dadima her medicine on time.
…
Precap : Geet in Khurana constructions.  AGAIN ??? 
Part 34
Geet was working in kitchen hurriedly to make his lunch box ready fast. He again skip his breakfast and she knew now , he will skip his lunch as well if she will not reach in time.
But Office. She felt weird not that scared as before but nervous to faced the people again. There was different scenario when when she was there before. All modern girls wearing nothing but just a small piece of cloth in the name of dress. She looked at herself once seeing her sari and imagining those torn dresses ..
Chi…chi… Babaji bacha lena. .!!
She blabbered out looking upward talking with her Babaji. 
Kis se bacha lena , geet ? Dadima came inside laughing on her cuteness. Geet was startle and started to fiddle with her sari .dadima looked at what she is doing and asked from her.Waise aap yeh itne hadbadi main (hurriedly ) kya kar rahe hai. Hmm. Jaroor maan keliye koi nayi dish bana rahe hoge, hai na geet ? (What are you doing here so hurriedly, hmm, you are making new dish for maan , aren't you ? )Ji dadima woh Saheb , mera matlab hai maan ke liye but she stop seeing dadima's naughty smile.
Woh ho. .Saheb se sidha maan. Dadima asked smirking naughtily but geet thought she didn't like it.Nahi. Dadima woh..aapko achcha nahi Laga. Hum woh Hume to Saheb ne hi kaha tha warna hum toh ..Before she continue more dadima hush her.Geet. I not at all have any problem dear , in fact i am please that you are now calling him by his name. And it's your own right why should I deny. He is your husband! ! Geet blush hearing her while dadima bless her and about to leave when geet stop her.
Woh dadima kya Hum Saheb ka lunch box leke office ja sakte hai ? ( can I go to office to give lunch to Saheb ) She asked hesitatingly which dadima don't like.Geet. You don't have to asked dear. It's your own office, you can visit it any day you want . She assured her patting her cheeks lovingly before she left the place.Geet was happy to go to meet him but her thoughts again went to past when those girls had made fun of her . Hum..aur Kitne log hai yaha ?? They had laugh on her. (Referred to maid ff where sasha an tasha made fun of her) Tears gathered in her hazels making her vision blur and she ended up cutting her finger with knife. AAHHH. . She cried out as blood rushed out furiously making her go dizzy seeing the amount of blood.Sambhal ke bete. She heard worried voice before she felt her holding her finger in her hand pinching it so that blood will stop.Nakul..Nakul.. she shouted , her voice was furious while she made Geet sat on the chair . Geet was crying continuously seeing the blood while sumitra tried to console her.Nakul come inside running while she ordered him to bring the first aid kit. After bandaging her wound she looked calm and wiped her face .Are you fine now? Sumitra asked her patting her head to which geet nodded silently still weeping .
And after that sumitra took class of all servants angrily. She shouted on all of them bringing down dadima as well . Geet tried to interval but sumitra didn't let her glaring her angrily to shut down.Where were all servants when she was cooking all alone . ? She asked angrily glaring each one.Woh. Geet bitiya ne mana kiya tha Memsaab ,Nakul stammer .
Geet watch the scene scared like a kitten. While dadima watch silently amazed to see this side of her daughter in law after long time . First of all she is your owner , don't take he name but called her mam. And second thing is . You have to be there working in kitchen not my bahu. She blasted furiously .Sumitra , she loved to cook for maan by her own hands . Dadima interval this time . But sasumom it's not right that she was doing everything all alone. She like it bahu. Woh ..humne hi Nakul kaka ko sabzi ya lane ke liye bheja tha. Geet got the courage and defended her Nakul kaka.Sumitra watch her innocence and let it go for the time being.Ok now finished that work fast..move. she ordered all of them when geet again tried to stop her.But he don't like it. She stop seeing her glare.Matlab unhe humare hato ka khana .unhe aadat hai.
Geet stammered with her lower head.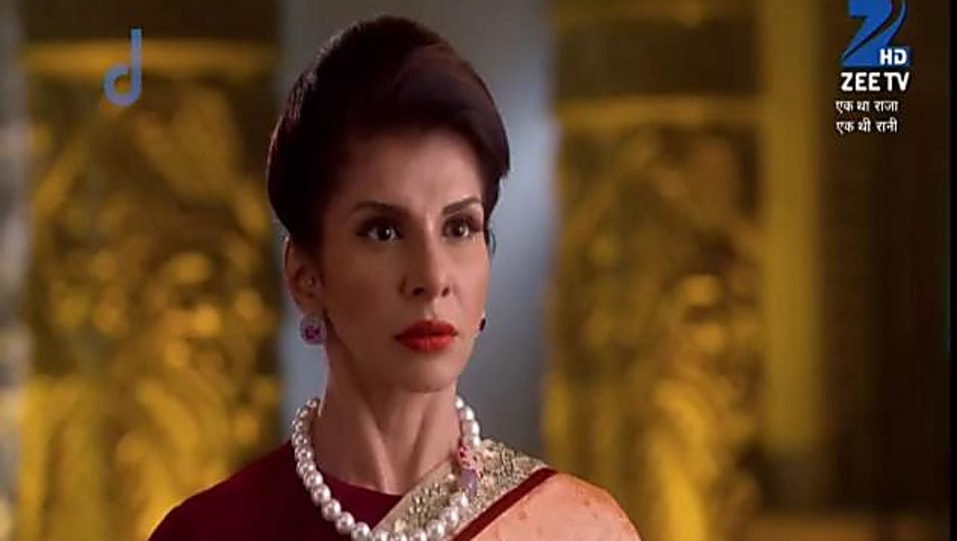 Sumitra was again astonish but soon she disposed all only keeping Nakul in kitchen.Dadima and geet watch her curiously while she stuck her sari pallu in her waist as if ready for work.Both of there eyes widen in shock seeing the scene.Let me cook for my son today ..KYA ??