He looked at her sleeping cuddling to her favorite creature. He sigh thinking how to make her understand. He felt so guilty looking at her sleeping like a baby pouting her lips with dried tears marks on her chubby cheeks.
He settled himself beside her on the bed and cuddle her closer from behind while she try to opened her dizzy eyes that were sticky now with nonstop tears , she felt it difficult to opened them while she rubbed it cutely with back of her hands and finally opened them to see her Saheb looking at her lovingly.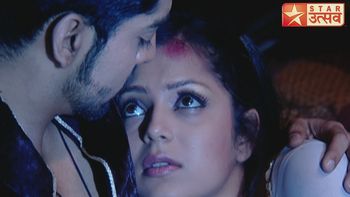 Saheb…she whispered hugging him tight while softy was long forgotten who cradle closer to her from behind.
How can he be here, when he was so angry on her sometime before? Geet thought sniffing his scent in crook of his neck and conform that he is here only.
She don't want to see his angry face when he will see tears in her eyes ,,she slept on his chest hugging him to her but her tears rolled down on his skin making him aware that how much he had hurt her.
I am sorry, jaan! ! I again failed to understand you!! But I won't let your life ruin .He murmur on her head when he felt something crawling on his hand which was on her behind wrapping her.
His expressions turn to serious again as he saw that small puppy seeking his warmth.
He jerk his hand back but puppy again cradled to his hand and cuddle his small face on it.
Urghh. .Kya musibat hai! ! He groaned in frustration seeing puppy sleeping on his hand. He have to let him because of geet, whose sleep he don't want to disturb. Soon his tired eyes drifted into peaceful sleep having his possession close to his heart.
Next day Geet woke up feeling her head heavy with nonstop crying, she try to find him but he was nowhere to be seen.
Kyun dhund rahe hai hum unhe ?? Hum toh unse naraaz hai na ?? Hai na Babaji? ? She pouted angrily looking at the ceiling.
Ji ha bilkul bete. . Aap toh unse naraaz hai na ? Dadima entered in the room to find her cribbing with her Babaji.
Dadima Aap? Geet try to come out of bed but she stop her gesturing her to sit…she herself sat beside her.
Geet instantly cuddle in her lap hugging her closer like a small baby while she comb her hairs softly with her hands to feel in her relief from her headache.
Woh kaha hai , dadima? Geet asked softly still hurt and pain lingering in her dried voice.
He didn't meant anything geet .you know him, don't you? How much he loves you?
Ha..isi liye unhe ab sharam aati hai Hume unki biwi kahtte hue.isiliye unhone kaha. .ko ab wo pachta rahe hai humse shadi kar ke. .Kya yeh Sach hai dadima. .Kya woh sachmain humse pyar nahi karte? ?
Geet asked innocently from her looking at dadima seeking answers to her questions. Her heart burning with immense pain reminding his words again and again but she is not finding any solution to it.
Dadima looked her innocent child with pain. Yes she was in pain as well to watch her hurt to this extent. She curse her egoistic grandson for doing like this with her. He being impatient wanted every things to happen fast as per he wish. He thought, he can do whatever with his money and status. He always get what he wanted on his fingertips in his life that he wanted to same happens with Geet as well. He wanted to change her to better just like this fast but he forgot that everything in this earth happens on right time whatever we do or try. And for every damn thing to happen that needed time for which he was not ready to wait.
With geet, how can he thought of changing her when he claim to love her? The person whom we claim to love we accepted them with all there flaws and fault.
With Maan, she knew he is thinking only for her betterment but…her thoughts halted when geet shook her again to ask her same questions again and again.
Geet you know him, how much he is short temper .it's all because of his high temperament he blurted all this things dear which he didn't meant.
Geet looked at her innocently, trying to absorb her each words in her innocent mind.
He loves you geet, a lot and for your betterment only he lashes out all his worries for you on yesterday dear. Dadima again try to make her understand seeing her confuse face to which geet nodded silently,
But why dadima?
Chodiye yeh sab geet .. dekhiye kitna late ho gaya hai. .uthiye. .I have to go out as well for some work.
Dadima stop there conversation there only not wanted to stretch it further as for geet she will not understand all things together now…
…
It was evening when geet was trying to hurry with task in her hand as she wanted to make something special for him .she knew her Saheb can never be angry on her for long time …for that reason only he was there beside her in last night cocooning her in his arms.
She blushed with a thought although she was feeling too tired today to do any work .her feet was feeling vulnerable wanted to rest .she don't know what is happening from morning. 
She somehow drag herself till half of staircase when she heard her calling for her. She shiver with fear dreading to face her when she was just behind her…
to be continue…