Two days passed, Geet was anxious and restless thinking about Kunal, as she just got to know about his arrival after next day,
She joined Dadi downstairs to attend the Holika puja which was performed in the porch.
Al the while Maan was only watching her, making her shy. And whole family perform the puja.
Next Day,
Geet walked out wearing sky blue sari to joined the holi party which was arranged in the garden of KM.
Happy Holi, Dadima!! Geet wishes her taking her blessings, and applies color on her both cheeks,
Dadi smile, happy Holi beta, she blessed her, Coloring her cheeks.
Geet walked upto Rajveer who was standing with his mother, happy Holi, Sir!! She wished him too bending to touch his feet.
Happy Holi bete, and call me dad .we are not in office, he patted her head affectionately , making her smile, and won't you applied Color to me.. ?
Geet was dumbfounded, while Rajveer smirked just like his son and put color on her cheek, like this.
Geet giggled and did the same, she was touched by his gesture.
Go and have fun he asked her to play Colors, Geet smiled and rushed away in a search of pinky, and she caught her sight, she was behind her colleagues applying Colors to them forcefully.
Geet giggled seeing this, but soon her smile stopped feeling his breath on her neck, happy Holi darling! He rubbed his colored palm on her waist, making her gasp.
[Mujhe rang de, rang de
Mujhe rang de, rang de, mujhe rang de] x 2
Ohoh…
Mujhe rang de rang de
Rang de rang de
Mujhe rang de
Rang de rang de
Rang de rang de
Mujhe rang de
She turned around giving him smile, happy Holi, Maan applied Color on her both cheeks giving her smirk.
Geet pouted and took the color from plates place there in her fist and threw that on the person standing before her, but her eyes widen in shock next moment seeing it's not Maan but Sasha. She turned and watched him walking away to meet his friends.
She pouted and looked at Sasha who was by now fuming extremely rubbing her eyes, which makes Geet worried, Sasha, your eyes okay.
To which she received only glare from her, it's fine , but agar mere aankho Ko kuch ho jata na toh I wouldn't have leave you..she warned her showing her finger.
Sasha I am extremely sorry, I didn't see but she didn't get a chance to complete her sentence as Sasha just walked away from the place.
Geet turned sad but soon pinky found her and pulled her to play Colors.
….
After getting freshen up, Geet was again walking back to the party, when she was passing by the corridor she felt someone chasing her. She turned fearful when next moment she was grabbed by someone pulling her behind the pillar and before she screamed her mouth was shut by the the person, her eyes widen seeing him, her fearful eyes turned soft seeing the person
Maan …. She whispered watching him with her big brown eyes, and turned to go but he grasped her wrist pinning her against the huge pillar, let me watch you for a while..
His words and passionate hungry gaze made her cheeks burned in deep shade of red.
I want to play holi with you alone , saying so he rubbed his colored palms on her waist, his hands moving sensuously on her tummy, then up Coloring her in his passion, his finger playing with her belly button making her insane.
Ohoh..
Mujhe range de
Mujhe range de
Mujhe rang de rang de
Mujhe rang de
Ha rang de ha rang de
Ha apni preet vich rang de
she closed her eyes, feeling his sensuous touches, moaning his name which encourages him and he moved up to her bosom, squeezing it, while his lips moved in her cleavage, her sari pallu slide down, giving him access and he buried his face her bosom, inhaling her scent.
Um….she moaned out, feeling his teeth nipping the flesh of her breast, but next moment she snapped open her eyes feeling his fingers playing with her blouse hook.
Main bhi tanha hoon tu bhi hai tanha kahin
Main adhoori yahan tu adhoora kahin
Ek aahat si hoti hai mujhko yahan
Tu kahan hai kahan hai kahan hai kahan
Mujhe le chal tu le chal tu le chal wahan
Maan plz.. she tried pushing him away but he wouldn't budge..
What plz, do you liked it..ha Jaan..he squeezed her breast more asking her, huskily, in low voice, Geet pushed him and tried to run but he was quick to grab her back this time pinning her to the wall with her back facing him now.
But as he removed her hairs at one side, the sight before him left him dumbfounded, she was extraordinarily beautiful, he concludes seeing her gorgeous white back, as his fingers trail on her back, feeling it's softness she quivered and moaned out.
What the hell are you wearing?? He hissed out, seeing just one hook holding her blouse,
It's designed like that , she stammered , feeling him snap opening her hook in one jerk,
Soon his fingers were replaced by his hot mouth as he began kissing the length of her body, going down and up again licking her back,
Jahan tak aasmaan aasmaan aasmaan
Ho mohobbat ki duniya nashe mann jahan
Mujhe le chal tu le chal tu le chal wahan
Ho mohobbat ki duniya nashe mann jahan
Mujhe le chal tu le chal tu le chal wahan
His hands went up cupping her bosom, while fingers teasing her hard nipples. She was breathing heavily now clutching the wall for support. His lips moved further up, smooching her jaw,and ears.
Plz Maan.. koi aa jayega, leave me.she whispered, and he hooked her blouse again, realizing what he was doing.
Geet turned shyly, and he kissed her chin .. ear..,
Maan..she held his nape, Puling herself closer to him, rubbing her colored cheek to his, there by Coloring him as well,
Tere naina
Mere naina
Mere nainon mein rang de
Ha rang de ha rang de
Ha apni preet vich rang de
He liked it, liked her holding him this close in her arms, and he pushed her silky hairs behind, making them wave on her hips, thee by covering her bare back completely.
She smiled pulling apart, feeling his possessiveness for the first time.
He cupped her cheek admiring her, you look beautiful while smiling, her smile widen.
Aise hi muskurate rahna.. he added, tucking soft tendrils of hairs behind her ear.
If you wished then you will see me always smiling, she said really touched by his words.
He bend to kiss her, but this time she pushed him away shyly running away from him.
Tere sapnon ke aangan mein cham cham chaloon
Main chaloon main chaloon tere sang sang chaloon
Aaja aaja ve aaja tu banke hawaa
Tere sadke jawaa tere maare jawaa
Aaja aaja ve aaja tu banke hawaa
Tere sadke jawaa tere maare jawaa
Geet..he was surprised seeing her move and then heard her giggling,
She showed him her tongue and turned to run away again, he began chasing her.
Geet was running ahead and looking at her back, when she bump into someone, the person held her waist, holding her steady.
Her eyes widen in shock finding him there in front of her, aap..?
Happy Holi Jaan.. he rubbed her colored cheeks with color on his palms, making her jolted back to reality.
And why was you running?? He asked still to the shock, Geet recovered soon, and face small smile to her husband.
Aap itni jaldi, yaha..she blurted not able to find proper words but Kunal was disappointed, I thought you will be happy seeing me early, I thought to surprised you, isliye maine Dadima se bhi kaha not to tell you about my today's arrival.
Geet stood just gaping him, her throat went dry in tension, her heart cried silently with the thought of going away from Maan.
I think you are not happy Geet,
No..no..it's not like that..I was just surprised, she tried to convince him,
I can see , you are not happy finding me here..
No..don't say like that, her eyes turned teary in fear for being caught but next moment Kunal smile, Jaan..I was just pulling your leg.. he pulled her in a hug, I hate you, she hit in his chest, crying out,
But I love you!! He chuckled, pecking her head, not stop crying, will you..
She shook her head in no, he smiled, and walked out holding her in his arms, let's meet other family members.
Maan who had stopped to attend his call, walked out only to see her hugging kunal, his whole burned in jealousy and anger watching the scene.
……………..
Dadi gave her wink seeing both walking hand in hand, so Geet how's surprise.
Geet gave her nervous smile and excuse herself from there, all thought it's her shyness unaware about her heart state, she was still in shock finding him there, now fear was eating her up inside, with the thought of leaving on and going back to her home.
Her scared eyes began searching for him but he was nowhere, she was damn thirsty as well and seeing the thandai stall rushed towards it.
….
Maan was really in bad mood now, he walked out angrily when his bunch of friends pulled him towards thandai stall to have fun, they forced him and soon he was totally drunk enjoying and dancing away with his group.
Sasha saw Geet at the thandai, and he evil mind plotted against her instantly to take her revenge.
She walked towards her, hey Geet, have not you tasted thandai.. she was extra sweet which Geet found little odd but she was already in her own tension that she just shook her head with small smile, no Sasha I am damn thirsty, and just want to drink water.
Oh come in Geet, don't be a spoiler, here take this, she filled up glass for her, have just one sip, you will surely like the taste.
But Sasha now..
Geet, I am saying na, just taste it it will not harm you, will it?
Geet wasn't convince yet but Sasha put the glass to her lips, she took one sip but next moment Sasha forcefully tilted the glass making her drank whole liquid.
She asked the tender for one more glass, and made Geet drank it forcefully..now seeing her in the effect of bhang, she patted her cheek, that's like my girl, now enjoy the party sweety..saying so with a evil smirk she left the place.
Geet tried to concentrate while walking bit she couldn't, she stumbled on her feet, Sasha..you..where you go.. I want to play Color, now how can ..I play alone..
She pouted blabbering to herself, Maan..she suddenly spoke out, yes..I will okay with Maan, he is only good.. everyone else is bad so bad…she located him and began walking towards him but in mid, bump into Annie.
You..cant you walk properly, Annie busted on her, why did you bump on to me..
Geet giggled, I bumped into you…why?? She pouted with her drowsy eyes and falling on Annie,
You drank bhang.. ? Annie was shock seeing her behavior, she concludes it, let's go..she grabbed her wrist, pulling Geet along with her, today I will show Dadima, how her Ladli DIL is behaving and what she did.
Dadi ma, as soon as they reach near, Geet fell in her arms, hugging her,
Geet.. Dadi was taken back with her sudden hug, she looked at smirking Annie, kya hua inhe, she patted her head.
Your Ladli Geet has drank bhang, and she is now totally drunk, Annie spitted out making everyone shock.
What!! Kunal come forward hearing her.
I can't believe this..said dadi, trying pulled her apart but Geet was not in mood to leave her,
Geet..
Um.. dadi..I love you. She kissed her cheek making everyone smile, Annie just rolled her eyes, giving her disgusting glare she left the place.
You know, I love you this much..she spread her hands showing Dadi.
Geet beta..I know..
No..you don't know and Dadi don't love me..she pouted
Why so..
You didn't tell me about Kunal..she pouted.
That was surprise for you bete, didn't you like it,she lovingly caressed her cheek,
Geet frowned and was about to say something, when there was an announcement for dance from the dance troop who has been called in the party. Anyone interested could participate. They announced and Geet pulled apart from dadi, I want to dance.. dance.before Kunal could catch her she was already running away from there.
Geet did few weird steps , stumbling on her feet, making everyone laughed out.
But soon she got the beat of music and did some thumkas, jerking her waist, getting in the flow of music now.
Chikni kamar pe teri mera dil phisal gaya.. hoye!
Hey! chikni kamar pe teri mera dil phisal gaya
Strongly yeh jaadu tera mujh pe chal gaya
maan pushed those boys away who were surrounding her like bees, and pulled her in his arms, making her stop in her track suddenly but then she giggled and pushed him away,
Hey Chikni kamar pe teri Mera dil phisal gaya
Strongly yeh jaadu tera Mujhpe chal gaya
Jaadu yeh chal gaya Mera dil phisal gaya


she twirls her waist dancing in her own tune while maan joined her, now attracting all attention, his friends joined them while other whistled seeing the stage set on fire with their rowdy dance.
Oh darling tu pehle se Kitna badal gaya
Strongly yeh jaadu tera Mujh pe chal gaya
(Dhadang dhang dhang…)
Geet hung onto his neck, swinging her body crazily, while maan was also lost in the bhang effect, he held he from her waist, colors were splashing from around drenching both in it.
what gotten into maan, why he is dancing like maniac, Rajveer fumed, seeing his son's behavior,
oh come on Rajeev,
my grand son is enjoying , let him have fun.. dadi supported maan, enjoying both their dance, having big smile on her face.
he is enjoying.. like this..? rajveer taunted,
jarur bhang ke nashi mein honge.. riya ( rajeev's sister ) said with a hidden smirk on her face.
while kunal stood still shock watching his wife dancing like crazy in the arms of other man, if it was not maan then he would have blew his face right now, but he control his rage and jealousy fisting his palms. he rushed to take her back because now it's going unbearable for him to see her with maan.
Teri-meri yeh jodi jamegi
Apne love ki kahani banegi
Tujhko nakhre uthane padenge
Sare chakkar bhulane padenge
Geet was so lost with maan, doing rowdy dance with him, when suddenly she felt pull on her and next moment she was in kunal's arms, who carried her away from the place. people hooted seeing the scene, almost half of the people were in the effect of bhang, not in proper senses.
hey stop.. leave her.. maan walked behind him stumbling on his steps but now kunal has already taken geet inside.
Rajveer shook his head in disgust glaring his son..
stop glaring my grandson, he is dancing only, what is the harm in that.. dadi said again.
he is big now to do all this things.
what all this things,, he is enjoying rajveer, after so long I saw him like this.. haye kisi ki azar an lage mere bachce ko.
rajveer rolled his eyes on his mothers drama and went warn media to not to leak this out. he don't wanted his son's years earned reputation to go in vain.
to be continue….
Happy holi guys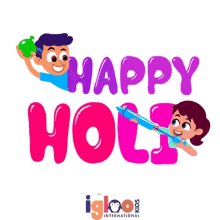 hope it has come out good, because my update again got deleted, I had to type the whole chapter again, I forgot what I had to add, will add further things in next chappy.
as I had already taken lots of holi songs in my other ffs , I got bore with them, so thought to add some different song here which also matched with their feelings.
So now what do you guys think with kunal back in the picture?
will he get to know about his wife's extra marital affair or he has already got the hint?
Do watch this maneet holi vm