Geet don't know what goes in her mind, she felt defeated, heartbroken , seeing his still childlike behavior. He wasn't cure at all, her all attempts went in in vein. She felt like crying out loud to vast sky, but unable to do so, she stood still trying to control the busting rage, her eyes turning red controlling her tears.
Annie almost jumped in joy, while Dadima stood dumbstruck, Annie, what's the matter?
Dadima, she had taken that bet? Annie pouted hearing her stern voice,
What bet?? Why did you girls keep me in the dark? Dadima come forward facing both the girls.
"Dadima, plz don't get angry but" Annie paused and continued then ," If I lose the bet then will marry Maan," she has accepted this. Annie informed her pointing to geet while dadi just looked at Geet silently.
Now if she want to follow this bet or not, it's upto her, she would decide it, said Annie.
Just then the intercom in hall buzzed taking everyone attention. Pinky took the call and it was her parents at other side.
Geet your call ..she hands her the receiver .
Dadima just kept looking at Geet's back who walked away lifeless,
Chii… She muttered and walked away as well leaving the girls, couldn't digest the thing.
Hello..Geet spoke nonchalantly,
Geet beta.. how are you, her mother was sounding overjoyed talking with her after a while now, I am your mom talking.
I have a good news for you dear, we have chosen the boy for you, she couldn't control her enthusiasm as she informed her about the boy and his family they has fixed her alliance with.
You once have to see the boy, he is so handsome.
Mon..give phone to dad,
But Geet..
Mon give phone to dad, she repeated in no nonsense tone, the information only fueled her anger while madhus all enthusiasm was gone replace by the tension hearing her daughter's flat voice, however she handed her husband the phone who took it with a smile on his face, hello…
Dad, tomorrow is my marriage, if you reach early then you can get the chance to do my kanyadan, she was trying to control her emotions,
What?? What are you talking??
But Geet just put the receiver down, and walked away lifelessly.
Geet..Geet beta..her father was calling her but there was no voice from other side, he was so much tense now, Geet …Geet..
Pinky took the receiver and answered him, Dad, don't waste time in talking, come here as early as as possible , she is going to marry a mental man.
Oh my God, her father almost skip his heartbeat, he was so shock,
What happened? Asked Madhu holding his shoulder.
…..
Geet…Annie called her from behind, with other friends tagging behind her, as they saw her ascending the stair case.
You are my dear friend, aren't you? Geet turned around to face her, Tomorrow is my wedding, won't you apply henna on my hand!? Just saying so she rushed upstairs to her room closing the door behind.
Pinky and Sasha give Annie one look and ran upstairs, banging on her door, Geet, Geet.. open the door.
Geet..plz open the door yaar, plz Geet..pinky was so worried.
After a while Geet open the door, she had washed her face, and sat on the bed edge with towel in her hand, her face was blank,
Geet, what are you going to do? Do you even know what step you are going to take now?? Pinky blasted on her.
We didn't get the depth of this bet before!? But atleast you should know it!! This time Sasha tried to put some senses in her.
Annie is behaving like real rival of you , atleast you ….Pinky's words were rudely broken by hyper Geet, main jo bhi Karti hu, woh soch samaz kar hi Karti hu, and after thinking about its consequences only.
Okay?? Now leave me alone!! She said and looked down waiting for their exit.
Both girls left her, and she wiped her nose, still not crying but pouted angrily, now whatever happens and I am ready to face it.
……
The arrangement were done for the small marriage ceremony in the mansion itself, Geet walked out wearing red saree with no make up on, just small bindi on forehead and bangles in her hands,
she was void of emotions stood before him, while he was no in his proper senses at all but was excited to do this ceremony with his doll, he was having childlike smile on his face as geet put the garland in his neck, pandit ji asked him, he looked confused, but Geet held his hands which having garland and guided it to her neck, wearing that garland from his hand, all clapped,
Dadi ma and Annie were oddly overjoyed, as Maan was going to get married to non other than Geet.
Both sat for the further rituals, he was still clueless, but followed pandit jis every instructions with Geet's and Dadi help.
She sat numb…devastated , seems have left thinking about her own life..as the man standing beside her filled her partition carelessly ..
Geet looked at him and was ready to cry anytime but control herself as that stubborn she was..
As he was about to tie the wedding chain on her neck, the roaring voice of her mother came , as she barge inside, Geet,
Both got up and Madhu furiously walked to her, tearing that garland from her body, throwing that down.
Mom, what are you doing?
What are you doing, bete?? You are not in your senses right now.. madhu shook her hard by her shoulder, trying to put some senses in her.
You was going to marry without our presence, that too with this mental person, she held Maan's arm, rally furious with her daughter today.
Look, what did your tigress does? She has became the victim of this mad man. Madhu blasted turning to Rudra.(Geets father)
Geet, why did you do this? Rudra was so heartbroken with his daughters behavior,
But Geet was not ready to budge today like always.. she was stubborn and glue to her decision.
Pandit ji, tell him to put wedding chain on me.. she said in flat tone.
No..I won't let that happen! Madhu held Maan's arm, walking to geet, Geet this in all childish, she cried trying to make her daughter understand, you have to live whole life like this meaningless, this mental, she pointed at Maan who stood clueless about all happening, "what happiness this mental will give you!! What stupidity you are going to do?? She shook her hard but Geet stood blank.
Wipe that vermilion !!
Savitri ji, what's going on !?? Rudra walked up to Dadi now, what's this??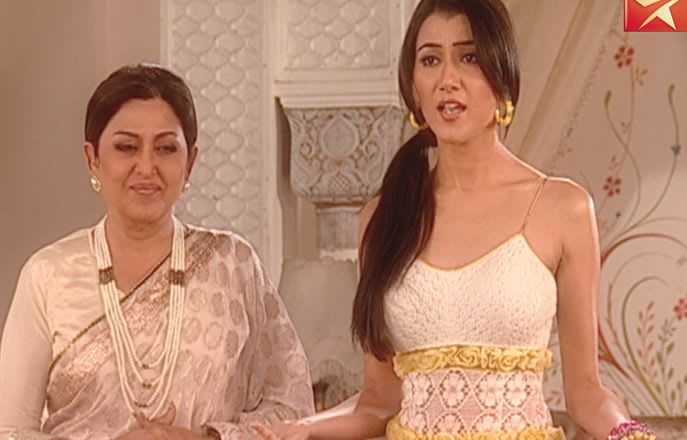 Asked all this to Annie?? Dadima said calmly turning to Annie who said clearly, Geet has taken the bet to cure Maan bhai, she lose the bet and so now she is marrying to bhai.
Madhu was furious hearing her, she walked up to her, you are her close friend and getting her married to this mental, she raise her hand to slap her but her hand was held in the middle by Geet, who answered her mother angrily, he is mental but I can't betrayed my bet, keep that in mind, she sniffed, believe me, she walked near Maan, facing him, I have accepted this marriage happily.she smile painfully.
Her mother grasp her arms again, and gave her tight a slap across her cheek, Maan wince a bit but didn't collect the courage to stop this furious lady.
Hit me as much, take my life , but I won't step back, Geet was getting hyper , she blabbered out angrily with wet eyes, I don't need anyone sympathy or any advice from anyone.
My savior is only that Lord Shiva, she looked at Maan, with his blessings and presence now I will wear my wedding chain, saying so she grabbed Maan's arms walking away with him .
Geet..Geet. her parents called her, she stopped in the middle, dared anyone come behind me , or else I will do some harm to myself. She cried and walked out of the mansion dragging Maan with her.
……
Reaching inside the temple, Geet began shaking the bells in the temple, who temple buzz with the loud sounds, Maan wince with her fury and voices.
Today, it's happened what you wanted to, she blasted on the lord shivas pind, looking at it with her red painful eyes.
Now you can dance happily and say to the whole world that geet has defeated finally.
Let all know your justice, how cruel you are, she wiped her nose again crying and holding Maan by shoulder, this Maan, being mad crazy he always walked into your temple and pray sincerely. Worshiped you his whole life.
But you stayed with close eyes , she shook her head complaining him so.
While Maan stood clueless, and upset seeing her angry and teary.
Kaise bhagvaan hai aap?? You are just stone!! What I asked from you? Money, property or any luxury..? She rolled on her knees infront of shiva pind,
I just asked from you little wisdom for the mental, which you didn't given to me.. she cried while Maan walked out and behind her resting at the pillar.
But you want to do sarcasm of me..she hiccups.
But one thing you remember , I have accepted Maan, I have accepted him, she blasted and turned to face him and smiled painfully seeing him playing with the wedding chain, look at him she got up walking near him, she sat beside him on her knees crying her heart to the God knowing Maan won't understand her pain,. My life partner, my soulmate, my husband, she cried Maan look at her pouting at her seeing her crying,
Our marriage has happened, he don't know this, he don't have any happiness, he don't know that he had one wife now, she complain to God crying her eyes out seeing Maan's confused face.
You may think, that geet has defeated, so her stubbornness will also vanish. She will break and regretting will surrender to you .
She got up furiously again facing the lord, but I am Geet, if I have lose one bet then I will definitely win the second bet, I will cure this mental she pointed behind her at Maan, and will live happily married life with him, not just one but all seven life ahead.
Just keep watching, she cried hysterically, I will live for him, she went on her knees again, will die for him, but surely win this bet. I will win mean win definitely.
to be continued…
Now what do you guys think gonna happen next. Any clues guys??
Let me see how do you guess next update..
I find your guys ideas absolutely awesome I again repeat it, and gonna used it in other FFS .
But you guys guess about next update..
Let me know, I am eager to know your pov..
Thanks to all for wonderful response to this FF..