He frowned and gave angry glares to the creature standing below at their feet, Lisa shook her tail looking at Maan's angry gaze, it was licking her feet making her giggled there by.
But now was getting scared from Maan's angry glares,
before he could bust on the poor animal, they heard Annie voice and Geet immediately pulled apart, making some distance between both.
Lisa.. baby..come here.annnie dragged her away from there giving angry glares to geet, don't know what black magic she has done on my sis, she muttered before walking away.
Geet heard that and felt bad, it wasn't audible to Maan , he walked near her, kya hua, holding her palm, she nodded in no and turn to walked away but he held her wrist , tum kaha ja rahi ho, he jerked her back making her collide to his chest, tumne mere sawal ka jawab nahi diya Abhi tak..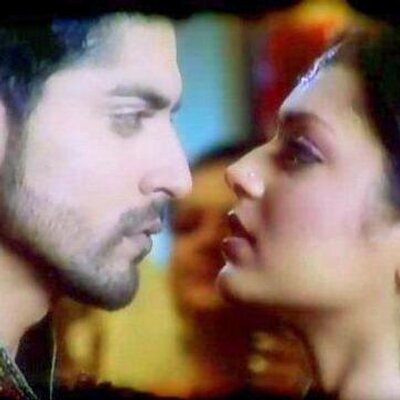 What!?? She looked up as he was playing with her hairs, pushing them behind her ear, why don't you want to stay here!?? And with whom you was talking??
Geet looked down, feeling upset again, it's Kunal, and before they could talk further, both heard Dadi's call for her.
…..
Kya kaha beta Kunal ne, asked Dadi to which Geet narrated her conversation with him.
No problem dear, jitna marzi chahe, aap yaha rah sakti hai, aur phir Hume bhi toh aapki achchi company mil gayi ab…
Geet gave her nervous smile, not sure how to react, she was badly stuck in the situation she couldn't change it or took her own decision.
You must needing your things from home, Dadi broke her thoughts,
Ji Dadima, I will go and bring it today. She got up, hum Abhi nikalte hai.
Rukiye bete, are you thinking to go alone.
Geet innocently nodded to which Dadi chuckle shaking her head, ek minute rukiye beta, she was thinking how to send her alone with driver also. After last night incident, she was not sure about her state of mind as well.
Just then Maan walked down the stairs greeting Dadi, who was surprised on finding him back so soon..kya baat hai beta, you are at home at this hour..koi kaam tha..
Yes Dadi, something very important, he looked at Geet,
Geet was herself feeling miserable she couldn't get his hint, she was lost in her own thoughts playing with the corner of dupatta.
Maan, can you do one thing for me, son!? Dadi pulled both of their attention.
Sure Dadima, my work schedule for the day has already changed, so I can give you few minutes.. he gave her few glances and this time she caught him eyeing her, her cheeks redden, she bite her lower lip making him groan inwardly with the sight.
It will take an hour, I guess..
What's it?
Actually son, Geet is gonna stay her for few days, and she filled him with the information, making him looked at her, now he remembers their talks and inside he was feeling happy, don't know why??
So just drop her at home and bring her back, Dadi turned towards Geet, Geet beta you go with Maan.
Ji Dadima.. both said in unison and then looked at each other, feeling thrilled suddenly with the thought.
As both turned around to walk out, dadi's words stopped him, Maan are you sure son, you will do this work!
Maan rolled his eyes, and he began to get irritate with her taunt, without wasting a moment more he rushed out from there but didn't fail to hear his Dadi laughter.
What's with this lady, always ready to make fun of me that too infront of people..he groaned inwardly and then look at giggling Geet who couldn't hold herself more, and bust into laughter, clutching her tummy,
Maan became more angry and grasp her closer as they reach the parking.
She still was giggling making him pout in anger, what are you laughing at so much??
I…just..she couldn't speak, then tried to stop her smile, Hume bas yeh yaad aaya ki dadima ne hume pataya tha aapke bare mein, she again giggled seeing his angry face.
What?? He blasted making her stop , she looked at him widen eyes, yahi ke aapko kisi ka driver hona pasand nahi, and she again giggled.
Now Maan huffed and looked at her smiling face, you wouldn't stop laughing!?? His eyes turning hysterical, she fail to see this in her laughing session but next moment her breath halted in her throat feeling his lips on her own, he was nibbling her wildly. She opened her mouth for him and he invaded it seeking her sweetness, he smash her against the car making her wince, he soften the kiss, so that his hold, holding her delicately, after a while he parted, now you remember Darling, never laughed on MSK!! He whispered huskily seeing her red face as he wiped his lips giving her lopsided smiled, and turned to take out his car.
Geet twisted her already swollen lips and fumed inwardly, how dare he.. she huffed following him.
….
Har kisi ko nahi milta
yahaan pyaar zindagi mein..
Khush-naseeb hain wo jin ko hai mili
ye bahaar zindagi mein..
Kunal heard the song lyrics as he drove be his car to reach the airport but his heart was restless fearing for something yet don't know what.
It's only matter if few days and it's very important for his company for him , his company is dream and he couldn't let anything come between him and his dream.
Just few days, and I will be back to you Jaan! He smiled reminding her complaints on the phone. I know you missed me, and is gonna miss me, but you won't say neither you realize it Geet.
Let me come back, main jarur hum dono ke bich ke duriya Kam karne ki koshish karunga..
He thought to himself with a smile unaware about the destiny's plans.
…..
Har kisi ko nahi milta
yahaan pyaar zindagi mein..
Khush-naseeb hain wo jin ko hai mili
ye bahaar zindagi mein..
Geet looked at Maan whos attention was on the road as he drove them towards her home.
She was about to turned towards window when suddenly felt him holding her hand, she looked up to find his hot gaze on her, as he slowly caressed her back of palm, teasing her senses. She tried to wriggle out but her jerked her closer.
Maan concentrate ahead.. she warned him with fake anger.
Wahi toh kar raha hoon, he gives her smirk.
Yaha nahi baba….waha, she held his cheek nudging him to look ahead , "on the road."
Whole drive he couldn't stop teasing her and making her red with his passionate eyes wandering all the while to her face, specially her lips while his hand holding her hand, not ready to leave her.
Geet bite her lips out of shyness, he jerked her closer, Maan…she gasped..
Don't do that..
What..
Yeh..he slowly pulled her lower lips, making her blush as she got the meaning of his words.
dhatt…leave me .she blushed and parted turning towards window. As she blabber to herself complaining about him.
How many times I have to tell you darling, talk loud , when you speak to me..
But I am not talking to you..
But you were selling about me, I heard you.
Geet twisted her lips , aap kab tak hume yu chidate rahenge..?? She crossed her arms on chest, turning her face away.
He chuckled seeing her cuteness, jab tak mera jee chahe Jaan..he huskily replied bending towards her to kiss her cheek.
Maan, plz be serious, concentrate on the road plz..
Alright, don't panic..
…..
Pyaar na ho to, zindagi kya hai..
Yaar na ho to, bandagi kya hai..
Tujh se hi har khushi hai..
Tere dam se aashiqui hai, jaan le..
Geet looked at Maan as both step inside her house together, he didn't notice but she did, her heart jumped in happiness, she smiled just adoring his face, as he looked around again checking her house.
Geet, pack your stuff, we will move then..he stopped seeing her gaze on his face, she was drooling on him openly, he smirked and walked towards her grasping her closer, pulling her out of her lost state there by..
What was you doing?? He teased
Nothing….she quickly recover herself , Hume bas yaad aaya, let me make coffee for you.
He couldn't leave her, seeing her attempts..
Maan, chodiye na…she whined
He jerked her more close if that's possible, tum jab aise kahti ho toh tumhe aur pass rakhne ka man karta hai,
She gasped then look down not bearing his hysterical gaze niether his so open words..
Mil jaayein hum to, sab kuchh sahi hai..
Phir is tarah kyoon hain ajnabee..
Not able to digest his words, how can he say something like that, ab aapko late nahi ho raha..?? She asked meekly.
Not at all, now I am waiting for my coffee, he said with a teasing gaze and left her to sit himself on the couch placed in the hall .
Geet smiled looking at him and ran inside to make coffee for him, her heart beating faster with anticipation, with the thought of his presence in her home, the thought was enough to made her shiver in pleasure, he is here for her and beside her.
…
Precap :-
Tu mohabbat hai, ishq hai mera..
Ek ibaadat hai, saath ye tera..
Jab dil se dil milein hai..
Phir kyoon ye faasle hain, is tarah..