Geet was really excited today, as she was going to angels home after a long while with maan accompanying her.
He watched her glowing face, and his heart felt that tug again, he wouldn't let any harm touch her, he sworn to himself looking at her angelic face, he would make sure to keep that smile intact on her beautiful face.
He pulled out red saree for her , Red.. significant their passionate love for each other, Red… enhance her beauty, matching with her cheek color as he helped her making her wear her undergarments. It has became regular routine now for both of them. Although Geet couldn't stop blushing with those touches and kisses on her body from her hubby.
He then took a saree to wrap around her, seating on his knees he did her pleats properly…hooking it in her skirt.
Mr.khurana became expert in this..she teased cheekily making him chuckled as well, I have to sweetheart, or else who will look after you…
Geet blushed with his teasing gaze..and then he kissed her stomach, fetching kick from his angel.
"Dad loves you and your mom, angel.." he caressed her stomach brushing his fingers.
Geet was just admiring him with wet eyes, she quickly wiped it off before he notice.
He shifted her pallu covering her belly..then got up, tiding up her pallu, coming behind her, you look awesome & sexy in saree, sweetheart..he whispered huskily making her shiver. She slowly turned in his arms, hearing his whispered, I love you so much..
he inhaled her scent, burying his face in her neck, and then began smooching her skin.
Maan…she moaned melting in his arms & hugged him tight. His strong arms were her safe place , she could stay there for eternity.
…….
It's been an hour, Geet was busy with kids, she was also tired by now, Maan kept watch on her now & then from the distance..
Just then his cell buzz with office number…
Geet got up to go, when one of maid their stopped her almost holding her wrist, rukiye.aap nahi ja sakti..
Kyon…Geet freeze on her place, she turned to watch at Maan's side, he was having his back to her now talking on phone.
Ji, mera matlab hai, meri beti aapko bahot pasand Karti hai, woh aapse milna chahti hai,
Kaha hai, aapki beti!?
She can't walk, apahiz hai woh..she was crying saying so, can you plz come and meet her.
Where?? Geet was melted,
Ji bahar, his few steps away..
Chaliye….
Geet walked out informing warden as well, her guards follow her in distance,
The woman who was taking Geet out, stopped suddenly with fearful eyes she informed Geet, woh ma'am, woh log..
Geet turned behind to see few guards walking behind them, she frowned then realized it must be Maan's doing.
They are my guards, they won't do anything..Geet console the woman.
Phir bhi memsaab, my daughter is too scared from people, can you plz asked them to stay here..
Geet wasn't much convinced but she agreed at the end thinking about the little girl.
Once, she was away from the orphanage area, she started feeling uneasy, kaha hai aapki beti..she looked around there was no one around.
Muze maaf kar dijiye memsaab..!?? The way mam cry holding her mouth.
Geet was confused, what!?? But before she knew anything she felt huge shadow behind her, and the man keep handkerchief on her mouth ..
Geet was horrified but she couldn't get a chance to think even getting into unconscious state, but before she close her eyes she saw his face,
MAAN!!
She whispered before closing her eyes.
…….
Maan finished the call, and turned back to found no Geet there.
Geet..!?? He walked inside, and asked from the warden, who informed him about the woman.
Shitt.. he was alert now as he rushed out to find her, to his disappointment he found the guards standing on their places,
you guys not following her..!?? He blasted..to that guards explained him about fiasco and now he was horror stuck.
He immediately make few calls taking everyone on toe, soon he was going mad , restless, as he searched each hook & corner of the orphanage, coming back to the warden he asked from her as well.
Ek aurat aayi thi, and she narrated him what happened,
Damn..he hit the wall harshly, bruising his knuckles but this pain was nothing before the severe heartache he was feeling now.
Kaha ho tum..Geet??
……
She groggily open her eyes, there was blankness for a while before sight get clear to her eyes,
She winced and pushed herself back with the sight she was greeted, it was dark garage, only lighted with small bulb.
What is this place, and how did I landed here?? She tried to think, her head was still heavy as she tried to get up.
Ahh..she was going to hit the floor but before she could harm herself, two strong arms held her, protecting her from the fall.
She closed her eyes feeling scared for her baby, as her hand wrapped around her belly, one hand holding the stranger who was looking at her, observing her keenly.
Feeling safe she slowly opened her eyes to come face to face with him. She gasped in initial shock, then smiled happily hugging him tight, Maan..
The stranger looked on confused at her, he pushed her apart softly without hurting her, as he got to know about her fragile condition seeing her huge belly.
Maan…! She frowned and look at him.
It's Guru..
Geet gasped , her mind was already hazy to grasp the situation, why are you saying like that.you are my Maan..she walked closer holding his arm,
I am not , he remove her hand , pushing her away slightly, seeing her still confused, he began, for your information, you have been kidnapped, and I am the one who have done this .
Her gasped, tears already filling up in her hazel eyes, she now stared at him, acknowledging the difference between both..
Her maan doesn't have this huge beard or long hairs, even he looked shabby unlike her handsome hubby.
Then his words rang in her head, she has been kidnapped.!?? How.. then the memories stuck her, back in orphanage..
That lady..her girl .
That was all our plan.. he smirked, pulling out the gun from his belt, as he began cleaning it.
Geet's anger rose, she marched forward to slap him but before she do she fainted in his arms as he catch her again in a moment.
He stared her innocent beautiful face for a while, then at her belly, she is pregnant..she was, and he wasn't aware of this, or else he had not taken the contract of her kidnapping.
It was when he took her in car, he notice it.but then it was too late, his boss already has paid him huge amount..and guys with him who are non less than criminals wouldn't have leave her, if he had done also.
But now looking at her, his heart became restless, why did someone want to kidnapped her even..maybe old rivalry with MSK,
He tuck few tendrils of her hairs behind her ear, gaping at her beautiful face, then lifting her delicate self in his arms, he took her towards small shabby bed place there.
……
What is the current situation,?? Inspector Abhijeet asked from his staff..who was in charge to find mrs Khurana.
Hume woh aurat Mili hai, jisne mrs Khurana Ko bahar bulaya tha..with fall tells about her daughter.
The woman came crying, pleading them to forhlgive her.
Maan just got up furiously, ready to strangle the lady but hearing her words made him stopped, as everyone listen to her,
I am sorry, sir. Forgive me, but I was helpless, they had held captive my daughter, and bribe me with money as well.
You should have informed us the police.. abheejit blasted.
They warned me to kill me child if I didn't do as per their saying..the woman crying..
Kuch pata Sakti ho un logo ke bare mein.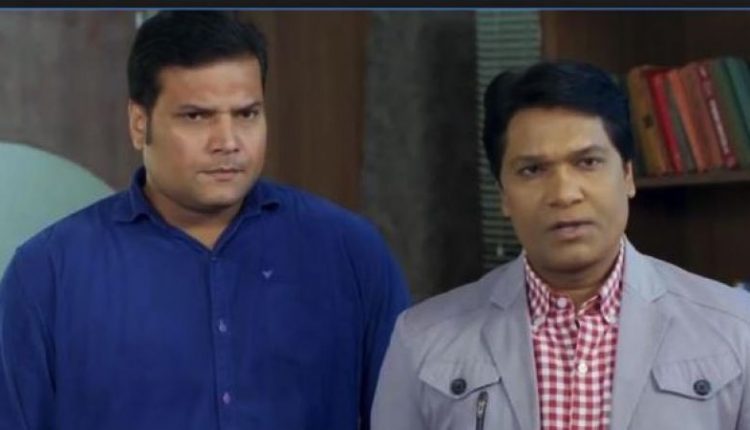 And their investigation began, with Maan was losing his patience, he was worried for dadi as well,who was asking to bring back geet continuously.. her health was also disorienting being tense for her only grand DIL's safety.
How can he seat back and just listen them, he got up furiously.
Maan wher are you going, ?? Asked Abheejit
Meri Biwi Ko dhundne, I can't damn..seat here ideal and let her suffer in hell..pata nahi kaha hogi..kiss halat mein hogi.. God dammit..she is pregnant, Abheejit! He blasted and without waiting for moment more dash out to find his soul..life.everything.
If she was there, he was taking a breath but if she wouldn't be there, he won't able to live.
…….
to be continued…
I know so small update..but I feel like stopping here, you know me guys.

I can't go further from the point where I feel to stop.
Now further in next chappy..
Few more chapters, then it will end..
I will try to give long updates but you tell me, it's okay for you..won't you guys get bore with long chapters.. do let me know in comments.
Thank you for comments and likes till now on this story..
I see most of readers left this story or all like work..it really make me sad.. did I left my writing for any reason then why readers left..
I type each update for my readers, in hope they read , loved it and response.
Or else, this small amount of comments and likes also make me upset, still I update for my regular readers.