Part 47
She stood there devastated feeling nothing but numbness in her whole body as all dirty stares continue to creep all over her body.that was nothing left to hide to there hungry eyes.
Its,20000. I will give you. Let her come to me. One of the man asked desperately in a need.
No..give her to me, heera bai didn't you promised me that.other one argue.
I will give 35000 give her to me.
And there arguments started where heera bai stand there smirking at her victory of having geet.she will get whatever amount she wished.
100000..I will give you.
A voice roar from back of everyone stopping everyone at there places.
Heera bai eyes glitter in hunger of money as she stared back at one well built man looking from well reputed family standing there spitting fire with his at every one In the hall.
Geet, who was standing numb from long time snapped her head at once to hear her desirable voice.voice of her saheb.
She felt her she is breaking down in pieces .her tears flows down on her cheeks like a river breaking the wall of her   eyelids. Not wanting to stop now when her saheb was there to wipe that now. Her face glow up with a soft smile appear on her dry lips. She just wanted to be in his arms now….wanted him take her away from this selfish people far away where there maybe some peace and solace to her aching heart.they hurt to no extent even more than her family. She quiver, shudder as if some life come to her along with her saheb.
Now it started to pain her body which was before in numb state.there ruthlessness, her head started feeling heavy to her , her stomach groan in need of food. Her all body felt as if it has been cut in million of pieces.
She rushed at once towards him forgetting all her pain,  surroundings, people staring at her shock.just wanted to be in his safe arms.once she will be there, then no worries at all.
Maan felt her body crushing to his one hugging him as if caging him in her arms to never to let go.  Her hands wrapped around his neck hanging on him asking him to take her in his arms and he did, not able to resist more he just engulf her in his protective arms.his eyes got wet unknown to him nor he realized it.
He came back to his senses hearing that b**** woman shouting on her men ..
That b**** women had torture his lotus.he knows by  now.
Get them both. ..heera bai shouted again.
Damn…maan murmur frustratingly.
Seems like they have come to know now.
His all plan fail. It's his plan to go along with them sometime off course getting geet in his safe guards. He has plan then called to police give all of them in custody not before giving them his torture of hell for torturing his jaan. He never wanted her to be stuck in some embarrassed  or people could show there finger on her character.
He looked at her holding her tight to his arms he felt her  body giving up in his arms.he at once turn alert, and pulled her body to look at her she was unconscious.  His blood boiled in pure rage , they have torture her enough , now it his time to give them back more than they have imagined.  They have to face MSK now.
He Snap his head towards all goons standing in line ready for fight.his eyes spotted fire to see all of them staring at his lotus hungrily. He wrapped her body closed to him hiding her in his protective arms look at them,  his look could kill .and goons literally take steps backwards.
He take step forward to fight with them all keeping geet on one of the couch.
He beat them black and blue not leaving  any one of them.break there all bones giving numerous punches on there eyes which dare to look at his jaan. The goons turn almost dead on the place while maan was not having any single scratch on his body leaving heera bai shock along with all clients. They literally run from there but not long as police come and started to take them along with laying goons with them.
Heera bai come out of her shock and started to take geet's unconscious body with her waking her up from her conscious state. She stared at her horrified thinking her saheb was not there anymore it was a dream…
Maan turn at once hearing geet  wince. He marched towards them angrily but stop dead at his place seeing the scene as she take out her hidden knife and kept that on geet's neck.
Don't come near…or in will cut her her into pieces she threaten with so much venomous in her every gesture. maan stop rooted on his stop not daring to take one step also.
Saheb. Geet gasp in happiness seeing it's her saheb in reality standing infront her.not her dream.
Yes ladki ek kadam bhi aage badhaya to Teri khair nahi. She stopped her seeing her going away…
Aah.geet gasp in pain as heera bai thrust the edge of knife in her neck scaring everyone standing there.
Maan at once rushed to them seeing this and pulled out the knife from her hands harshly taking frighten geet in his arms as lady police take furious heera bai in there custody along with her other partners.
Tune muzse panga leke achcha nahi kiya chore.heera bai shouted all angry…aur tu she turn to geet. …tuze maine dekh lungi ladki…she darted furious glares on them before leaving along with police.
Geet shivered with extreme fear as the way that lady threaten her and her furious eyes.she knows she is very dangerous. The way she have treated her whole half day. It got permanent on her mind and innocent soul..she hide herself completely in her saheb's arms sobbing loudly finally all breaking up her fears insecurity pain in his safe arms. She clutch him tightly for her dear life.
Maan engulf her fragile self in himself giving her much needed warmth and safety. Geet relax, it's ok…you are fine now..he try to make her calm..patting her head which was buried inside his neck crook .
After sometime he pulled her to leave as this place is not good to stay at midnight.
He looked at her to see she is closing her eyelids. It's been so much for her to take all the torture in one day only..he silently take her in his arms and come to his car and leave the place as soon as fast. Not wanted to stay a more second where his jaan had been torture so much.
Adi…make sure they never come out of that hell.you have to take care of that.he threatened adi on the phone before hanging it up.
He looked at her. She is sleeping beside him looking all worn out.he didn't led her on backside.not wanting leave her for a second. She is safe here beside him.he thought looking at her innocent heart shape face. She is looking so innocently. How can he thought of her behind his loss. His hands reach to her sliding her hairs behind her ears he continued his staring along with driving with one hand.
For sure she is distraction for him or anyone be it even God or saint himself.
As the thought cross him he remember there dirty glares on his lotus his fist tighten in anger, speed increase making her fall in his arms.he at once slow down his car looking at her she stir in her deep slumber and looks at him with her half close eyes.
His gaze travel down on her neck .and he at once pressed the break hard.
Damn..how could he just forgot about this. Before he take next step his phone ring loudly .he glance it to see it dadima's name displaying on it..
He wanted to avoid it but take it finally. Thinking she will unnecessarily take tension for her geet..
Ha dadima. ..geet mere sath hai..aur thik hai..hume ghar aa rahe hai..aap so jaiye ab..
…
You are not going to stay awake waiting for us…just goes to bed.or else I will never bring her home. You understand that.he threaten her finally seeing her not listening him .
Maan aap aisa kaise kar sakte hai..humari bacchi ko ghar liye bas..
So that what I am saying.  I am bringing her home now.it will little late to reach.so you just go to bed it's not good for your health.
He sigh in frustration as he hang up the phone .making that old lady understand its. Tough thing in this world.she behave like child sometime.
It's her worry for geet.she never breakdown that before she did for geet.he really wonder.what magic geet had done on his dadima that she worry this much than her own grandchild. He felt J with that thought.
He look at her laying in his arms not worrying about anything Not even her injuries. He take out a aid box and cleaning her blood treat her wounds. She wince in pain as reflex he was all over her blowing on her neck softly. She sigh in pleasure with her close eyes. Maan got lost in her aroma and buried his face completely in her neck leaving wet kisses on her neck, she clutch his shoulders tightly sticking her face more to him..maan brought his face out brushing along her soft cheeks to hear her soft wince yet again. That monsters have really torture her to extent that her whole body seems to having injuries. Glad that he reach on time..the further thought not even daring to come to his mind. He shiver with anger as his hold tighten on her bare waist.its all bare more than needed or her regular sarees. His all started to burn in anger.what that damn people had made her wear .he look at her now tip to toe clearly.
His eyes turn passionate to see her  bare with tight blouse making her femininity look prominent. Her saree was transparent which was bound on her waist down her hips.  She is looking damn sex  and hot.he gulp hard his desires taking in her appearance which  was  looking grow up woman laying in his arms.
His gaze run up on her soft cheeks which were badly hurt.and along her soft petals. .they have badly harassed her.his anger not wanting to reduce seeing her condition. She is already innocent one .how could they think of even. He closed his eyes in pain and frustration, bang his hand hard on the side door and she snap opened her eyes,frighten to hearing the loud banging…
Saheb. She gasp scared at what was sound for. .
Geet.i am sorry jaan.. muze maaf kar do. .I really behave harshly with you..Finally his feelings come from his mouth as he cuppa her face in his hands looking at her dearly, his eyes hold pain and frustration .
Saheb, , aap…
Shhh. .kuch mat bolo..
He silenced her keeping his finger on her soft petals.

She looked all confused still staring at him.
He treat her wounds on cheek and lips .she wince softly. And he is again blowing on her cheek and lips .his body heating up with desires along with anger for what these monsters have done with her.
He at last place his rough lips on her soft ones.licking them sucking them softly.

Mmm. .she sigh softly feeling like heaven with his closeness.
She taste so sweet like herself. He thought. Tasting her like candy.
Her stomach grumble loudly breaking there soft kiss. Telling him if her hunger.
Her cheeks turn red in embarrassment.
Maan at once pulled out little surprised and it yet again grumble this time more loudly  and maan did understand but can't control his soft laugh to leave his lips. He laugh softly seeing her little face all red in embarrassment  and she pouted cutely seeing him laughing at her.
Geet , bhook lagi hai.he asked controlling his laugh but little smirk not leave his face.
Ha.she reply still blushing all red.
God.he wanted to eat her now..
Hume bahot bhook lagi hai..humne subah se kuch nahi khaya ..waha.. and she remember all the events from morning turning her eyes wet yet again.

Geet..ab hume ghar Ja rahe hai.to rona band karo.ok.he softly said her wiping her eyes. She nodded slowly still pouting..

Let's go.tumhe kuch khane ke liye dhoondte hai.
Par hume yaha kaha milega,  hume to ghar jana chahiye na? She innocently query him.
Tum chinta mat karo , main hoo na.
Par itni raat ko..hume ghar jake hi kha late hai..aur bahar ka khana sehat ke liye achcha nahi hota hai na..Saheb. .
She make him understand with her own little knowledge unknown of his power.
Geet .ab bas…he said with finality making her shut at once.he turn towards her to see her pouting yet again making his desires high with her innocence.
PART 48
He stop the car and look at his side to see her sleeping peacefully on his shoulder gluing him.he had cover her with his shirt but still she is feeling cold shivering little. He stare at her face sometime can't able to divert his gaze from her beautiful and innocent face. He remember how she ate all 4 sandwiches in one go without break.after continuous chanting that she didn't like it but her hunger from morning made her to eat her dislike food.
He feels that anger rushing through his body remember a torture they make her go through. He come out of his car at once not wanting remember that again..
Geet stir in her sleep but not wake up,so tired to do so.
He pick her in his arms and brought her in outhouse in her room. She was snuggling in his arms like a child. He led her down on the bed.she is not willing to leave him holding him from his neck. He somehow made himself free from her clutch and cover her with blanket taking his shirt. His take his all control to not look at her almost bare body. He was going to leave when heard her murmur in sleep as if muffling her cries.he was at her side that instant. She was crying in her sleep .
Geet…Geet…what happened. ..Geet aankhe kholo…he patted her continuously to wake up but she didn't. She is still muffling in her sleep. 
Geet.. Geet… she at once jerk opened her eyes breaking in loud cries..
Geet..he gasp at her sudden break down take her at once in his arms he patted her head softly .she snuggle closed to him hugging him tightly. Geet…kya hua.shant ho jao..
Wo…woh…hum…humne…dekha. …woh…aurat…woh…gunde…woh…muze she cant able to speak in her sobbing and frighten state.
Shhh. .shant ho jao..koi nahi hai yaha pe.hum yaha tumhare room main hai…
Nahi. ..woh…hume. .unhone hume bahot maara. .she finally let out the truth she bear there infront him looking at his face with her crying eyes.
Humne to kuch bhi …nahi. …kiya…na…unhe…phir. .kuyn..
Saheb. ..unhone hume kuyn…m..
Shhh…Geet, kuch mat kaho. He looked at her face all wet with crying.
She hide her face again in his chest and cried her heart out.
It's became unbearable for maan now.he clutch her tightly to himself.dont know why his heart crying along with her. He was definitely not gonna leave them in peace now…he will give them lesson of there life.he groan in anger.
Her sobbing slowly reduce to hiccup,and then it's subsided down making all room silent. He look at her pulling her to see her staring at him innocently. Sigh..he sigh in amazement at he thought that she must be sleeping now .
Geet, so jao ab.bahot der ho gayi hai..
Nahi…hume Neend nahi aata rahi hai. She reply him with her meek voice. .
Yaha let jao apne aap aa jaegi…saying so he make her lay down but she didn't leave his hand still clutching it tightly staring at him continuously. He seeing her condition seat beside her , she came crawling in his arms sleeping on him half.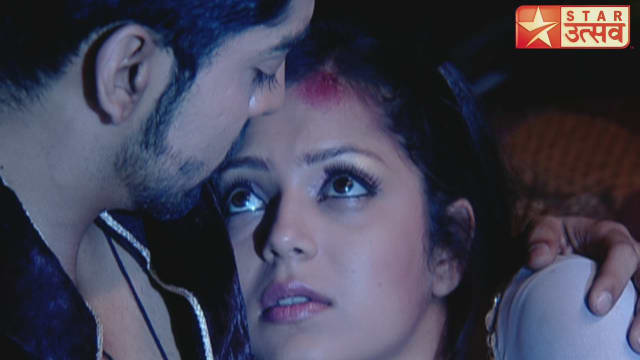 He chuckle softly making her look at him.
So jao geet.. she closed her eyelids but as soon as she closed them that soon she opened them.
Kya hua Geet ? He saw her snap opening her eyes as if seeing something bad.
Hume wo sab…hume dar lag raha hai.
Neend nahi aa rahi..
maine hoon na yaha. To tumhe darne ki koi jaroorat nahi hai. He make her assured in his MSK way.
She tried once again but that torture, that pain , agony not leaving her innocent mind. Few tears make there way from her eyes.maan wiped her cheeks and nodded his head as if saying her don't cry.she rubbed her wet cheeks along with her wet nose to his vest and his bare chest also get wet in that.
He at once jerk her realizing what she did, geet what are you doing…he asked her flabbergasted at her childish behavior, she just wiped her nose on his vest..
Ha..she gasped in fear. .she just in flow did that but now her saheb was looking at her in anger.
Wo hum…hume maaf kijiye. Humne galti se.woh.she stammer not knowing what to said her cheeks burn in
embarrassment .yet again she did a blunder to make herself embarrassed.
He rushed to washroom to clean himself.
Hey babaji, geet,, aap bhi na..har Waqt kuch nahi kuch gadbad karte rahte ho aur phir ye sab ho jata hai.she continue to scold herself till then maan come back now half bare.
Geet.Geet…he called her but she was busy in her own world.
Geet .he finally shouted to get her attention and when she did see him in this state .she gasp sometime didn't know what to do just gap at his body and suddenly turn her back towards him closing her eyes with her hands. Hey babaji, Saheb aap aise..she stammer.. maan understood her hidden words realizing her condition he smirk.all girls and women there out waiting for this chance but here his lotus is turning her back towards him.thats what make her different from outer world. His lotus is so innocent to understand this.now he knows her same behaviour on previous there contacts. And he in his big ego had blasted on her. But his thoughts stop the moment he glance at her bare back. Her blouse is all open with her waist too.his desires got high with her flawless beauty.he forgot all other things and take step towards her.
Geet felt his warmth on her back.she closed her eyes leaving sigh of pleasure as his hands bound her in his arms from backside. Suddenly she snap opened her eyes at what she is doing…
Saheb, ,aap pahle kuch pahn lijiye.she somehow managed to blurt out with her current condition.
Geet. Pahle aankhe kholo..he asked her rubbing his hands on her bare stomach.
She gasp in pleasure. .
Hum …nahi…pahle…aap apna shirt phn lijiye she asked him to do do trying to control her all reaction her body was giving her.
Kuyn…tumhe kuch problem hai.agar main aisa hi rahna chahoo toh..he teased her further both with his talks and doings as his hands started to go upwards..towards her b*****.
She snapped at once running to balcony of her room..Hey babaji. ..
Maan left a soft chuckle and Wear his shirt not wanting to tress her more than already she was.
Geet, he called her covering her completely with shawl he turn her towards himself.She smile seeing him cover up now.he nodded his head in amazement at her reaction.
Geet, muze ek baat batao, tum khurana mansion ke bahar kuyn gayi thi aur kaise.he asked her turning serious.
Geet flinch once again remembering all the events from morning. His shouting, scolding, then that butterfly then those goons take her inside car.all the events started to run infront her eyes like she is watching them now happening with her.her tears flows like river.
Geet, har baat karni solution ye aansu nahi hote.you have to fight with it all may comes with bravery not this useless tears.and you are too innocent geet in this cruel world. He make her understand along with his feelings come out for her
His hands cupping her face ,eyes staring at her lovingly.
She got lost in his chocolate eyes but soon she remember something and come out of his hold.her face showing hurt, pain, agony eyes blaming him of all this.
Par aapne hi hume data tha na.aur phir hum to sirf aapki naukrani(maid) hai na.
geet, he try to stop her but she was again in that moment remembering his harsh words. saheb, phir kuyn hume wapas laya wahase, agar aap ko hum nahi chahie the aapke samne to,kuyn saheb.. she asked looking in his eyes leaving him dumbfounded by her queries which make him realized how deeply he have hurt her and she had hurt by his rude behavior or words. and he knows that was a reason for her to be out of khurana mansion gate, and to be kidnapped.
he looked at her innocent face staring at him asking him questions with her hazels,which answers he himself dont know but one thing is sure that his anger and words had hurt her to that extent, that all this happened …