Maan was furious beyond, as he shut the door with a thud, scaring the hell out of Geet. She was lost till now sitting silently but the loud voice jerked her back to reality, she looked around herself then him & everything came crushing down.
Next moment, Maan felt her soft body crashing into his hard one.
Please.save me..Maan.. she was shivering like hell, Maan tried to jerk her off still angry for what happened.
What happened now, ?? And sometime before cat caught your tongue!??
Geet was only sobbing, trying to hold him,
Stop It!! You are safe now, his voice died the moment she looked at him, with her moisten eyes,
Seeing her innocent hazel eyes asking him, he confirmed her by nodding his head with soft expression on his face.
Tears well up on her cheeks making his heart restless, he wiped it off softly, don't cry now..
And she threw herself in his arms again, he pulled her on his lap adjusting his seat.
Geet cried for a while trying to comprehend what happened to her & what would have if he wouldn't have been there to saved her on the time.
Just the thought was enough for her that " he saved her dignity today" not just that but he saved her life, or else she has been dead by now, that made her hugged him tightly. She buried herself completely in his broad body, trying to hide herself in his securing arms.
Maan engulfed her shivering body in his arms, rubbing her back, not having any word to sooth her, for he didn't do it before.
Geet clutch him tight, almost crushing his shirt in a fist, she was so damn scared, & trying to feel safe by staying in his arms.
Geet…it's okay.. it's over now.. he tried to peel her off but nothing work, ghar nahi jana..
And that worked, slowly and softly he felt her moving away from him, her hairs stick to his beard, he slide them off, caressing her cheeks, pulling out his hanky, he offered her but she wasn't in condition to make any move, sighing he himself wiped her face, but more tears spill out seeing his gesture.
Keep it with you, you need it.he handed her hanky with serious face.
Geet left out chuckle between her tears, making him astonished.
Arey.. are you smiling or crying..?? He asked amused
Dono.. she replied pouting her lips ready with another flow of tears.
Good! He sighed not sure what to make out of her always strange behavior, he started the car.
You know I hate crying girls..women only know to shed tears.
He was driving looking ahead, stealing her gazes, she was still crying silently now hiccuping, but looks at him pouting her lips.
Maan chuckle inwardly, why didn't you scream when those goons have gripped you.
I ..was….sob …..scared….my voice…was…not ..coming-out..
Maan stopped the car, and fetch water bottle from back seat offering her .
Geet sipped few drop feeling better, she rested her back on the seat and soon drifted to tiresome sleep, her head was falling , Maan pulled her closed, he noticed her torn blouse, and bruises and stopped the car again.
Anger was raising in him again as he pulled out his phone, dialing some numbers ..he made the arrangements for the goons to be behind bars without Geet's name being leak.
He was just applying antiseptic on her wounds, when Geet winced & opened her eyes, seeing his face so closed she was startled,
Maan was actually blowing her wound softly seeing her frowning when she opened her drowsy eyes.
Shh…don't move, he pushed her back when she tried to get up, & continued his work.
Done!! He moved back after a while , Geet then noticed her wounds, and torn blouse,she was so ashamed, clutching her arms together, she remembered the happenings and her face became gloomy again.
I think you should cover yourself!! Maan said seeing her again turning sad,
Geet then realized and wrap herself completely in her sari.
There car was moving when all of a sudden Geet saw kunals car passing by.
Kunal!??
Maan looked at her,
That was kunals car, woh..
Call him..Maan offered seeing her confusion
Geet tried to find her cell, it was broken , Maan give her his cell dialing kunals no.
…….
Kunal was getting worried for his wifey as the time passed, shayad abhi bhi gussa hai muzse, that's why didn't took my any calls , it's my fault, I went over board worrying for her.
He had turned his car to her office i.e.KC to take her back to their home but reaching there he found the office empty, getting info from security only made him worried, so he took the route back to their home, to search her.
When his cell rang,
Maan!??
Thinking a while he took it, hello..
Next moment he pressed the break hard, hearing her voice!
Geet!??
……..
Maan stopped the car, seeing his car stopping by and he rushed out worried for his wifey.
Maan watched the scene, as geet slowly got down, she was restless not willing to move ahead.
It was strange, as he thought, any girl on her place would just rushed to her husband and hugged him. His thoughts broke seeing Kunal pulling her in his arms, he was looking scare and worried for her, tum thik ho!?? He cupped her face, Geet just hmm in response not even once looking at him not after what happened with her in office or on the road, she shivered but inside car..with Maan!??? She turned to look back seeing him still inside car, he made no attempt to got down or meet Kunal atleast.
Kunal follow her gaze and asked her, Maan was going to drop you home?? Kya hua??
Geet wasn't able to answer, she cried remembering the events,
Geet!?? He wiped her tears, crushing her in his arms, patting her head. He walked towards Maan's car taking Geet by his side.
Maan!??
Take care of her!! Maan replied before he could asked more, only looking at Geet , his heart began beating fast seeing her so much broken. Wished, he can console her but now he can't..
What happened!?? Kunal was impatient as he hugged her tight.
Maan narrated in few words, & asked him to leave now, as it's not safe place to stop ,
Let me call the cops, first they should bear the for their crime.
No need!! I have done that, you can be assured.
Geet looked up at him hearing him, small smile touched her lips only for him.
Kunal thank him heartily, you save my Jaan, Maan!! I am really obliged to you!!
Maan's hold tighten on the steering somewhere not liking his words, he looked at her, she was looking at him,
Without a word more he started his car..Kunal took her back,
……..
A day passed, Geet was trying to forget the incident but it's not easy for her, although Kunal was always taking care of her but at night, the memories came to her in the form of nightmare depriving her off from sleep.
Next evening,
Geet thought to read the book to passed her time & to keep her mind busy. And she somewhere getting engrossed in the love tale. Smile form on her lips reading the beautiful scene going on, she was so lost in reading the book even fail to notice him walking inside.
"Rajat saw his wifey engrossed in the book & he slowly walked towards her, she didn't notice him, when all of a sudden he came from behind where she was sitting , and kneeling down behind her, he shower those her favorite plumeria flowers in her lap, "[ the scene from book, geet reading]
Champa!! Geet exclaimed in loud voice as she jump on her place, all of a sudden seeing the fantasy from the book coming alive..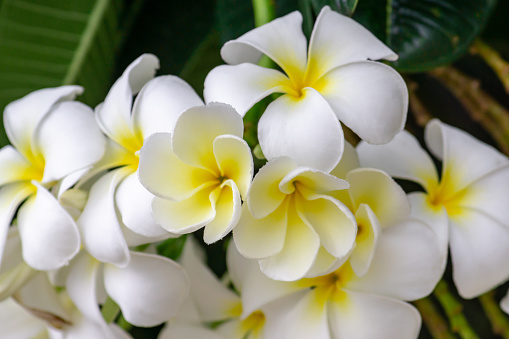 She took those flowers in her palms, bending to smell their fragrance.it's fav. flowers, looking behind she found Kunal standing there with wide grin.
You brought them ..!?? She was still lost in the book.
Hmm .you loved them, right!??
Hm..Geet nodded, then.. question pop out from her mouth, "how do you know"
Tumse pyar karta hoon Jaan, !!
Geet was speechless, always he confessed his love but she fail to recognize, even couldn't able to react.
She just smiled at him , thank you!!
Dare you say that word again, Geet.. I am your husband, I have right to make you happy..
Geet lower her head , feeling somewhere guilty for not doing the same for him.
Can I!?? He asked unsure..
She looked quizzically
He slowly approached her, putting those flowers in her bun, taking Geet by surprise.
……
Maan was restless without her,it's only two days still he couldn't rest in peace, he thought it was for his own good too to grant her leave, so that he could away from her, & get control over him.
But she couldn't neglect the work, damnit!! He gave a reason to himself, she needed to assist him in every next meeting.. those bunch of files, only she could managed, as she was managing from last six months.
Next Day, Geet faced his anger for the leave he only granted to her and after knowing about the incident also..
Still!?? Geet couldn't believe this man, can't digest his behavior
To be continued….
©Mugdhaa M.
Do like & comment, never know when I put PWD protected update,

you know guys when need arises I will do that, so beware before..
And I don't know why IF is making my thread as mature content, I edited that, still then..I am frustrated with new IF , you guys need to log in to see this story thread..
It's just for my readers I have to bear IF, I am posting here link of my FFS, or blog is much better.
You guys, do like & comment wherever you prefer..