PROLOGUE
Happy Diwali, Jaan!! 
He came up chirping like always, taking her in his arms from behind.
She screamed in Joy.. squealing with happiness..leave me , I have to still arrange diyas around whole place..she whined
He slowly put her down, grazing his hands on her soft stomach, then going up her arms.
Stop it!! I have work to do!! She chided him with a shy smile.
He left her obliging her, and she started putting diyas around Rangoli.
He looked at her bare back as the blouse held just one knot behind, making him restless. However he couldn't approved, he couldn't object her anything.
And now there is no one around beside him, then there's no problem for him.
He adores her for a while smiling, and then bending down..removed that clutch from her hairs, making them false down on her back.
She surprised, looked at him,I am not able to do the work properly & what you did..she pouted looking more than beautiful.
He chuckled kneeling beside her, I am here at your service, why to worry..Mrs.Khurana!!
Geet felt the chill running down just hearing her own name..she don't know yet..why this always happens whenever she being called by this name. Reason..somewhere she knew..but always shrugged off like always.
Is that so…Mr.Khurana!?? then come on..now no back off..saying so she pulled him down almost making him fall on her accidentally..
Both led there for a few seconds, with him on her , lost in her beauty which was shinning in golden light of diyas around them.
It was she who pushed him slightly to pulled him back to senses.
Oh I am sorry Jaan.. tumhe lagi toh nahi .
It's okay..I am fine..now will you get up first hubby ji.. she teased naughtily.. and he get up not before giving her peck on her chubby cheeks making her blushed furiously.
I didn't french kiss you on lips & you blushing like this..hayyee..he dramatically put his palm on chest.
Dhatt.. Dramebaaz..get up, get to work fast..
Yeah…hurry up, we have to leave for Diwali party..
Party!??
She confused asked as both began to adore their Small bungalow with diyas and lights.
You forgot!?? Dadima has called us..
Her hands stopped , as she looked at her husband with wide eyes.
What!??
Nothing..let's hurry then..we can't deny Dadima!! She softly said.
Obviously Sweetheart!!
He pulled her in his arms suddenly taking her by surprise..
As he bend forward to seal her lips, she slapped his lips, blushing furiously leaving him startled..taking the chance she made a quick run from there to get ready… leaving him smiling behind.
Happy Diwali , Guys
Kaisa Laga surprise..
thought to surprise you all on Diwali Occassion..
Happy Diwali!! Again.. and take care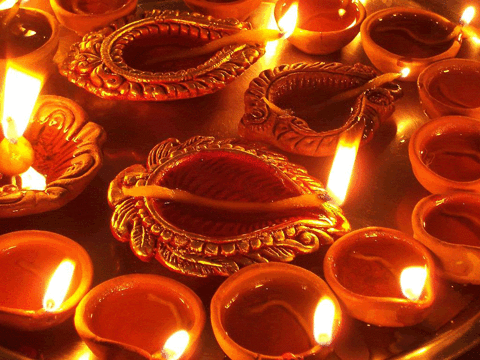 Yeah..forgot to tell you, I want 50 likes to this one, after that only ..first chapter will be updated..
This time I am damn serious..I will wait and then only update..
Let me know, how's it!??
and…