Geetanjali was married to the King Samrat who had married to her just after falling for her beauty at the first sight.
But the jovial & bubbly girl inside died after getting caged in the Royal Palace.
However she respected and admired the king & their relationship..
Samrat, never tried to consummate their marriage ever, coming into his mother's lie about horoscope.
The distance between both kept increasing resulting in breaking Geetanjali day by day.. she was bound to remained aloof caged in the boundary of the palace just because she was Queen…
She was kept hidden behind the Palace walls.just craving for the Love.which she was deprive from her childhood.her craving had turn into her unsatisfied desires of the women that wanted to get full fill. But her husband never cared leave her unsatisfied.
Not soon, MSK step into her life for the business purpose and those cravings & desires soon took a shape of Love for him.
He was also floored by the beauty of the Queen about whom he had heard always.
The attraction taken place between duo so strongly..
There was jealousy , lust and more than that for Maan.. but he couldn't fathom.
Thinking about her marriage status always pulled him back to think any pure feelings for his sweetheart.
On the other hand, Geet was strongly attached to her mr.khurana..
For her, he was the only one to spend her time with, to see her aloofness..sorrows, the shoulder to cry..
Slowly slowly Maan get to know everything about her life..still he couldn't digest the thing that she was married.
Both consummate..not once but many times..for Geet it was her love & longings for her Mr.khurana.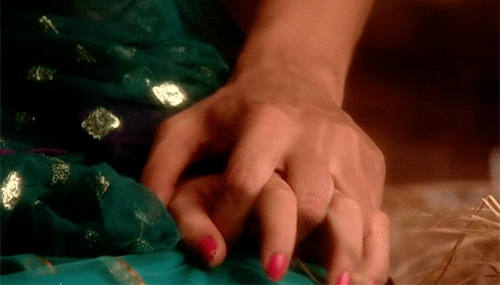 For Maan, he was still confused between his feelings.. he couldn't see her in pain yet he ended in giving lot more than heart ached.
As she confessed her love so innocently to him, his words came slapping her sanity..

Do you really thought I will love you ?? THE MARRIED WOMAN WHO NOT BECAME HER HUSBANDS .. THEN WHAT'S THE GUARANTEE THAT SHE WILL BECAME MINE
Geet was broken beyond to come to even her senses ..
He left her in that state trying to get away from his own heart ached..however he tried to forgot her & move on..it didn't happen..
It's only increased his restlessness & hidden love for her.
On the other hand, Samrat was shocked beyond his wits ,finding about the whole thing..however he was having slight idea about what's going on behind him but he never tried to stop his Queen for having extra marital affair because he was also involved with other Princess after the distance between both increased.
Geet almost turned insane for Maan, in her love for him.. she craved for him.. couldn't believe what he did, she was so sure he loved her.to make him realized his own love for her she went to Delhi to meet him bidding from everyone, against Samrat will.
There also Maan insults her and asked her to leave in dreadful night..on the desolated road.
Samrat men tried to bring her back but she earned them all & ran away from there only to bump with Dadima of Maan.
Savitri Devi brought unconscious married woman to her home, not knowing about her love interest for her own grandson..she took care of her nicely.
Geet was so delighted after finding Maan there, but her talks and smile only made Maan doubt on her intentions..
He insulted her again but she never mind.. although her heart was bleeding..
But the last stroke came , once Dadima comforted Maan about his marriage with Sameera , and his dream girl.
Geet broke beyond that time and left back to the palace, her Golden Cage.
She realized Maan didn't deserve her love..it's only her Husband whom she thought she betrayed him by keeping extra martial affair with other man, ( Maan)
But God couldn't be so cruel with her??!!
There she got another shock, hearing her husband's words on the Phone..
I told you , will come tomorrow.
Try to understand Love !!
She breaks down so furiously that time, comforting Samrat with all her pains & suffering from the day one of their marriage.
Bataiye na ? Kya kami hai humme
Why did you do it ? Why do you played with my life ?
Hum koi katputali hai? (Am I some doll? )
That was played by anyone and everyone? First my family , you , your mother and him? ?
Kya samaz rakha hai aap sab ne Hume? ?
And she took the gun to end her life but Samrat stopped her,
Next she knew she was pregnant with Maan's child..Geet was so delighted to knew now someone was there for her, she wasn't ready to share this news to anyone in case anyone try to part her from her own baby.
She warned Samrat even to keep his mouth shut..this time the sweet timid woman turned into tigress after bearing all.
She sometime gets jealous..envy , with Samrat love for his princess..which she never get nor from him, nor from Maan whom she love with her life & soul.
On the other hand, Maan was not in good state either..after her painful departure everything started to dawn on him..her pure love..their relation started to flash an light on him..
He started realizing the fact, that nothing matters to him now..nor her marital status not anything only their love..
Yes, he loved her .he realized this after he got the invitation from the king for the success party of the sheeshmahal renovation.
Jealous taken place in his heart reading her name with the king and not soon he rushed back to Jodhpur to get her back.
But things was not the same coming back, his sweetheart was badly hurt & injured..
She couldn't trust him back after what he did, not once.but frequently..
Nor give him back the love she had kept hidden in her heart.
You did hurt me a lot, you have broken me to this extent that I am not able to forgive you now.
Maan was burning in his remorse always seeing her tears, cries..both comforted..and he realized how deep his words had hurt her..
How much he had broken her.. he vowed to get back her love & trust unknown of the fact yet, that their love was growing inside her womb.
He tried to woe her back however he failed, one day he came across the news of her pregnancy, it breaks him to extent to think that she never trust him to inform him about his own baby even.
In that his accident happened bringing back Geet to him..she realized how much he mattered to her, however she has been hurt by him she couldn't think something happens to him. There by Geet tried to forgive him.
Their love started blooming again in between all the conspiracy of Sameera & Queen mother .
Dadima Knowing about the matter made her own bad assumptions about Geet, as Sam filled her ears bad mouthing Geet. So she became against their relationship.
Sam tried to harm Geet inbetween.. but never succeed.
In between Queen mother was always knowing all things keeping mum..as she was never happy with Samrat Geet marriage.
On the other hand , she was possessive about Geetanjali reason being her queen and all this while keeping her under gaze constantly.
Once she find both Maneet together in the garden, she raised her finger on her character informing Samrat as well only together the shock of life that her son also knew whole thing and supporting Geet
The mother broke down, feeling betrayal..
Maan made Geet divorce Samrat, and took Geet back to Delhi, clearing all misunderstanding about Geet from dadi's mind.
Dadi slapped Maan for his doing with Geet, but for Geet & baby she forgives him.
Life was soon what Geet had dreamt ..her & her small family..
Both had court marriage & waiting for baby's arrival..
Geet was waiting for her angel,
But life isn't the path of rose petals always, Maan was broken once hearing from doctor about Geet's fragile Condition, she warned to abort the child to saved geet life
In the care & love of Dadima and Maan, Geet was blooming again and soon doctor assured him about Geet & baby.
Both were happy again..in between Geet was getting constant nightmares about Maan taking her away from her own baby .
On the other hand, someone from her past came into her life, who had vow to get her to revenge on her.
Geet was frighten once meeting that stranger as she got bad vibes from him. She informed Maan, who instantly tried to get info on the man as he couldn't put his sweetheart's life in danger.
And now Maan is away for businesses purpose .now Geet's life is in danger. Will Maan able to reach on right time to save his sweetheart..??
To be continued…