Geet..
Maan called taking her attention, who was lost somewhere from the time they has landed to new place. she was still sulking.
Geet.. he again called, this time in high pinch taking her attention, yes Maan?
there is party going to happen this evening, we have to attend,
she just hmm in response while he continued, here .. you have to wear this today. saying so he gives her one packet,
she took it and open the packet, her eyes widen in surprised seeing the gorgeous dress, but, Maan you know,. i can't wear this type of dresses, i am comfortable with saris, she said making faces.
I know Geetu but i want to see you in this.. just once
but i can't Maan.. you understand me.. i am not comfortable..
why can't you geetu for me!?
i.. she was tongue tied now..
alright.. i know.. you don't love me, do you? he said in serious taunting tone, getting up from the bed.
Maan yeh kaise baate kar rahe ho.. ismain pyar ki batein kaha se aayi… she also get up facing him.
yes, Geet, today i want to know, do you really love me?
he grabs her both arms pulling her closer.
or it was just marriage of convenient for you. you didn't really confessed me that you love me. he said as the realization dawn upon him.
Maan.. she just look at him trying to absorb his sudden change of behavior today, i don't know about love.. but i do respect this relation and most of all you, Maan! she let out her feelings, turning emotional, as her eyes turned misty.
Maan was just listening turning bit sad hearing her that she don't love him, but his heart skip a beat hearing her next, and you know my baba told me that he knows I love you, she uttered looking deep into his eyes.
He pulled her closer, almost touching their lips now, while she continued, I can assure you one thing, Maan.. he heard impatiently , her lips rubs onto his, she initiated the kiss surprising him further, that if i fall in love sometime, then it will be only you, my dear hubby! she chuckled on his lips making him smile as well. and i guess..- i am already falling.. she whispered and next moment Maan pulled her for passionate kiss.
….
Both entered in the party hall, taking everyone's attention, Geet kept holding him by his arm, feeling little nervous as she was wearing that new dress given by Maan, on his insistent. and he couldn't take his eyes off her, for she was looking so gorgeous.
the host welcome them, but Maan was still giving her stealing looks, making her blushed, Mr. Khurana concentrate ahead.. she nudge him.
jiski itni khubsurat biwi ho.. wo yaha waha kyon dekhe.. he whisper in her ear, kissing her cheek, she blushed furiously.
he introduced her with few people there, after a while both walked in the middle of hall, the lights went off, leaving flash light only on Geet, she was startled, Maan.. she holds his wrist in darkness, suddenly there was clapping sound followed by birthday song..
happy birthday, Geet! Maan call out and at the same time lights came on, there was shower of petals on her head.. she was awed, looked all around.. every one gather around her ,while there was huge cake placed before her, she was overwhelmed looked at Maan knowing he is the one who must have done this.
thank you! she mouthed with moisten eyes while everyone urged her to cut the cake, everyone wished her, and gives space to Maan who walked near her taking her in his arms,
his hands snake on her bare arms, holding the knife tight, while she shivered with his touch, looked at him, I love you. he whispered giving peck on her lips and both of them cut the cake.
the music started playing at the background,
few associates of Maan urged him to sing some lyrics for his beautiful wife, knowing about his love for poetry, he obliged happily , taking the place near piano, Geet walked to him, surprised with this new discovery of her husband, her heart skip a beat next hearing him,
Dekha tujhe maine jab se lab pe bas ik naam hai
Jaaneja jaane tamanna tu meri gulfam hai
[There's only one name on my lips since I've seen you
My beloved, you're my flower]
Geet blushed listening to him and then his passionate gaze not leaving her, it followed her as she takes stroll around, meeting few people who wishes her again on her birthday.
after a while, manager called every couple for the little game, including Maneet. Geet was hesitant but Maan pushed her ahead to enjoy herself, she smiled and joined other women, who were seating in line of chairs, and there husband or boyfriends going to find his right lady with blindfold on their eyes.
Maan smiled seeing Geet happy, she was laughing and giggling enjoying the game, then it was his turn, men blindfolded him and Geet changed her place, with huge smile on her face, she kept on waiting for him on her seat,
Maan walked ahead, he knew well his wifey's presence.. her aroma, which couldn't leave him in peace, making him restless, and he caught her hand, pulling down the blindfold, everyone hooted and coo seeing his love for his wifey.
Geet smiled whole heartily , getting up holding his hand, while he began to sing again,
Phoolon se zyada haseen hai meri jaanejana
Phoolon se zyada haseen hai meri jaanejana
Kuch shokh kuch dilnasheen hai meri jaanejana
[My beloved is more beautiful than the flowers
My beloved is playful and gorgeous]
Geet couldn't stopped smiling, hearing his praises, she turned and walked away from him feeling shy, while she heard his next words..
Meri nigahon mein tera chehra suboh shaam hai
[Morning and evening your face is there in my eyes]
she looked at him, Maan walked up to her , bounding his arms around her small waist, he pulled her for a dance,
Jaaneja jaane tamanna tu meri gulfam hai
Geet danced with him , lost in his unconditional love for her, there eyes lock, content smile playing on their lips having their own love closed to them, Geet couldn't stop falling again for her hubby which she was still wasn't able to give words to her feelings, drowning deep in the ocean of his love.
Dekha tujhe maine jab se lab pe bas ik naam hai
Jaaneja jaane tamanna tu mera gulfam hai
she mutters softly, holding his nape, looking in to his eyes making him smile, as he pushed her softly then puling her in his arms, dancing around with her happily.
after a while, in the garden,
the place was decorated beautifully, with the music arrangements, girls pulled Geet to have girly talk with her, while men pulled Maan away. both were stealing glances to each other ,not ready to part away.
Maan who was having constant eye on Geet suddenly missed her sight, he turned restless not finding her anywhere, as he tried to locate her, but she was no where,
Geet who was watching him , hiding behind the small tree smiled seeing his restlessness, she started to sang, taking his attention,
Teri mohabbat mein hone lagi main deewani
Teri mohabbat mein hone lagi main deewani
[I've started to go crazy in your love]
he walked up to her pulling her in his arms, both started to swing again on the music while other couple were lost in their own world.
Maan pulled her passionately , making her turn around, his face buried in the crook of her neck, while he shower few kisses there, making her condition worsen,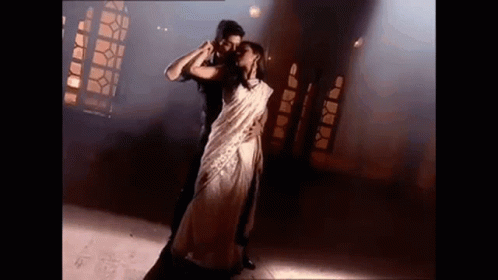 Baahon mein aake mehakne lagi hai jawani
My youth has fragrances after coming in your arms
Har pal tujhe yaad karna dilbar mera kaam hai
Jaaneja jaane tamanna tu meri gulfam hai
she turned around and gives him passionate hug, both were lost in each other, swinging softly on the music,
Dekha tujhe maine jab se lab pe bas ik naam hai
Jaaneja jaane tamanna tu meri gulfam hai
…
both returned back to the room, lost and happy in their own world of love, when Geet gasped seeing the flower bucket placed there, with note saying, "Happy Birthday Nandini" . Maan saw her change of expression, he turned to look at the direction , and seeing that flower bucket, he turned furious, rushing up to it, he took those flowers in his hands throwing them in a bin.
inquiring with manager, he got to know about it was from some Mr. Rajdeep. his anger increased, his whole burning in anger, when Geet clutch his arms, making him realized what he is doing, she must be already scared and he .. shit.. he turned around and took her in his arms, she was already shivering, it's okay.. its' okay.. he mutters..
Maan.. yeh sab..!??? she couldn't speak seating badly,
sh.. it's nothing..
woh yaha bhi.. humara picha karte aa gaya.. she whispered looking at him with her scare gaze which he could not digest, seeing her sad, he cursed the man, just few minutes ago, she was happy.
he jerk her closed, sh.. i told you.. don't spoil your mood for him..
he cupped her face, she was looking down, still upset, how do you like my surprise, you didn't tell me, he try to distract her,
thank you, she whispered looking at him,
itna rukha sukha?? he asked making serious face
she looked on questioningly at him, when he pulled her for a kiss, she was left blushing seeing his naughtiness.
…
Precap :- ??