Maan threw his shirt in frustration, really mad with the happening downstairs, how dare that man?
he mutters furiously. Geet was looking at him bit scared, he don't get this much angry until it was edge, and today seeing him furious makes her scare, on that, that Rajdeep guy was making her scare.
Maan turned behind and watched her standing still looking at him scare, he instantly mellow down, leaving her sigh of breath, she gives him puppy look, he let out a small chuckle seeing her face, come here..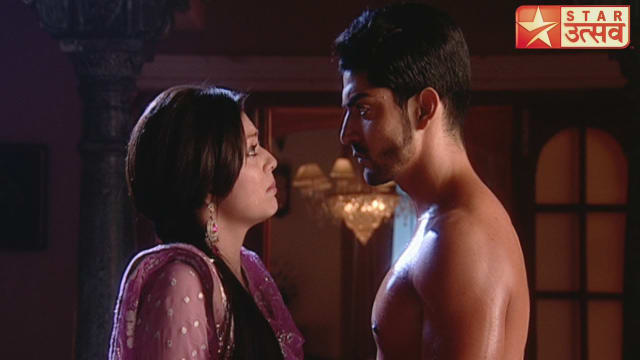 she rushed into his arms, hugging him tight, damn scare with the fiasco. he hugs her back tightly, securing her in his arms, i am scared, she murmurs,
don't be.. darling.. kuch nahi hoga..he patted her head, giving a small pecked on her forehead, she was still disturbed, he sighed pulling apart, he kissed her eyes, then her little nose, making her pout, he smiled and pecked her pouting lips making her sigh,
Maan took her in his arms making their way to bed
As he seal his lips with hers for a long passionate kiss, making her forget all other things. Maan laid her down on the bed, switching off the lights.. he put on one lamp on to watch his gorgeous wife.
He slowly removed her sari. followed by her blouse and skirt. Geet was conscious.. she tried to switch off the lamp, when his fingers entangle with hers stopping her thereby..
Maan.. she looked startle at him.. I want to see you.. don't. he dragged her hand back…pinning them up on her head.. he bend down on her chest.
Geet gasped as he started smooching her soft skin harshly.. leaving her breathless. He left her hands and unhooked her b** to reveal her gorgeous assets.. geet couldn't bear his passionate gaze.. she closed her eyes & felt his breath on her bosom..
I didn't noticed before..
Geet opened her eyes hearing his husky voice as he licked her nipples making them hard ..
You have beauty spot here.. saying so he pressed his fingertip below her breast making her moan.maann… she gives him shy smile turning her face from his hot gaze.
He smirked before licking the area.. after a while he took her one mount in his mouth to cherish them.. she arched her back to give him more access.. as he continued to sucked it..latching and licking them furiously.
She was wet below.. as her legs entangle with his.. he parted removing his cloths and not soon he thrust into her making her gasp..
Maannn…she moaned loudly…taking his lips for a furious kiss..
You are mine… only mine..jaan.. he muttered furiously thrusting into her deep…
Geet was breathless..she cried out feeling pain & pleasure at the same time..
Maan slow down seeing her tears. He licked them .. I am…
Before he started she put her lips on his.. you have right.. she whispered as he took her lips in his mouth for soul searing kiss.. before murmuring, oh.. I love you jaan.. I am sorry.. I won't do this again..
Geet hugs him tightly as both drowned in a whirlpool of love.
……..
Mid night,
the phone buzzed breaking their sleep, Maan took the receiver, answering it, hello..
hello, Mr. Maan.. Rajdeep here.
Maan instantly got up, he was fully awake now, tum phir se.. he was going to bash, when his words were broken by Rajdeep,
'I am so upset. i don't understand that how my wife married to you without divorcing me. you don't believe it, do you?
i want you to came to my room for sometime , i want to show you something, maybe after seeing it,
you would believe that jise aap Geet samaz rahe hai, she is not Geet but is my wife Nandini. my room no. is 402. i am waiting for you. plz. saying so he cut the phone.
Maan was just looking at the receiver for a while, he was in deep thinking, after a while he got up wearing his cloths, giving last look to sleeping Geet he went out of the room, Geet woke up hearing the sound of door, she looked at his side to see it empty, she was startle, Maan..??
….
Maan entered in little dark room of Rajdeep, who was waiting for him anxiously, thanks for coming, Rajdeep spoke offering him drinks, which Maan refused.
now i will show you something, by seeing it you will understand my problem, Rajdeep spoke getting up, as he turn on the tv.
Maan looked on curiously at the screen but later on what he saw, his eyes widen in shock, he couldn't believe the scene, it was video of couple's wedding running on the screen and the couple was none other than, Rajdeep and Geet.
Maan thought for a while, Rajdeep looked at his face to see any reaction, but he was so calm, lost in some thoughts, 'kya soch rahe hai, Mr. Khurana? now what will you say?'
i will say that , you are own vicious man, clever enough to do camera tricks,
Rajdeep just looked at him, then let out a evil laugh,
to do blackmailing… Maan added turning furious.
from last 2 years my wife has been missing, i was searching for her from then, i can't live without her, if you want we can make a deal, what will you take in return of my wife, i will give you whatever you want, in exchange of my wife.
that's it, Maan lost it, he barge towards him, clutching his collars he raise him up from his seating position,
how dare you? i can't believe that person can stoop this low, you are just disgusting. he threw him away giving him dreadful glare.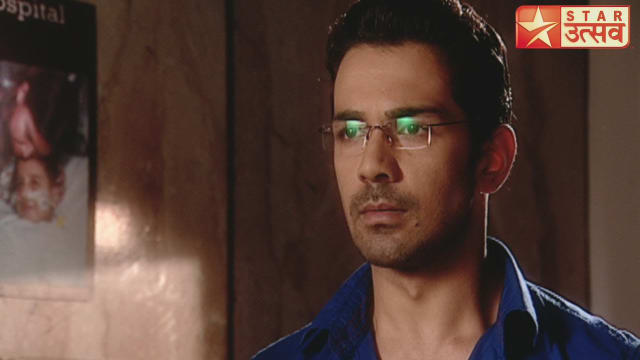 take it easy, MR. Khurana. or i also know to talk with hands.
i guess, you don't know, i am the owner of Khurana group of Industries, i can do anything with you.. it's better. you stay in your limit. don't play those dirty games with us, or else. i will never look back before destroying you,
Maan warned him dangerously who in return gives him evil smirk.
I too don't want anything like that happen, in fact.. i am not interested to fight with you, but you are not seeing my POV. i have even show you proofs, Mr. Khurana. Rajdeep spoke calmly as he could.
i know, she is my wife.
Maan's blood was boiling whenever he heard that wife word from this disgusting man's mouth.
you ask her once about her previous life, why didn't she told you? what do you know about her?
you are the owner of the Khurana industrious, very big but it doesn't mean i am small, even won't listen to anyone before crossing my limits.
till the time my wife won't come to me, i won't sleep in peace nor will let anyone have a peaceful sleep.
you listen me also, if you try to interval in our life again, then.. i can do anything for my wife.. i can even take your life… Maan warned him yet again in low dangerous voice, giving him sharp look, he got up to go.
you have stolen my words.. the words from my heart… don't forget it..and thanks for coming..
Maan gives him one dreadful glare before exiting the room.
………
As soon as Maan step into their room, he saw a very tense Geet who was waiting for him impatiently.
as she saw him walking inside, she rushed to him, she couldn't sleep a ounce, thinking where he go at midnight.
kaha chale gaye the tum, don't ever go leaving me. please.. kabhi mat jana..
Maan cupped her face, his anger has already vanished seeing her tense, kabhi nahi jaunga..kabhi nahi jaunga .. he tried to calm her, she was sniffing silently, kabhi nahi jaunga yaar. .. he urge her to look at him, she gives him small smile, kaha gaye the. she asked again, desperate.
that man, Rajdeep. he shows me some video klip.. of his own wedding.. the girl in that video.. looking just like you.. the same face.. said Maan making her gasp, she was shivering already listening to him, started to sweat.
why did you went to him?
uski galatphami dur karne, do you have twin sister, Geet? he asked
I don't have any twin sister.. she blabbered turning scare now, Maan, muze bahot dar lag raha hai, she hugs him,
don't worry.. don't worry, he hugs her back securely knowing her condition, alright, we will go somewhere else, okay? he patted her head, looking at her face, she was still sniffing, don't worry, darling.. he wiped her face, taking her lips in his mouth for soft kiss, main hoon na.. he whispered in between the kiss soothing her all fears.
……
PRECAP :
Dekha tujhe maine jab se lab pe bas ik naam hai
Jaaneja jaane tamanna tu meri gulfam hai