Next morning,
Geet slowly got up wrapping the sheet around her milky body, she looked at Maan who seems in deep sleep but as she turned to go , she felt tuck on her sheet, she looked behind and saw him holding one corner of cloth in his hand giving her one wink.
Maan, yeh kya mazak hai, leave it.. she shyly warned him, with tinge of fake anger.
First give me my morning kiss, then you can go! He smirked seeing her widen eyes and red face,
Okay, first leave the sheet, she said but instead he got up still holding onto the cloth,
First my demand!!
And next moment he pulled her in his arms with one jerk, she landed on his chest, her sheet went down showing her cleavage to his naughty gaze.
He was turn on, in one swift moment he pushed her down, hovering on her,
Maan..she gasped before she could protest further, he slam his mouth on her, shutting her down.
…..
Next day, both flied for honeymoon destination. Geet was happy and excited to go with her hubby.
Both checked into the hotel, as Maan went to reception to fetch their room key,
Geet who was alone walking and checking around bump into someone. The stuff in her hands falls down, she bend down to take it along with her purse and looked up to the stranger who was just watching her without a blink.
She got uncomfortable as he help her to collect her stuff, she got up with the stranger who was just watching her continuous,
Geet excused herself and walk away only to bump with Maan who was walking towards her.
hey.. what happened, Geet?
Maan quickly guessed her restlessness from her face and asked her cupping her cheek.
Nothing. let's go to room, she gulped hard before darting another glance to the same stranger who was again just looking at her, ignoring him she walked ahead with Maan.
…
Maan and Geet were enjoying their honeymoon, spending time with each other, visiting sights out and at night Maan didn't leave a chance to make love to his beautiful wife. They were lost in their own paradise unknown of the storm awaiting them.
Next day, both were chatting around the table, pulling each one leg, having beautiful time of their life holding each other hands, Geet was smiling like never before, happy and content with her life, having Maan beside her.
when again, she saw same stranger across the pool area, standing on the edge, just watching them, she was startle to find him again , that too watching them, is he following them or her? She gulps hard, turning uncomfortable again.
Maan, let's go from here.
Why..Geet. any problem..
just let's go na..
she frowned
Alright.. let's go.. and they got up to go inside.
Both entered inside the lift, and before the lift door got closed, someone just step his one foot in between the lift door stopping it.
Maan pulled Geet along with him at a side, as the same stranger step into the life looking at Geet, who was damn uncomfortable and getting scare now, she hold onto Maan ignoring his hawking eyes.
…
Geet was just gazing out, standing in the balcony, with that strangers thoughts in her mind, she was really disturb and Maan could make it out, as he watched her upset face. he walked upto her, what's the matter, Geet. i am seeing you, you seems disturb. he holds her shoulders turning her to face him.
Geet shook her head in no, looking down, he hold her chin raising her face to look at him, koi galati ho gayi muzse…??
please, Maan, don't say like that,
then.. why you are looking sad..
Maan, that same man who collided with me downstairs, he was following us, Maan.
what..!?
dekha nahi.. kaisa ghoor raha tha hume, he was even in the lift.
Geet… just relax.. this is hill station..the small place… people happen to meet.. he tried to make her calm, rubbing her shoulders.
nahi Maan. the way he was watching me. i was so scared. it can't be coincidence. don't know why he is behind us. , she uttered being frustrated,
not us but you.. Maan said out making her jerk up her head, tum ho hi aisi.. that anyone will go crazy for you, Geet.. he jerk her close, so close touching her lips, one of them. i am also crazy for you. your deewana..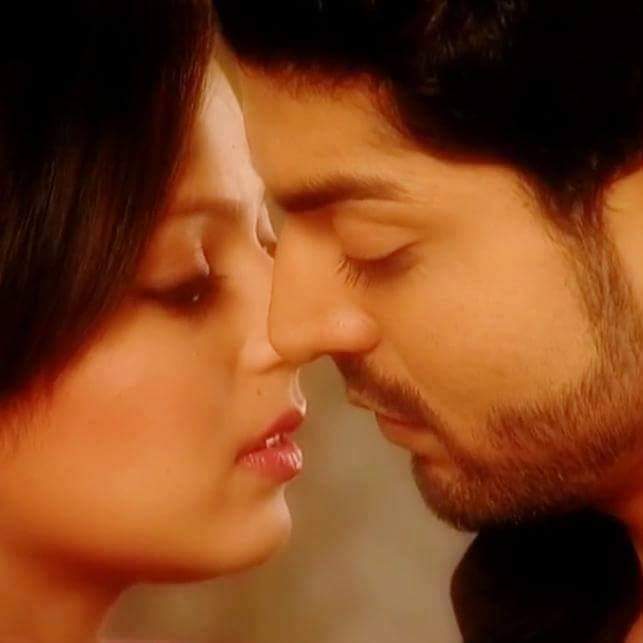 he fanned her lips, she blushed slightly pushing him little back, she let out a small chuckle.. mazak mat karo Maan. i am serious. i am so scare from him, she whispered ,, tense with the thing.
oh come on, mere hote hue tumhe dar lagta hai. how can it be possible, geetu, he teased,
don't be, i am here, Geet.. hmmm?? he looked at her for her reaction, and she smiled giving him hug, he reciprocate the hug, smiling back.
………
at night, both went down to have a dinner, when again the same stranger walked in, Geet was seating alone, waiting for Maan who was busy on the call. he walked up their table and called her, Nandini, she looked up startle, what is it, Nandini? Yesterday we met.. you don't even recognized me..
Geet was getting scare now, till then Maan walked from behind making her little relived,
Excuse me.. what's the matter.?
just a moment.. that stranger was not ready to listen, as he continue to talk with Geet, 'i don't know, if i have done any mistake…'
Maan again tried to interval, 'kya baat hai.. '
plz.. i am ready to ask your forgiveness.. he turned to Maan then, who are you?
first tell me, who are you?
Maan asked looking at same man who was following them, he had ignored that time but not anymore. he has began to get angry seeing the audacity of the man, who had come here behind his wife. he come in between them standing in middle, protecting his wife.
'I am Rajdeep.. now ask her who am i? '
Geet.. who is he? Maan
i don't know.. i don't know him. she got up and hides behind Maan, really scared from rajdeep.
what are you saying, Nandini?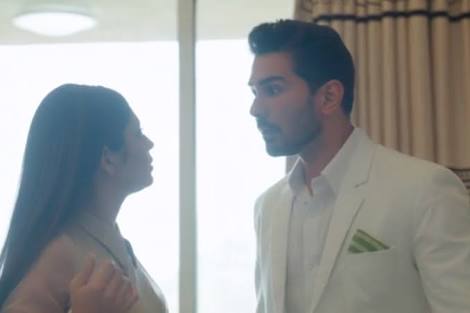 Rajdeep again tried.
she is not Nandini .. but my wife.. Geet. Maan clinched his teeth, replying him, glaring him furiously.
she is not yours but is my wife..Nandini.. rajdeep was stubborn.
Maan look at her, to see her scare, this was making him madder.
Nandini tumne dusari shadi bhi karli.. Rajdeep was still talking..
will you excuse us please. Maan infuriated.. spoke in low dangerous voice, he had enough of his non sense.
he held Geet protectively in his arms hiding her as if, she holds Maan tight, giving scare gazes to rajdeep.
no..it's not your mistake.. i guess. she must have not told you.. you did a sin without your own knowledge.
the man was getting on his nerves now, Maan thought infuriated listening his non sense.
she is married. she is my wife.. let's go. rajdeep went forward almost trying to hold her hand, jo hua so hua..
Geet back out.. yeh kya batmizi hai.. she lashed out on him turning teary now,
Maan pushed her behind facing him furiously, leave her alone.. he said to rajdep keeping his anger in control., you are crossing your limit now.. leave from here. or it will not be good for you.
Maan warned him with his red furious eyes glaring him down,
azeeb baat hai. you are seating here with my wife.. and giving me warning.. said rajdep calmly.
Excuse me manager.. Maan finally called out to the manager turning extremely furious, the manager came, yes sir..
Call the security.. this man is disturbing us..
Manager immediately called the security guards knowing his power, he couldn't disappoint him.
this man is following me from the long time. don't know why he is behind me, calling me Nandini.
Geet spoke out, giving him disgusting look.
just i want to conform that's all. now i am sure.. rajdeep tried to saved his skin.
excuse me . take him away.. and make sure.. this thing never happen again.
said Maan
you don't know. they don't know. she is my wife.. i can prove you this, rajdeep said out, as security tried to hold him, sir.. plz.. let's go.
don't touch .. don;t touch .. he warned them, walking out from the place not before giving a look to the couple.
…
PRECAP :
I want to show you something, after seeing this, you might believe that jise aap Geet samaz rahe hai, she is not Geet, but is my wife Nandini.