Part 57
As there lips press onto each other , he chew her lower lips in his teeth softly when he heard a grumbling sound in her tummy. His lips curved into soft smile against her lips. geet was all red in embarrassment , she pulled out swiftly when he jerked her again in his arms. 
Chodiye Hume ..she Wriggle with her fragile strength. 
Nahi chodoonga is Baar ..he meant each words , she was drown in his love again.her hazel eyes sparkle listening him , she keep on staring in his dark brown eyes . 
When stomach again growl making them jerk back to reality. He left her seeing her state while she fiddle with her saree pallu.
Baby..AAP bahot bure ho..koi Apne mumma Ko aise tang karta hai bhala..she mutter to herself pouting her lips.
He chuckled seeng her antics though not really heard what she was speaking. 
AAP has rahe hai..woh bhi humpe.. yaha hum bhook se mare ja rahe hai ?? 
She frown cutely seeing him laughing on her condition.
But he got angry listening her talks about dieing.
GEETT!!  Dubara aisa mat kahna.. he warned her angrily. 
Geet was silent for a while but she can't loose the chance today to taunt him.
Kuyn aapko kya farak padta hai ? Hum jiye ya ma.. before she could complete her sentence he was at her side putting his palm on her mouth to stop her talking .
He glared her furiously nodding his head in no. 
Don't..it's not your life. It's mine. You are my life , Sweetheart !! And I can't loose you . 
Geet was overwhelmed listening him , she couldn't believe once he was the one who betrayed her love, had left her once to die. She was going to do suicide. she pulled his palm down from her mouth and looked at him accusingly.
Aapki inhi baton ne Hume un dino bewokoof banaya tha. Ke hum khudki Jaan le baithte sirf aapki wajah se. She whisper in her soft painful voice poking her forefinger on his chest.
GEET ??? Maan was too shock to react hearing her , he felt the earth beneath him us disappeared . He felt his breath just chocked in his throat , his eyes turn moist on its own accord without his will even listening her.
How could she ?? His eyes turn furiously red. He jerked her closer holding her shoulders.
How could you Sweetheart ? He gritted his teeth , she shiver seeing that rage in his eyes. His eyes were shinning red with his possessiveness for her.
Tum pagal ho gayi ho ?? He whispered on her face sending chills down her spine. 
Geet was still for a moment , trying to fathom his each words , his anger , for why ? For her ?? She was yet again left confused with his confession.she jerk out of his hold angrily. 
Ha. Hum pagal the . The hum pagal , par ab nahi.ab akal aa gayi hai Hume .she busted on him pushing him on his chest leaving him yet again in his own guilt for he couldn't now forgive himself for what he had done in his foolishness. He could have lost her .the mere thought left him shook in terror.he felt horrible. 
Geet looked at him standing still , tears were rolling down her eyes feeling those painful nights yet again , how she had managed to lived without him , thinking that he hates her, thinking about his other woman who might be his dream girl, thinking that he will now no more remains here, but going to be someone's . She hold the chair for support as she felt her straight going away just with those painful thoughts of her past life which burns she can feels even now.
Ahhh . She left a painful sob and was going to fall when he rushed forward and took her in a tight hug. 
No sweetheart .. no more .. I am not going to leave you now. Tumhara saya banke tumhare saath rahunga , har pal har lamha . Tumhe kabhi akela nahi chodunga. 
He hold her fragiel body in his arms tight not to let her fall. She put her all weight on him having no more strength .
After a while he took her in his arms and sat on the chair taking her on his lap. 
Geet sat still not knowing how to react on his words and each gestures or ever on the first place , do she believes him ? Is it true which is happening or its a illusion like sweet dream which would again break ruthlessly after a while. He is true or its again some illusion like a past , she was so drown in it that it left her all shatter to woke up again so soon from that sweet dream.
Geet brought back from her thoughts feelings his fingertips on her damp cheek. She looked at him mesmerized again with his closeness, seeing his gorgeous face which was so closer to her.
He wiped her tears , reading her each turmoil through her face which show her each emotions clearly to his chocolate brown eyes. His heart bleed reading her each thoughts , she is still not ready to trust him thinking its again her some illusion , thinking he might leave her again. He thought to just give her some time , some space to accept him again in her life. He now has known , that it is not easy for her to do so after what he had done.he sigh in helplessness and cup her face dearly.
She sat liked a doll on his lap holding him from his shoulders. He combed back her hairs sticking them behind her ears. His fingers trail down on her zumkaz. 
I love it , but only when you wear them . He softly smile kissing on her ears and took out her earrings softly.
Geet sigh feeling his warm touch after a while now , she let go her all inhibition for a while closing her puff eyes.
His hands roll down caressing her soft skin of her nape , below on her throat ,he stop there looking at her Beautiful face. 
Accha ?? Kya khana hai tumhe ? He asked yet again leaving her mesmerize but her heart was still restless with past memories, she was not able to forget them .
Kya yeh sab kuch phirse tut jaega.kya AAP sach Kah rahe hai ? Her questions left him to chock on his breaths again. He couldn't imagine the pain he had inflected on her just with his one small act.
AAP kuyn Humare sath yeh sab kar rahe ho . Koi Khel khel raho humare sath , jabki Baad mai phirse humare zazbaato ka mazak banake chale jaoge . She stop for a while , her voice was cracky as she was trying hard to not to cried again. 
He nodded in no at her each words. He would not repeat the same mistake again , when she continued .
Aapke us dream girl ke paas ..those words pinch him hard on his heart . His grip tighten on her bare waist , he get to know her each painful thoughts today, what bothers her the most , what she was thinking all this while.  
Nahi sweetheart , you are my dream girl not anyone. I couldn't imagine my life without you . He pulled her face closer holding her from her nape.
Zut mat boliye humse,..aur kyyon Hume tadpana chahte ho, jabki hum khud tut chuke hai
she blabber in her meek voice. 
I am not lying sweetheart , you are the one for my whole life, next all births, forever..Geet. he kissed her back of hands trying to convince her , she was behaving like a little child not ready to listen or understand him.
Geet muffled her cries feeling vulnerable , with her inner fight that to believe him or not.
Those moments were not fake sweetheart , those are precious me like you . He wiped her face with his hanky. 
I loved you from the first time I saw you , I met you in at the Sheeshmahal party. 
Hearing him she raise her eyes to see him , he peck her forehead , knowing she still needs little time to fathom all this. He is ready to wait now after he confessed is true feelings to her , he was having full faith that she is only his. And no one can took away his Geet away from him.
Geet was still in the shock listening him but then why did he left her like that. 
Maan looked at her confused face and offered her a glass of water .
She drank few sips still lost in her thoughts but feeling calm now after her broke down and emptying her heart to him.
Yahi baitho .main kuch babake lata hoon. He spoke and stood up to move when she stop him holding his wrist .
AAP ?? Aapko aata hai khana banana ?? Geet asked wondering on the same. 
Maan felt light at heart seeing her behaving normal like before after such a long time.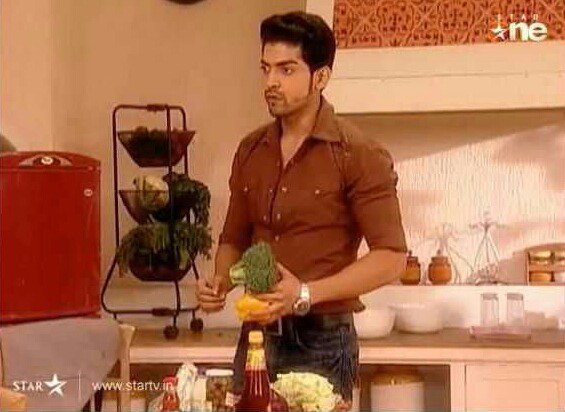 I don't know Sweetheart , I can make only pasta and coffee which I had always , that's why I know. 
Pasta ?? She frown leaving his hand abruptly.
Hume woh pasand nahi hai .hum woh nahi Kha sakte . She blabber pouting her lips.
Yeh kya baat Hui. You had not eaten it any time and you are saying that you don't like it. You have to first taste it . 
He went to fetch the packet first if that was available there and he got it after a while. 
It is here, I thought we will not get one. He smirk showing her the packet.
She made a face and turn her face away.
Hume nahi khana..hum kuch aur desi khana chahiye. Hume woh bilkul bhi pasand nahi hai .she complaint frowning cutely for he was not ready to listen to her.
Maan shook his head , and started to cook stealing glances at his Sweetheart who was as well looking at him , Geet got lost seeing him in apron. 
She continues to observe his each moves while he was cooking since she had no other work to do.