Geet was hell scared as the lights went off , making the lift stuck in between two floors, this make large sound, her heart thudded loudly in the silent atmosphere.
Next she felt past memories rushing down on her with such a force , she closed her eyes trying to wipe off those memories which had left a deep scar on her.
Geet…are you okay?? Maan calls out as he could only able to see her dark shadow in the darkness, she was shivering so badly , he caught the sight of her.
Geet..he again call placing his hand on her shoulder and next moment she dash onto his chest finding only him to hide herself into to saved herself from those scary shadows of past.
Geet… He whispered shocked with her sudden hug, he was contemplating on hugging her back or not just to sooth her but knowing about their previous encounter and how he sacred her with his advances, he stopped himself, his hands were in the air , he make it a fist controlling the urge to hug her.
Geet, He calls out again huskily to make sure she is fine but she was shivering like hell, with that follows her soft muffles of pain, she was mumbling something like lost in another world as if.
Without holding back more he wraps his hands around her back engulfing her Shivering form in his secure arms.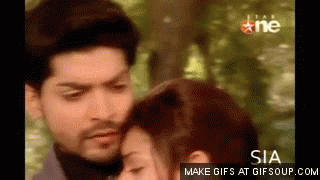 And she let out a deep cry making him worried for her, I am so scare ..she mumbled in between her cries making him little relive as finally hearing her voice.
It's okay, nothing will happen.. he rubs her back soothing her, she was little calm now, still buried in his chest.
He switch on the battery of his cell with one hand while other one still holding her protectively in his arms.
Geet, you can let go of me now , he whispered softly, near her ear, patting her head, she was snuggling in his arms like a baby not ready to leave him.
Hearing him, she came back to her senses and left him instantly , as she opened her eyes slowly and left a breath of relief to see the little light in the elevator, still it was suffocating her in those four walls as if coming on her.
Are you feeling all right now?? He asked really concerned for her.
She just nodded her head silently, wiping the sweat off from her face with her sari pallu.
Just then lights comes on , making the lift started, he was just watching her endlessly, still worried to see her scare like that, wanted to hold her in his arms but couldn't do it, he sigh in frustration .
Soon elevator reach at down floor and both got out, Geet was the first one to come out, she literally ran from there.
Maan just kept on watching her running away from him yet again.
….
Next Day, he send beautiful flowers for his lady love but she sent them back just on the door they came.
Dilbar mere kab tak mujhe
AIse hi tadapaoge
Main aag dil mein laga doonga woh
Ke pal mein pighal jaaoge
[O love how long
will you torture me so
I will light a flame in your heart
That will melt you in an instant]
Another morning he stood below her balcony waiting for her response , as he had sent her favorite red roses to her.

Geet smiled sniffing the fragrance from her favorite flowers but then realized what she is doing, turning frustrated she threw those flowers on him, and twisted her lips before running inside.

Ek din ayega, pyar ho jayega
O ho, main aag dil mein laga doonga woh
Ke pal mein pighal jaoge
[One day will come and you will fall in love
o ho, I will light a flame in your heart
That will melt you in an instant]
Maan was dumbstruck first but then reminding her cute pouting face , his anger melted , he chuckled before going back to his car, more determined to conquer his lady love's heart.
….
Maan got out of his Mercedes at the desire venue,it was his friends wedding reception and he was bound to come since he couldn't make it to his wedding.
As soon as he entered inside the hall, girls just gap at him with open mouth, few left a high sighs, few just hold their breath, ignoring all he makes his way to the stage to congratulate the couple and meet his friend.
But there he got one pleasant surprise.
…
Precap :-
Surprise..??
Trouble ahead for Geet..will Maan able to save her..??
here is maneet vm on the song i used in previous chapters..