As the morning sun raised, maan stirred in his sleep, his body felt alive again, feeling refresh he snuggled to the only object he found caged in his strong arms.
It felt awesome.. warm and soft.. as he buried his face in her bosom.. her sweet scent engulf his senses, making the object to moaned.
Maan frowned in his half sleep, as he heard another moaning sound and next his eyes snapped opened, he looked with widen eyes at her, quickly shooting up from above her.
Geet woke up with his harsh move with cute frown on her face, but soon her eyes widen in horror finding herself half bare and his eyes on her.
Maan quickly averted his gaze combing back his hairs in frustration.. angry .. not on her but himself for taking advantage of her like this.
As memories of night flashed before him,, how she took care of him and he..?? his face deep in shame.
But he was pulled back to reality hearing muffling sound, he turned to look at her to see her silently sniffling hiding her whole in duvet.
Mishty.. he called her lovingly to which she peek through that blanket making him chuckled.
i.. don't. know.. I was just worried.. about you..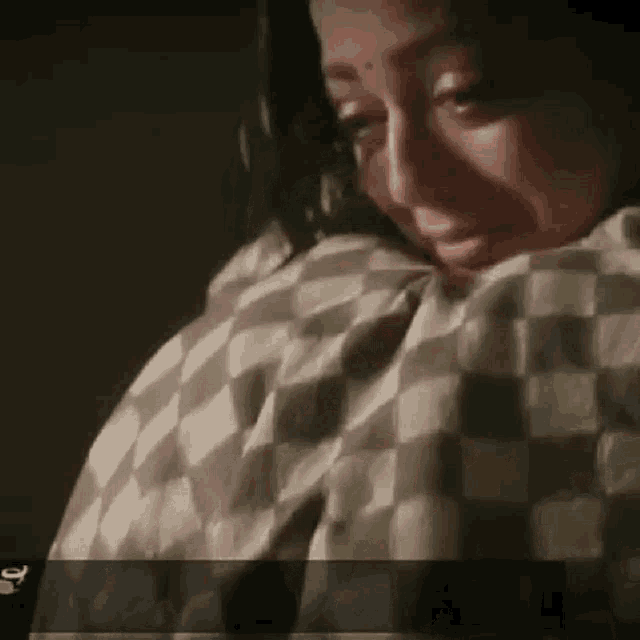 she stammered stating her side before him ,so that he would not thought wrong about her.
I know.. mishty.. he dragged his feet towards her, making her tears stopped , she looked at him somehow calm as she wiped her tears,
I just have one question, mishty, will you answer that?? Maan asked huskily sitting very closed to her, he tucked those soft tendrils of hers behind her ears, his gaze admiring her, looking at her lovingly,making her heart flip flop as she nodded her head silently to his question.
Why did you do that?? He asked so huskily making her condition worsen.
Stealing her gaze from his piecing one, she answer in very slow voice, I told you I was worried about you, she looked back still her face showing that care and love she carried for him.
So..you could have leave me, geet as it.. itna bada kadam uthatne ki kya jaroorat thi. He asked further, wanted to know her feelings,, wanted her to confess to him.
How could I have do that..? she was instant to snapped back.. how much I was scared , do you even know?? She blasted, eyes turning teary.. kuch samaz nahi aa raha that.. what should I do.. itni raat gaye.. you were shivering like heal.. body cold.. she went on. With her teary eyes, at the end threw herself in his arms, hugging him tight, phir kabhi aisa mat karna, samze tum.. you scared the hell out of me.
Maan was just lost listening her, as he engulf her warm and soft body in his arms, patting her head, nahi karunga.. he whispered only this, but became lost in his thoughts, I cant able to make her confessed yet.. when she will understand that she loves me lot.. pagal.. muzse itna pyar karti hai.. par khud ko realize nahi hua.. sure she is too innocent.. ek baar bhi socha nahi khudke bare main..khud ke izzat ke bare main… she just..
For me.. she did that.. he was overwhelmed with her that step that he hugged her tightly assuring her of safety and his un confessed love for her.
Main bhi tumse bahot pyar karta hoon, geet.. you make this maan singh khurana fall in love with you.. pyar karne laga hooon tumse. Don't know how.. when.. but I am sure about my feelings now.. I cant let you go now. And now when I am sure , you too harbor same feelings for me as I do..
……
That day, geet avoid to look at him even, being shy.. lost.. or wht not those new feelings.. his touch still linger on her body, making her whole red.
Maan although enjoying this silently,.. yet he was worried about her, because he knew, how much nave she is. He couldn't see her in that condition, and especially she was trying to stay away from him, which he couldn't bear.
So when geet gives him his coffee cup, she try to not touch him, but accidentally her fingers touch his palm and she instantly pulled back avoiding looking at him.
Maan smirked but grasp her wrist and pulled her on his lap , making her gasp..
maan.. lea..ve .. me.. her voice quivered unlike her, which he hated the most.
Why are you doing this, and for what.. he blasted making her jerked. He closed his eyes trying to calm his anger, look mishty, you really don't have to care about what happened.
Geet became upset hearing him, so he did not care what happened between us,
He cupped her chin making her look at him, geet are you upset for that reason.
Geet quickly nodded her head in denial then blushed furiously realizing what she did and looked down.
Maan smiled, humare bich kuch bhi nahi badla hai, mishty.. kuch bhi nahi..
His words buzzed in her head as she went for her job next day, those words pricked her like hell, torturing her to no extent. As she lost minded did her duty and came back home, his apartment to look after him, as he still needs little rest and care for two days, that geet took half day leave and next full leave for him.
Maan had only said those words in concern for her, to make her comfortable but she took it other way and now this thing was torturing her, she wanted to asked him, really he think so.. but how.. she was shy.. uncertain.. what he will think about her.. despo.. unknown about his feelings for her.
……
two days passed, geet really took good care of him, making him fall for her all over again, if his heart wasn't filled up then now he was feeling his heart will burst with those overwhelming feelings for his mishty.. seeing her unconditional love for him.. she took half day leave for him.. she cooked his fav. Dishes those three days.. all for him.. she took care for him..she did taken that big step .. all for him.. risking her virginity.. all for him..
he continued to admired her as she scold him again to take his meal properly.. the soup was burning hot, she sold him again, and blew it for him. She was doing his everything like a mother do for their child. He felt blessed, simply blessed.
Couldn't imagined, the little cute looking girl could managed his size big guy. He chucked on his thoughts.
Now for what you are laughing.. are you laughing on him.. she started pouting her lips. If it is so. Then you are gone now, MK.. and before he knew she threw small plastic bottle on his head. . jerking him out of his thoughts..
Geett.. he shoot up from his seat and before he realized, she ran away from there, out of kitchen.. maan chased after her.
…..
Under geet's care, maan could eat there meals on time everyday.. soon he got better and was back to his regular routine. Geet started giving him lunch box for office, then both would have dinner together.. he was getting better and his project was going to end..
To be continued…
Precap :
Chodho sanam, kaahe ka gam
hanste raho, khilte raho
Mit jaayegaa saaraa gilaa,
hamse gale milte raho
I really hoped , it's came out well, as it's been long time, i updated this. . so recollecting everything. i have typed it down.
thanks for waiting patiently and do like and comment :))