Part 33
[WARNING :- 18+]
He take her out towards his bed and throw her on the bed slowly . she gasp wrap in a towel crawled back on the bed. his eyes held so much passion in them that scared her today. maan.. he is going to.. come early today.. he.. he was talking .. she blabber out what comes in her mind . she was scared not for herself but him, her MR.khurana. he is the King after all, he can do anything.Her eyes drag back towards him to see him fuming and not soon he was all over her kissing her madly. she flinch back with the intensity of his passion ,anger , fury and lust. maybe that what she felt in his furious kiss. 
Maann. .she moan in pain feeling his hard body pressing on her . He left her lips and hungrily troll down wet kisses down on her neck , her open cleavage. He bite hard on her swollen b****t and pulled down the towel to get more access. Geet wriggle continuously all the while though enjoying his raw passion all together.she pulled him more close feeling his teeth torturing her assets. Hume jana. .chahiye. .plzz. …aaj. Ke. .liye. ..She breath out making him more furious that he left her all bare pulling out the towel from her body.
maan. .geet gasp but before she knew he entered inside her furiously making her scream.  He was totally mad today with desires for her,  with anger for her , for asking him to even let go of her , that too for that king. NO.. his mind scream furiously and his moves became more vigorous making her cried.Ahhh…Maan..she moan out loud as he bite her nipples hard molding them in his big palms.Maan..leave me..now..he will come ..she husk in her heavy breaths clutching his hairs tightly. But he was nowhere to stop as he continued to assault on her soft breasts. She was just moaning continuously tired of stopping him ,she pulled his bare body more into herself…After sometime , he pulled out breathing heavily,  he lay down on his back trying to make his breath normal. Geet lay still feeling extremely sore and tired,  few tears spilled out from the corner of her eyes feeling her body ached badly.  She glance at his side to see him in deep slumber. She somehow get up and went into washroom to freshen up.  As soon as she entered inside there moments of passion flashed in front of her hazels making her blushed furiously seeing the condition of washroom. She wear his one of shirt and wrap herself in a blanket . Glancing at his face one last time she sneak out to reach her room. 
… 
She twists and turned on her bed but was not able to sleep though  Her eyes were extremely sleepy .she looked at the door but he was nowhere where to be seen maybe she heard something wrong or he will again Kate today as well. That thing not affect her today .she thought going into painful and disturb sleep.  
…
He entered inside his room late at morning but to his surprise his queen was still sleeping.  Finding it strange he went closer to her called her twice a time but there was no response from her side . He touch her arm to shook her but he jerk back quickly as soon as it's touch her . She was burning like hell. His eyes widen before he call for her maids shouting loudly. As all come inside followed by Rajmata , he called the doctor ordering her to make it fast to his palace.He shouted on all the maids for there negligence towards there queen. I give you salary for this. He pointed towards her gesturing her illness. How did she catch fever ? Rajmata watched the scene quietly,  even she was unaware of this new thing now.Once they left from there asking forgiveness from him , he sigh in frustration seeing her condition. Hume bhi bata nahi chala,  Samrat,  how did she fell ill. She always acted like this ,careless . She has to take care of herself owning to her status as the Queen.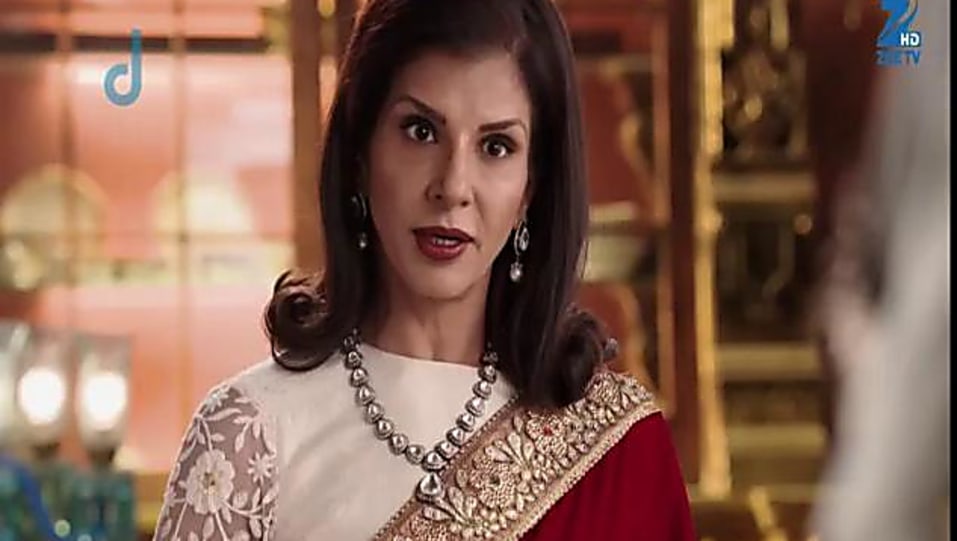 Rajmata again spitted her venom against geet making him more furious. …She is having cold , King. Is she got drench ? Doctor asked from him while he just nodded silently not knowing is she or not ? She will be fine 2 days. Just take care of her. She gave the prescription and left from there.He called her maids again throw the orders at them before leaving from there furiously. Rajmata smirk glancing at her sleeping form. …He wake up lazily late at morning and that's when his phone rang showing his grandma's number.Not again..dadima. .he murmurs and take it not having the heart to cut it. 
Bolo. .
Yeh kya baat hui..na hi hello. Na..gm. . 
Dadima plzz. .he yawned silently but that was heard by her .
Aaj kal aap jada hi Der se Uthne lage hai.. Kya baat hai maan ?? 
Dadima. It's not the thing. He try to hide though small smile left from his lips. Aap muskura rahe hai. Am I dreaming. My son. ?? She caught him feeling happy for him.Dadima. . How do you know. Are you here ? He asked roaming his eyes all around .She laughed hearing him.  Hum aapke dadi hai.. maan. She told in attitude. Ok dadima . Phone kisliye kiya tha ? Kuyn hum aise hi nahi kar sakte. Dadima.  She told him about one of problems arises in kc in Delhi and adi handling it.Maan sigh relaxing himself again as he knew adi can handle everything and anything in his absent . After keeping the phone down he remembered about her. And glanced all around the room , he get up and Wear his cloths and find her all around. In balcony. In washroom but she was no where . He remember the last night and her words .his fingers curl in fury to think of the man of his hatred .He went inside washroom to take cold shower to calm down his fury , all rage , and still burning desires for his lady love. His sweetheart. 
Precap : when he come to know about her condition. ? 
                twists are coming up ..